Road Closure during a Washington, DC, Rooftop Deck Project: Process and Project Cost
Adding a rooftop deck to any Washington, DC house can be a great way to create a unique, relaxing space in your home, but the best way to ensure a smooth home construction project is for homeowners to go in with realistic expectations. Given that, it's important to know that a build of this kind can be disruptive. You'll almost certainly have to navigate a road closure to accommodate the building equipment, and this process can be involved and costly. So, what exactly can you expect to pay, and what specifically does this process entail?

Will I Need to Have a Road Closure to Complete My Rooftop Deck?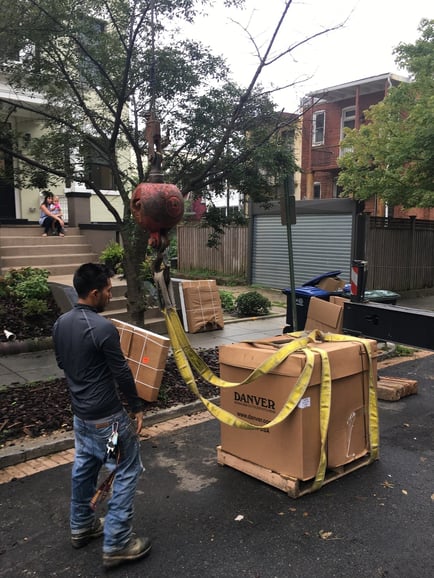 If you're interested in a rooftop deck, the first important thing to know is that this build is logistically more complicated than a comparable ground-level job. All the materials will need to be hoisted several stories in the air to reach the rooftop area, and this typically means hiring a crane.
Once a crane is introduced into your build, you will need to secure a road closure permit for any time the crane is in operation. This helps ensure the safety of everyone involved in the project, as well as those on the ground level.
If you can't get a crane into your building area due to unavoidable obstructions — power lines, trees, and the like — there's a strong possibility you can't complete a project of this scope. Of course, always consult with your build firm to ascertain if any workarounds are possible or if a crane is going to be necessary for the job.
In short, for most rooftop deck jobs, a road closure is necessary because a crane is necessary. Conversely, if you don't need a crane, you won't likely need a road closure.
I Need a Crane for My Rooftop Deck…Now What?
The process for securing a crane will almost always be handled by your professional deck build firm, but it essentially consists of contacting the crane company, verifying you can use that equipment in your build space, applying for and securing a road closure permit, and getting qualified, experience people in place to monitor and to direct traffic and to keep the sidewalks clear during operation.
What Can I Expect to Pay for a Road Closure?
If you do need a crane and road closure for your rooftop deck project, expect to pay somewhere in the ballpark of $500 per hour for the crane rental. If everything is prepped and ready on the day of the road closure, a crane rental can usually be limited to one day. Still, though, budget and plan for a full eight-hour rental, which comes to approximately $4,200 for the first day. Keep in mind, any significant problems, hiccups, or delays can be extremely costly; even a few extra hours with the crane rental can add a significant chunk to your project budget.
As a homeowner, the best way to ensure a seamless, minimally stressful project is to have realistic expectations. With that in mind, understand that startup costs on a rooftop deck are much greater than what you'd pay for a ground-level deck job — as much as two to three times. Plan for around $10,000 just to get the project started.
With Cranes, Road Closures, and Rooftop Decks, Experience Matters
Navigating road closures and crane operation should only be done by qualified, experienced professionals. With cars and pedestrians in the area and the added difficulties of operating twenty to thirty feet in the air, the process for constructing a rooftop deck involves serious potential dangers. It's always important to work with the most qualified design and build firm, but when you add a crane and a road closure into that equation, experience becomes nonnegotiable. Before you sign on the dotted line with any company, make sure to ask lots of questions and to ascertain the competence and experience of the team you're hiring.