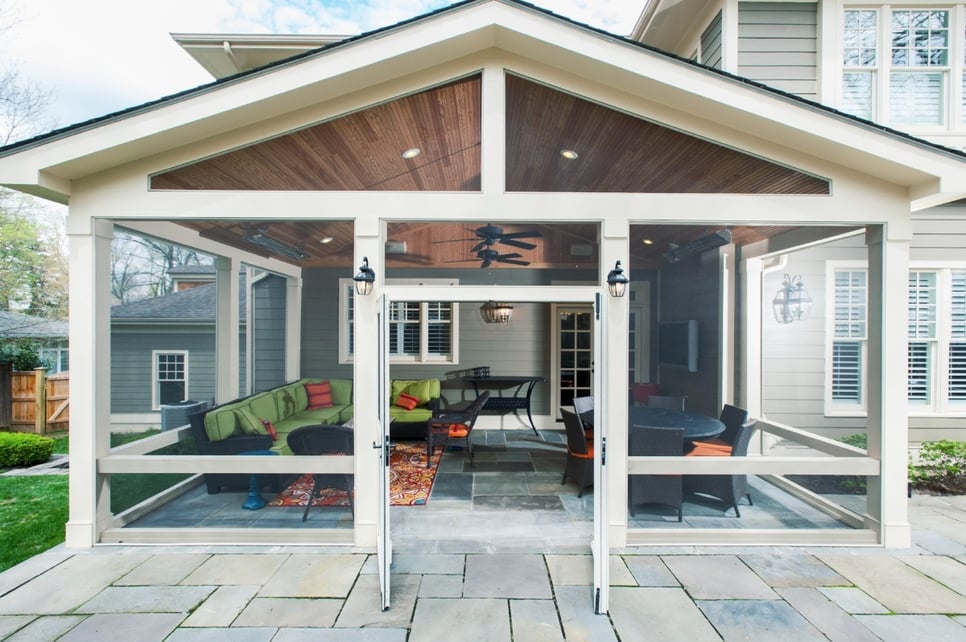 How long should it take Maryland deck contractors to build a screened-in porch design?
Building unique screened porches in Maryland and Virginia is a relatively unobtrusive process for homeowners. Job sites are kept tidy and are generally confined to the outdoors, and construction crews rarely have to enter homes during the building process. However, screened porch builders understand that homeowners are itching to see their projects completed as quickly as possible. So, how long does it take to build a typical screened porch design?
From the time you break ground until you're sweeping up the job site, a standard screen porch takes 4 weeks on average to build. The planning process, which includes creating plans, reviewing plans, design and showroom visits, and getting the permit, typically takes between 4 to 8 weeks from the time you sign the contract until you start construction. You can expect the entire process to take 2 to 3 months, with only a month of time spent dealing with construction.
Factors that Can Speed or Slow the Process of Building a Screened-In Porch
Of course, not all projects are created equal. Some can be completed quicker, and some suffer from delays. Luckily, many of the factors are in your control.


1. The homeowners' availability
There are a lot of decisions that need to be made for a screened-in porch, such as selecting the size, picking the decking, railing, ceiling, doors, and deciding on colors and any special features. Homeowners who try to make these decisions only in the evenings will find that the process is slower, since contractors, showrooms, and other design facilities are open from 9 to 5, just like any typical business. While most contractors will work with you, it's likely that your project will be slower to get started than if you make yourself available during the day.


2. Special features
If your porch will have special features, such as a built-in sound system or a fireplace, you can expect this to add time to the construction process. How long depends on the type of feature you're installing, and your contractor should be able to give you an estimate of how much time you're adding on to your project.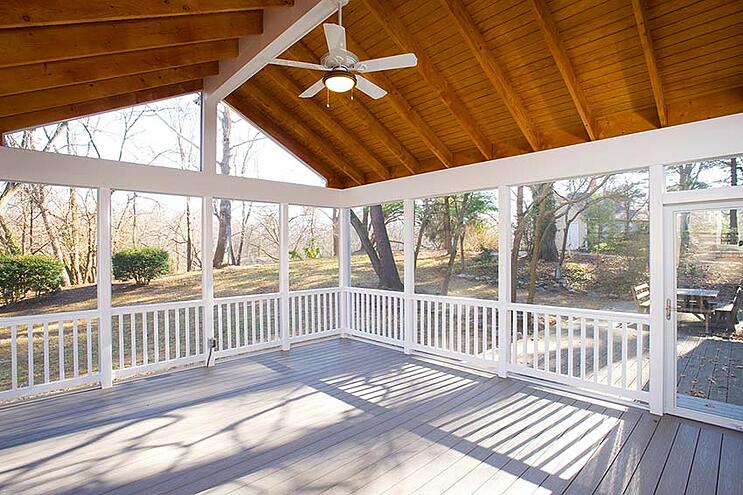 Screened-in porch design in Maryland built by Design Builders, Inc.


3. Providing the necessary documents
In order to get the process started, you will need to provide the contractor with documentation regarding your house. The most important document, and the one that usually holds things up, is the site plan. The site plan shows where the property site is in relation to building restriction lines, and it's required for the building permit so your jurisdiction can determine if the project will comply with local laws. The plan is also valuable for the design process, since it provides a view of how the project fits into your property.

4. Providing access to the home
On most work days, the work crew won't need to set foot in your home. After all, construction is taking place outside the home. But there are some situations where access to the interior is necessary. If a circuit is tripped, the crew needs to be able to reset it. They're relying on the electricity, so if they can't get in, they can't work, setting your project back.


5. Construction management
A good contractor can help ensure that the crew is doing their job – showing up on time, keeping the site clean, and troubleshooting potential issues as they arise. If you don't have proper oversight of your project, mistakes can go unnoticed for days and require additional work, and the crew may not be working up to pace.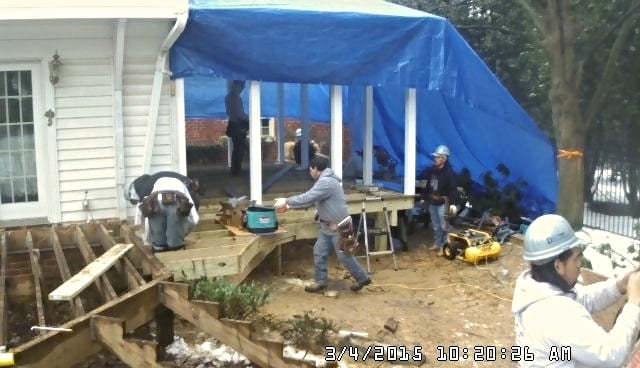 Porch in Maryland under construction
Many contractors will have a superintendent that will visit the site each day for an hour or so before moving on. But a newer and more efficient system includes the use of video security cameras, which allows multiple professionals – the construction manager, draftsmen, project coordinator, and designer – to keep an eye on your site throughout the day. In fact, many of them will even allow you access to the feed, if you'd like. The system allows more people to stay on top of the project regularly, resulting in more efficient construction.


6. Bad weather
Unfortunately, this is one factor that no one can control. When it rains, construction has to halt until the ground dries. With a crew of 4 or more on your project tracking through muddy grounds, it can destroy the yard and cause a mess. In many cases, one day of rain means two days of lost work. The only step you can take to prevent this issue is to plan your screen room project during a time of year when it's less likely to rain or snow.


7. It's All about Teamwork
Teamwork is the key to getting your screened porch in Maryland completed quickly. The homeowner and the contractor must work together to get decisions made and get things moving. If you select an experienced contractor you trust, you'll find the process easier. By maintaining open communication channels, you'll get any potential delays resolved quickly, and be able to build a screened porch as efficiently and hassle-free as possible.