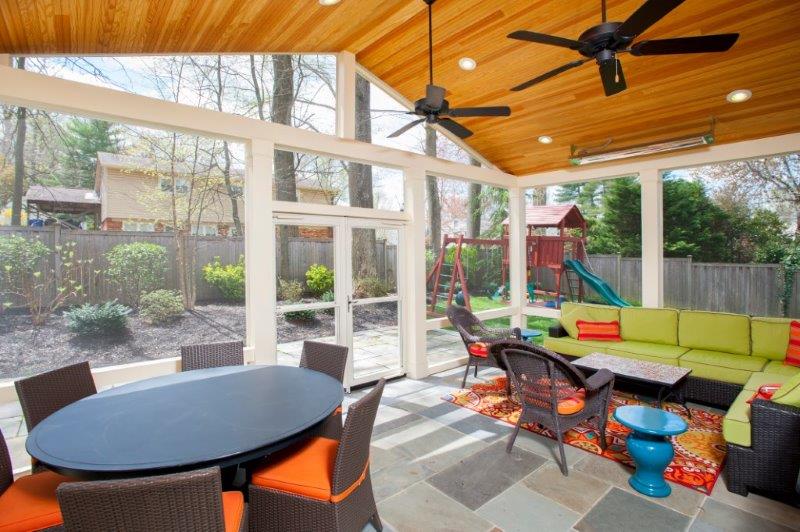 7 Tips for Building High-End Screen Porches
Every outdoor project is different. It's going to be tailored to the house, the people building it, the region and climate it's located within, and a laundry list of other factors. However, there are consistent features and hallmarks that distinguish a high-end screen porch area. Talk to your contractor about incorporating these design features and ideas to ensure you receive the highest quality end product.
Ceilings. One of the most important aspects of a screened porch in Maryland is the overall design. You want it to feel maximally spacious for the area utilized, and vaulted ceilings are an easy, aesthetically pleasing way to achieve that. With vaulted ceilings, you get the open, cathedral look and avoid anything tight or claustrophobic.


Columns. Columns figure prominently into many screen porches in Virginia, and they need to live up to certain standards to belong within a high-end project. The first standard is the material. Use either a proper PVC column or natural wood. The second standard is installation. PVC should be glued, puttied, and painted, and wood should be a solid 8 x 8 that's painted to match or complement the house



Handrails.

Handrails might seem like a more peripheral aspect of a screen porch project, but incorporating handrails with the same attention to detail one might reserve for decking can truly take a project to the next level of quality. You want to use a high-end composite or metal railing system. Custom-fit wrought iron is always a nice choice, and it can be powder coated to any desired color. This ensures it will fit seamlessly into the established design scheme.



Decking.

Decking is arguably the most important aspect of a screen porch. It's visually dominant and receives the most direct use. As such, the materials you purchase are paramount. If you choose natural wood, it should be treated and properly stained or painted. If you opt for a synthetic material, consider Zuri decking. It requires no maintenance and is the only synthetic that truly replicates the look of natural wood. Connectors must also be extremely durable and visually appealing. Many high-end designers, therefore, opt for steel joists and steel framing.

Additionally, the floor must be entirely flat. This often requires the use of a planer to ensure the lack of waves or disruption in the floor.


Electronics. Upscale screened rooms in Maryland are often about the little touches and flourishes that distinguish them from something more cookie-cutter or generic. Electronics are an easy place to incorporate those details. These spaces can have television hookups, entertainment systems, outlets, heat, recessed lighting, and more. Some of these features can be self-storing, and the speakers can even be programmed separately from those within the home to set up custom zones for music or other audio needs.


Materials. No matter whether your contractor is discussing decking, columns, or hardware, high-end screened rooms in Virginia use the best material available. That does not always necessarily mean the most expensive. Your contractor should walk through the options that work best for your needs and lifestyle. Do you need decking that's resistant to sun, rain, snow, or some combination? Would you rather a product be low maintenance than look immaculate? All of these factors go into deciding what "best" means to you and your project.

When considering screening options, your best choices are aluminum screens, a SCREENEZE screening system, or motorized retractable screens by Phantom Screens.


Incorporation. Any screen porch project needs to seamlessly work with the established home. That means matching or complementing the existing color scheme and structural choices. When the screen porch mirrors the home, it ceases to be an exterior product and becomes instead another room of the home.