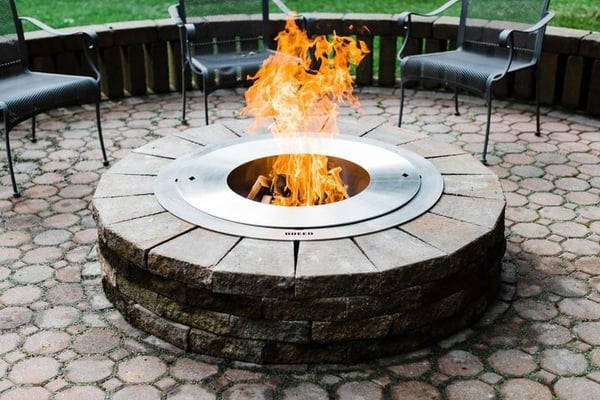 (Photo courtesy of Breeo)
Fire Pit Trends Northern Virginia & Maryland Homeowners Are Loving
Nothing beats the warmth, ambiance, and beauty of a firepit. It's a gathering place, a central design element of your outdoor living space, and a practical addition to any Northern Virginia or Maryland home. Whether you're updating an existing outdoor living space or thinking about adding a new one altogether, here are some key fire pit trends to keep your eye on.
3 Firepit Trends to Inspire Your NoVA or MD Outdoor Living Space
Discover what's trending in the world of fire features. Get an idea (or two) for your own design project.
Concrete Fire Pits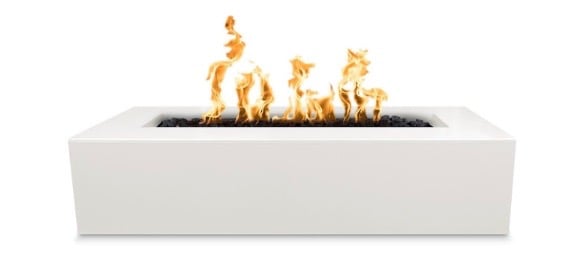 Concrete firepits have been an escalating trend over the past few years. This comes down to two main reasons: aesthetics and functionality.
The Aesthetics of Concrete Firepits
While the look is simplistic, it's anything but boring. The clean, modern, industrial look elevates any outdoor living space.
This aesthetic choice doesn't come as a surprise. It ties into a general design trend that's been on the rise for years: the move toward minimalism.
As a design and build firm, we've seen this in several areas of outdoor living. Many of today's decking trends, for example, have to do with paring down those design options and only allocating budget to the most impactful choices.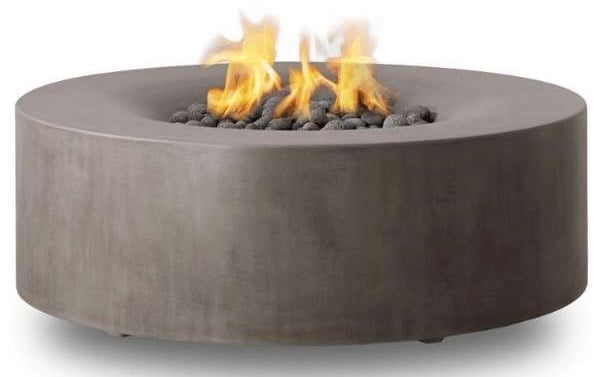 (Photo courtesy of Firepit Plus)
The Functionality of Concrete Firepits
The other big reason for the popularity of concrete firepits is the concrete itself. As a glass fiber-reinforced concrete, this material is specifically engineered for outdoor goods.
It gives the homeowner peace of mind knowing the investment in that feature is more secure. The product is:
Extremely durable and able to withstand the elements, even throughout harsh Northern Virginia and Maryland seasons
High quality
Aesthetically pleasing
Much lighter than traditional concrete
Wood Stoves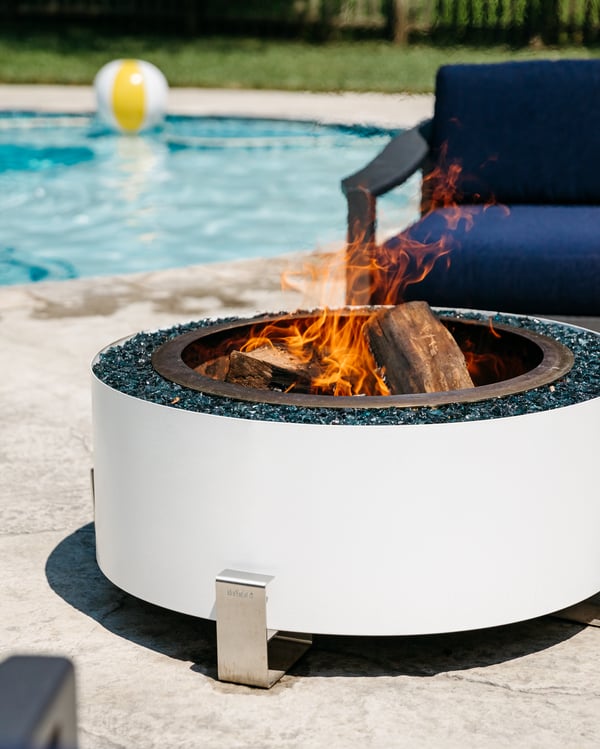 (Photo courtesy of Breeo)
Another popular firepit trend is the move toward wood stoves.
"We brought on wood stoves in 2022, and it's been a big category for us," said Tiffany Parra, founder of Fire Pit Surplus. "They really bring that old-school feel to any space."
Another incentive driving the popularity of wood stoves currently is a federal tax credit.
According to the Hearth, Patio & Barbecue Association, "Beginning in 2023, consumers buying highly efficient wood or pellet stoves or larger residential biomass heating systems may be eligible to claim a 30% tax credit – capped at $2,000 annually – based on the full cost (purchase and installation) of the unit. The credit runs through December 31, 2032."
Note: we are not financial experts or tax advisors. As with anything related to finances, check with your tax advisor for more specifics.
Natural Gas and Propane as Fuel Sources
Consumers are increasingly gravitating toward both propane and natural gas as a fuel source for their firepits.
These fuel types offer a handful of benefits:
They give off a large amount of heat. Bioethanol, for example, gives off a lower Btu (British thermal unit), meaning it doesn't offer as much practical heat. As homeowners move toward solutions that provide the best functionality for the price point, natural gas and propane are edging out other fuel options.
Natural gas tends to be cheaper to operate than propane. Yes, there's often the expense of installing the natural gas line. After that, though, operational expenses are lower.
An installed natural gas line also offers the best convenience. Depending on how often you use the feature, propane can mean having to run to the store frequently to purchase or to replace propane tanks.
Partner with a Knowledgeable Design and Build Firm for Your Home Update
Expanding an existing outdoor living space in your Northern Virginia or Maryland home? Updating an out-of-date exterior area? Creating something entirely from scratch?
Whatever kind of deck, screen porch, patio, or outdoor kitchen project you're undertaking, Design Builders can help.
Want to get a ballpark idea of what that outdoor living space is going to cost? Get your no-obligation quote today.