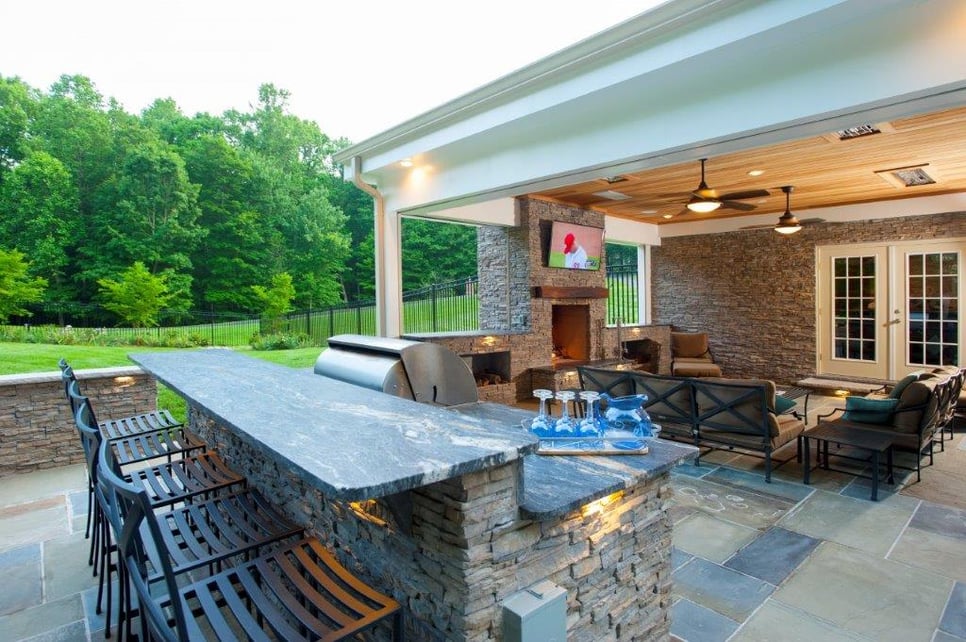 Premium Outdoor Kitchens
In the design and implementation of many high-end outdoor living spaces, kitchens have become a staple. While outdoor spaces used to be thought of as areas external to and separate from the home, they have become much more integrated over the years, and nowhere is this more evident than in the increased quality, functionality, and aesthetics of premium outdoor kitchens. This particular kitchen project exemplifies that shift from a general outdoor space to a specialized, functional area that's truly an extension of the main home.
General Layout
The outdoor kitchen has a standard area for all appliances and cooking needs, but it also has bar seating for four to six people. The bar overhang spaces the main entertaining area, which allows people to sit at the bar and talk or socialize while the cook is in the kitchen area working. This serves as a separation to delineate space without making either area isolated from the other.
From this area, people can also still have visual access to the fireplace and television, and everything coordinates around the hot tub as well.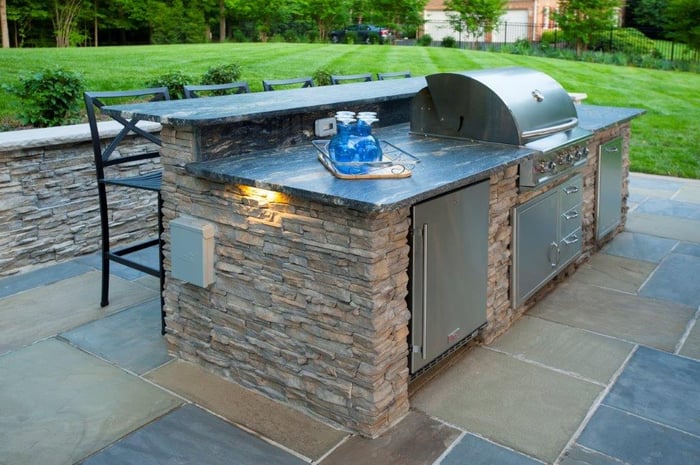 Beautiful dark countertops and stainless steel appliances bring this outdoor kitchen to life
Countertops and Cabinets
The kitchen is trimmed with stone, including a granite countertop, while the cabinets are done in a more traditional style. This blends the modern elements of the outdoor kitchen with flashes of a more old-school design sensibility.
The base is built out of steel 2 x 4 studs with a Durock wall. Veneer is installed on the outside of that concrete board, and the countertop is positioned on top of that. The space uses a lot of stainless steel, which again is the more traditional look for these areas, but there are plenty of modern flourishes incorporated into the hardware and design style itself.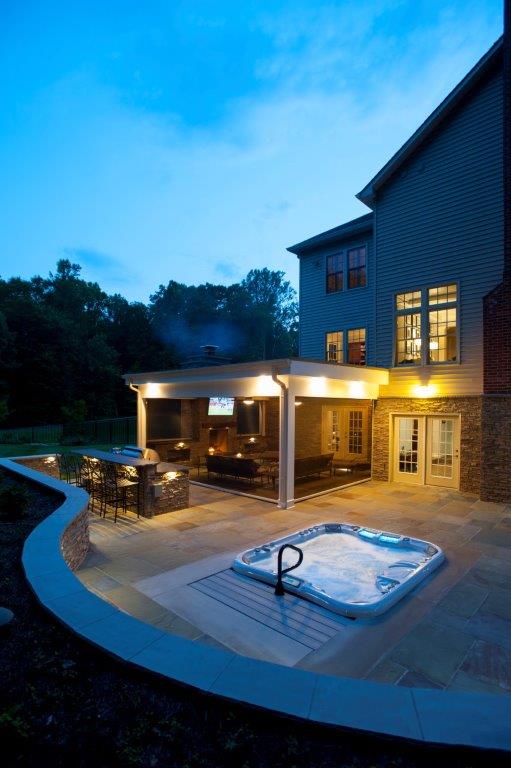 Cooking Tools
This kitchen incorporates many cooking tools that you'd find in an indoor kitchen. This allows for a wide range of food to be prepared in the outdoor space. Again, this represents that shift in mentality about outdoor kitchens. That is, they are no longer just a place to grill. They are as properly outfitted and well designed as any indoor space, which allows you the flexibility to prepare your meal while simultaneously enjoying the outdoor area.
Specific cooking elements incorporated into this space include:
48-inch gas-operated grill
Full refrigerator
Drawer components
Trash pull
Warming drawer
Side burner
Extra storage
All outlets are built into the overhang in order to easily run any number of appliances, so there's no need to run back and forth between the main house and the outdoor kitchen in order to run a blender for drinks or make toast with your coffee in the morning. It's all outfitted and ready in that space.
Aesthetic and Functional Coordination
Many of these cooking elements are the same brand, namely Blaze. For example, it's a Blaze grill as well as Blaze access doors. This serves two important purposes. One, it gives the outdoor kitchen a streamlined aesthetic look. Because everything is within the same brand, the color scheme and design style coordinate and/or match well together.
Two, all the appliances are designed for operation in a similar way. This means the person working in the kitchen doesn't have to try to navigate multiple cooking implements from multiple companies. The interface for everything is kept similar.
This kitchen is indicative of how far outdoor spaces have come, but it also shows how personal preference can easily be assimilated into the design scheme. In this way, people can pick and choose what design elements, hardware, and kitchen layouts best fit their lifestyles. Some homeowners like the look of stone, while others prefer the durability and finish of stainless steel outdoor kitchen cabinets like those offered by Danver outdoor kitchens.