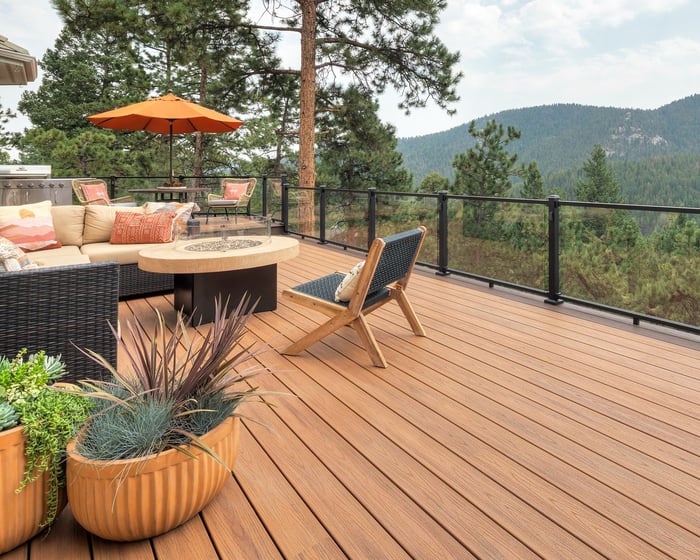 (Photo courtesy of Trex)
Top Trex Deck Design Tools for Homeowners
If you're starting a deck from scratch at your Northern Virginia or Maryland home, you might be feeling overwhelmed by the process. Luckily, there are lots of free deck design tools and resources available to help you through every stage. Here are 10 from the experts at Trex, the world's largest manufacturer of wood-alternative railing and decking.
Resources to Help You When Designing Your Deck
Ideal for those who are in the earliest stages of deck planning, the Trex AR Deck Visualizer is a simple way to virtually build a deck. Just hold up your phone where you plan to build your deck. Using your outdoor space as the backdrop, the visualizer app allows you to explore and to experiment with high-level deck components in real time, including shape, color and style.
Within the app, you can also…
Find complementary deck and railing pairings.

Get deck square footage of your intended design.

Order deck samples.

Find nearby retailers or builders.
After you've used the Trex AR Deck Visualizer, you can move onto the Trex Deck Designer. This software operates on your desktop and offers an extensive suite of options.
With this deck designing tool, you can handpick just about every detail and element of your custom deck. This includes…
Deck size, shape, and layout

Any of the three collections of Trex composite decking boards

Any of the three collections of Trex railings
The 3D deck design software lets you do everything from obtaining a shopping list of your selected materials to sharing the blueprint with a contractor to ascertaining if the deck you've designed is within budget.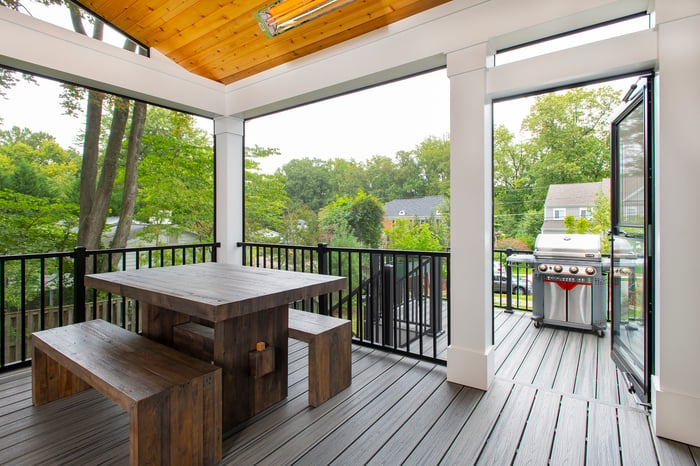 This tool walks you through three easy steps for designing a deck.
Within step one, there are three decisions:
First, choose a deck plan. Your options within the tool are rectangle, beveled-edge and overlook.

Second, choose a deck size. If you choose rectangle, you can select one of five popular preset sizes. These range from 144 square feet to 240 square feet. (Beveled-edge and overlook each have one size option.)

Third, select between a new pressure-treated wood substructure or an existing structure.
In step two, select your deck board color from one of 20 options. You then choose from one of three predesigned railings that go with your composite decking color choice. (No railing is also an option.)
Step three provides you with the following:
Estimated material costs for the selected items

A printable materials list

A deck plan

Retailers near you
This basic deck designing tool is meant to offer ready-to-go designs for your outdoor living space. It also gives you a high-level idea of material costs. Whether you're doing the deck installation yourself or working with a local contractor, this tool helps streamline the planning process.
Pairing composite decking with railing isn't always straightforward. It takes a sophisticated design eye to get colors, textures and materials that complement each other.
That's why the Trex design team put together pairings for the company's most popular decking colors.
This tool gives you access to expert-curated deck and railing combinations. These can either serve as a starting point in your design journey, or you can take the suggestions and translate them directly into your new deck.
When it comes to outdoor living spaces, everyone wants to know one thing: How much will the project cost?
Budget is an important component of any home improvement project, and the Trex Deck Cost Calculator helps give a rough idea of those material costs.
The tool is extremely intuitive and just requires the approximate decking square footage, whether railings will be included, and if the substructure is existing or not. Using that information, it provides a pricing point for the three levels of Trex products: good, better and best.
The quote does not include the following:
Labor

Deck features, such as stairs or lighting

Additional installation costs
Numbers will vary, but expect materials to account for about one-third of the final install price.
This is a great way to get a ballpark idea of whether your dream deck is within budget.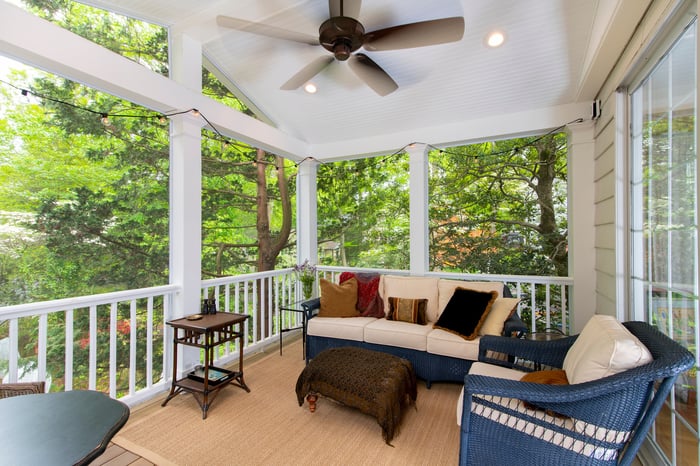 Sometimes the best way to get deck ideas is to be inspired by real-life finished projects. This is the idea behind Trex's "Ideas" page.
This online gallery features beautiful Trex decking projects of all sizes and styles across the globe. It also highlights decks with various features and layouts.
One of the hardest things about designing a deck successfully is so much research happens on a computer screen (or tablet or cell phone). It's a good starting point, but you can't really appreciate the nuance, color, and texture of any product until you see and touch the physical material.
With Trex's deck sample program, you can order sample pieces of decking in any available color. This provides several benefits:
You get an accurate idea of color. The varying saturation, intensity, and balance of electronic screens can make something look very different on a computer or phone than it does in person.

You can see how the color responds in different lights. Maybe you love a color in full sunlight but have issues with it in shade.

You can see what works best with your existing home and design scheme.
Samples are delivered straight to your door.
When you're ready to actually purchase material, Trex has put together a quick, handy checklist.
The simple four-step list includes the following:
Determining the square footage of your deck.

Calculating how many boards you'll need.

Figuring out if your items are in stock locally or if you'll need to special order.

Listing and obtaining any installation tools you'll need. (This is for do-it-yourself installers.)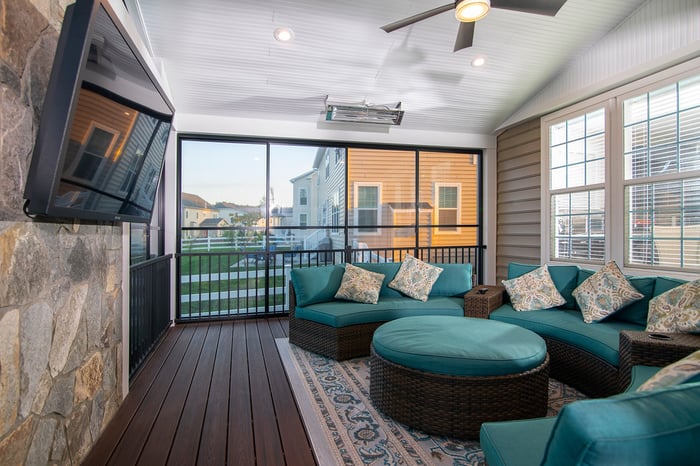 If you're looking to save on installation costs, a do-it-yourself install is possible. (Just make sure to assess your skills and willingness to handle the job yourself. If you're unsure whether a professional install is right for you, give us a shout. We're happy to answer any questions!)
If you are tackling the job yourself, Trex provides a library of deck installation video tutorials as well as downloadable installation guides.
Lighting is a great way to personalize and enhance any deck. It also makes the space usable for more hours of the day, expanding its functionality.
Once you start adding lighting, you will need to determine the right number of transformers your project requires.
With this handy calculator, you simply enter how many units you'll need for each of the following:
Riser lights

Recessed lights

Wedge post lamps

Post lamps

5" aluminum post caps

Post caps
You then select total wire length, and the tool calculates how many 100-watt transformers or 30-watt transformers your project will require.
There's also a link directly under your results to purchase the transformers.
Used the Deck Designing Tools but Need a Builder? That's Where We Come In!
You know exactly what you want your deck to look like. Now what? If you need a professional to install your deck and to navigate the permits, reach out to us today.
We're Design Builders, and we specialize in custom, high-end outdoor living spaces, including decks. We operate in Northern Virginia and Maryland and would love to help you achieve your dream deck!