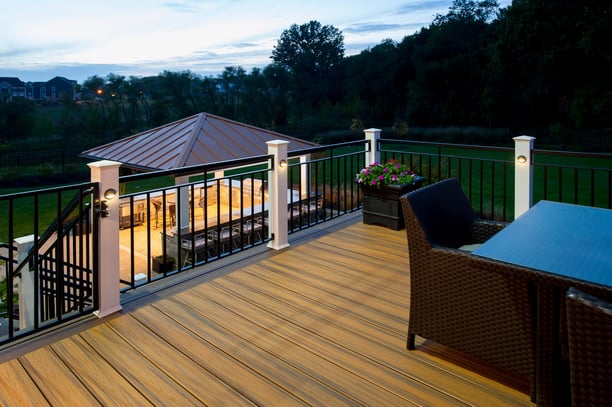 Light Up the Night
Daydreaming about that iconic outdoor living space is fun. However, it can be easy to forget some things that while not so exciting, are essential to your new deck or screened porch. Enter lighting. It's our job to help you determine the best illumination for your space. After all, you can't always count on the moonlight to show you the way.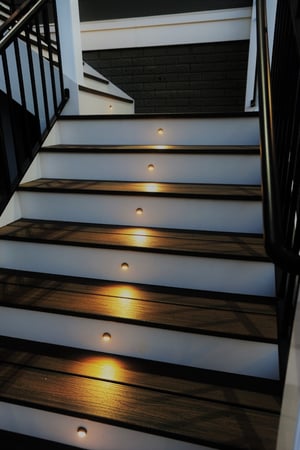 We can install a variety of exterior lighting options to complement your outdoor living space and enhance whatever you plan to do with that area, be it read, work, socialize, create a play zone, or relax.
Low voltage lighting options are inexpensive and vary in size, color, and style. We can even install eco-friendly designs that use solar power. What all low-voltage lights have in common is that they give off a smooth glow, preventing that jarring, deer-in-the-headlights shine. Here are some of the most common and recommended areas to have lighting installed so that you can extend the usefulness of your outdoor living space while also providing safety and security for your family:
Stair riser lights – Stair riser lights will remind you – and your guests – where each step is, ensuring safer trips up and down a full flight of stairs or just a few steps from one area of your deck to another.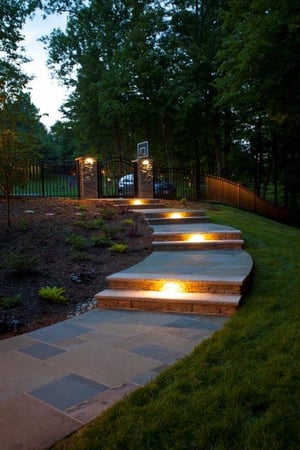 Pathway lights – Pathway lights around the pool, deck, yard, or garden are crucial to make sure that preventable nighttime tripping or falling accidents don't occur, plus they shed light on the beautiful aspects of your home and outdoor space, including trees and greenery.
Railing lights – Your railings are there to guide people around your outdoor space. Equipping the rails with strategically placed lights will double their usefulness and safety.
Tree accent lights – Want an extra-special enhancement to your outdoor lighting? Tree accent lights – available in a variety of colors – make a statement and creatively highlight the features of your yard of which you're most proud.
All of the low-voltage lighting variations add aesthetic value to your outdoor space and your home as a whole. We can help you achieve the ambiance you're seeking, be it elegant and dramatic, light and airy, or warm and inviting.
Traditional lighting options – wall sconces, floodlights, carriage lights, and ceiling fan lights – also help set the mood and tone of your outdoor space while providing useful illumination for any activities or socializing you plan on your new deck, screened-in porch, or gazebo.