How practical is it to add a skylight to an existing porch ?
Homeowners are often intrigued by the idea of adding a skylight to their porch, enticed by the promise of natural, energy-saving light. While skylights can add beauty and energy efficiency to your outdoor living space, they can also cause a lot of costly problems if installed improperly.

Installing a Skylight during Construction of a New Screened Porch
When it comes to installing the ceiling feature, you'll need both an experienced contractor and a top-quality product. As an example, VELUX skylights are designed to avoid leaking and are a popular choice.
The cost of installing a 22" x 44" VELUX skylight with flashing starts around an average of $1000. However, If you are having one included in the construction of your new screen porch, the process is much easier.
An experienced deck contractor will be able to add a skylight during the construction of your porch within a couple of hours. With the help of a talented carpenter and roofer, the windows can be installed in a secure manner that eliminates the potential for future leaking problems entirely.
Installing a Skylight in an Existing Screened-In Porch
The process becomes problematic if you are trying to retrofit a skylight into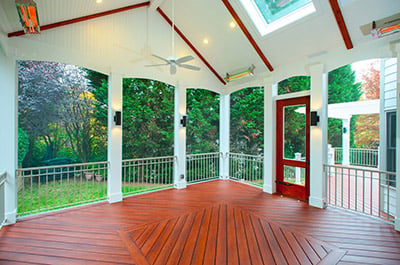 your screened porch—that is, if you are trying to install a skylight into the roof of an already existing porch. The process is two or three times as long and much more challenging – and also with much greater opportunity for error.
To install a skylight on an existing screened-in porch, your contractor must remove a large amount of existing shingles and cut a hole in your porch's roof. It's extremely important to seal the structure, apply flashing, and replace the shingles correctly to avoid disastrous (and expensive) leaking problems.
Tips for Installing a Skylight in Your Screened Room
While installing a skylight can be a tricky process, it can bring a lot of natural beauty to your screened porch if handled correctly. Ensure the integrity of your investment by follow these tips:
Plan ahead. The best time to install a skylight is when your porch's roof is being constructed. By planning ahead and coordinating an installation with your build, you can save a lot of hassle, money, and time.
Plan carefully. If you are unable to plan ahead, you can still install a functioning, secure, and beautiful fixture through careful planning. Consult with your contractor to determine the best variety, location, and installation method for your skylight to avoid future problems and leaking.
Watch out for bad weather. Rain, snow, and other inclement weather conditions can force your project to come to a screeching halt, especially if moisture becomes a problem.
Choose a top-quality skylight. With these products in particular, it is a bad idea to skimp on quality. They are permanent fixtures in your roof and are exposed to a slew of harsh elements and wear. It is highly advisable to go with a variety that offers water tightness, UV-protection, and energy efficiency.
Avoid skylights that open. Skylights that open and close often are more prone to accidental leaks. They are also redundant in a screened porch because, well, there is plenty of ventilation as is. Spare yourself the extra expense.
Hire a contractor. There are many excellent do-it-yourself home improvement projects—installing a skylight isn't one of them. Due to the complexity of the process and the high opportunity for error, it's best to have a contractor install one.