How CoConstruct Makes Working with Design Builders Fast, Fun and Efficient
If you're about to start a home improvement or remodeling project, consider working with a licensed contractor that uses CoConstruct. CoConstruct is a project management software that provides a number of benefits to clients and contractor alike by facilitating an effective construction process. Design Builders has achieved great success utilizing the software to improve its customer experience, so what exactly are its users saying?



CoConstruct: A Consistent Five-Star Product
Online Reviews for CoConstruct Speak for Themselves
As anyone who has read web reviews knows, people can be harsh when posting criticisms online, a fact that extends to reviews of software like CoConstruct. However, a Google search of CoConstruct software reveals that it consistently has earned five-start ratings with over five hundred reviews across several online review channels. As an example, one specific aggregate review site has it at 5 stars overall, 4.5 stars for ease of use, and 5 stars for customer service. It was the number one highest-rated software platform of its kind closing out 2017.

Image displaying accolades from the front page of
co-construct.com
Clients Love CoConstruct Support
In addition to the platform's general functionality, users are also impressed and pleased with the network of support they receive with it.
In terms of pricing, the system does offer a free demo, so if you're not 100 percent happy with it, you're not liable to pay anything. As an extra safety net, there's also a ninety-day money-back guarantee.
If there is one criticism of CoConstruct, it's that the software contains a wide range of functionality and takes some getting used to. This is precisely why there's support and training in the form of online documentation, webinars, live online help, and even in-person assistance.
What CoConstruct Is Saying
CoConstruct is proud to stand behind its product and is pleased at the consistently positive feedback they receive from users. In certain parts of the States, including Nashville, Tennessee, CoConstruct is becoming such a staple in the construction business that many builders now refuse to work with subcontractors who are not running the software.
As the reach of the software extends and more commercial and private users become aware of it, CoConstruct is seeing an influx of people increasingly dedicated to this tool. They are reporting equally positive responses from contractors and clients, whether the job is an interior remodel or a complete home build.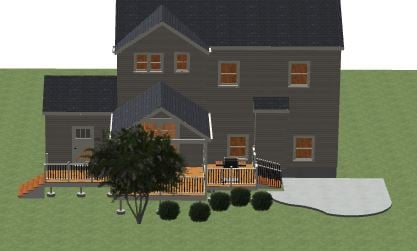 Using CoConstruct with Design Builders, Inc.
The majority of homeowners who request a quote with Design Builders are not immediately familiar with CoConstruct. However, after using the system, most are quick to recognize its value. Clients who have undertaken major construction projects before are uniquely positioned to understand how much a system like CoConstruct helps to consolidate and provide accountability for client-contractor communication, scheduling issues, budgetary transparency, and more design-build contingencies.
Like many design and build firms who started using the software, Design Builders has created the expectation for its subcontractors and partners to use CoConstruct as well to the benefit of its staff and customer base.
If you have questions about CoConstruct software and the firsthand positive feedback our clients have provided, please give us a call or leave a comment below!