Pressure treated wood is still popular for decks. And If you have a pressure treated deck, you know that you have to clean it regularly to keep it looking its best and prevent damage. Be careful what you use when washing your deck though, because sometimes you may end up doing more harm than good.
How so? Well, consider this. If you don't know a lot about decks built with pressure-treated wood, you might just head out to the local big box hardware store and grab whatever cleaning solution looks best to do the job. But if you use this product on your decking, it's going to soak up the chemicals in the solution and cause a big problem. What kind of problem? Staining.
Obviously no one wants to create a stain on their deck – and you certainly don't want to do it when you're attempting to clean the wood! That's why you have to pay attention and do your research about what's best to use for deck maintenance.
How to Clean Your Pressure Treated Deck
The first thing to know about deck cleaning is that there's the kind of cleaning you do for regular maintenance and there's cleaning that needs to happen before you apply a new stain to your deck. If you're just doing a routine wash to remove dirt, dust, and leaves, all you really need is a broom and maybe some water. The goal should just be to wipe away what's on the surface and get down to the actual deck. For this kind of regular cleaning, you should never use a deck-cleaning solution – even a "good" one.
What's the danger in using cleaning solution for a regular wash? It removes your wood stain. Instead, cleaning solution should really only be used to prep your deck before having it re-stained every year. It strips pre-treated wood down to its natural state so you can apply the new stain to the wood itself.
Of course, you still need to know about the different kinds of cleaning solutions if this is your goal. There are many options, and you need to understand what you're putting on your wood. Generally speaking, there are two kinds of cleaning solutions available to you: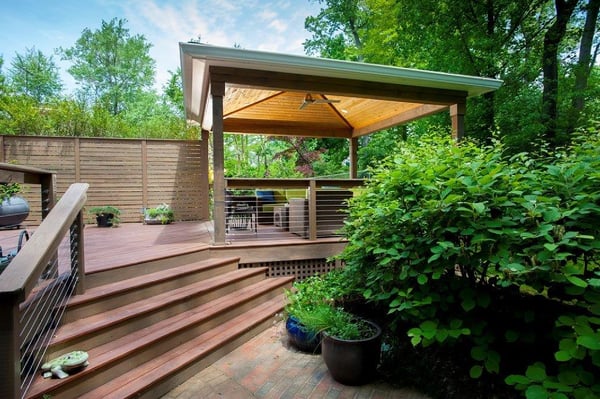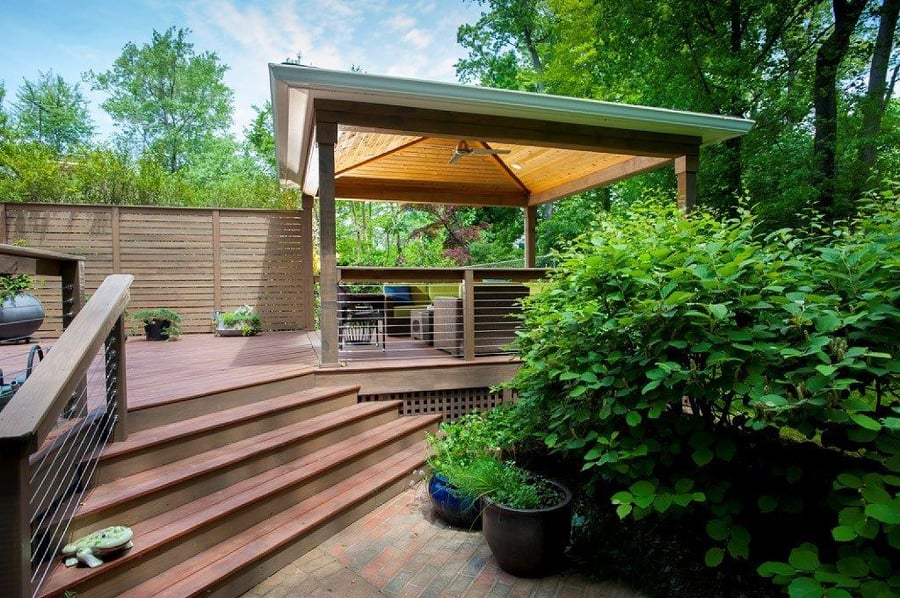 Cleaners with bleach
These kinds of deck cleaners have been around for decades, and for a long time, they were the way to clean your deck. When used correctly, bleach-based cleaners can do a lot of good. They remove mold, mildew, and algae, clean away grime and dirt, and even "whiten" your deck.

Unfortunately, bleach-based cleaners have been found to cause harm to wood cells, harming the lignin that binds the cellular structure together. These solutions can also hurt your plants and lawn if the bleach is too strong, though this effect is lessened if you drape a cover over your plant life to protect them from spray and runoff. For these reasons, it's best to avoid bleach cleaners.
Oxygenated cleaners
Billed as environmentally safer than bleach cleaners, oxygenated cleaners are registered with the EPA and won't cause as much harm to the rest of your backyard. They are very good at removing contaminants, getting rid of mold and mildew, and simply cleaning the wood itself. Additionally, they tend to be quite cost effective.

You do, however, have to deal with powdered concentrates that need to be mixed with warm water and only stay active for a half hour. Most experts argue that oxygenated cleaners are worth the hassle – especially since they're better at protecting both your landscape and the wood, but ultimately, it's up to you.
So, to recap, how should you clean your pressure-treated deck? It depends on the kind of cleaning you're doing. Unless you need to prep your deck for staining, the best "cleaner" you can use is a broom. And if you need to use an actual cleaning solution, remember to look into the active ingredients and protect your deck – and your landscape – accordingly.