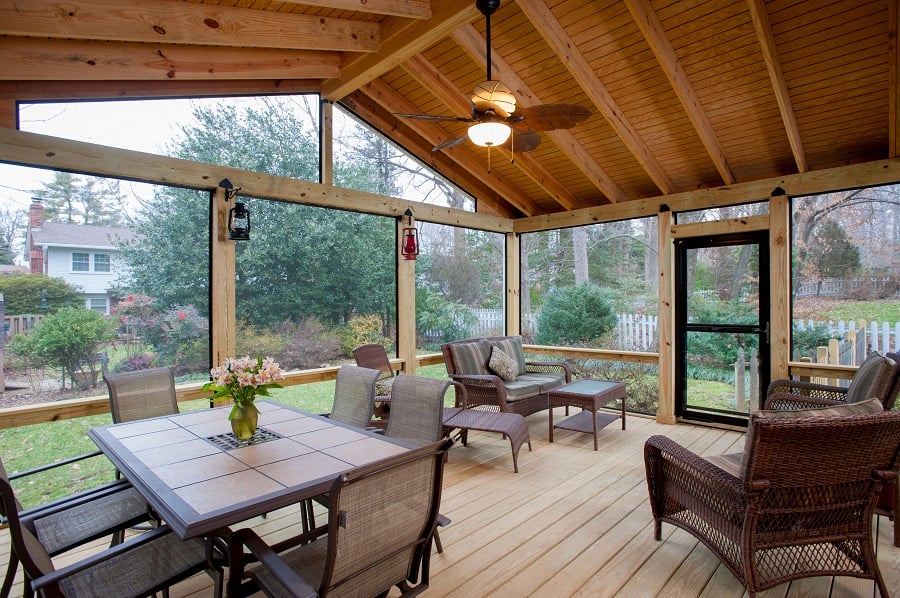 A pressure-treated screened porch will always be less expensive than its low-maintenance counterparts. For this reason, pressure-treated lumber is generally a better investment for homeowners looking for a better return when selling their homes than, say, Trex decking. However, there are many factors that will influence the final price tag of screened-in porch, if pressure-treated wood is determined to be adequate for your home improvement project.
What Does it Cost to Build a Pressure-Treated Screen Room?
Size
The bigger a screen porch design, the more it will cost to build. The average price for a screened porch in Montgomery County, a screen room in Virginia, or another screened enclosure in Washington, DC is about $170 per square foot minimum. This is for a barebones screened room made with pressure-treated wood and a SCREENEZE porch screening system.
In practice, the costs are surprisingly affordable. The typical or average size of a screened porch in Maryland is 16' x 16' for a total of 256 square feet. For non-elevated basic porches without costly add-ons, the total cost of a porch in Virginia (or elsewhere in the DMV) hovers around $45,000.
Height, or "How much does it cost to build stairs for a porch?"
While ground-level porches are relatively affordable, elevated porch designs do incur additional costs. To build a landing and stairs for a heightened patio or porch, expect to pay $6,000 or more on top of an original estimate.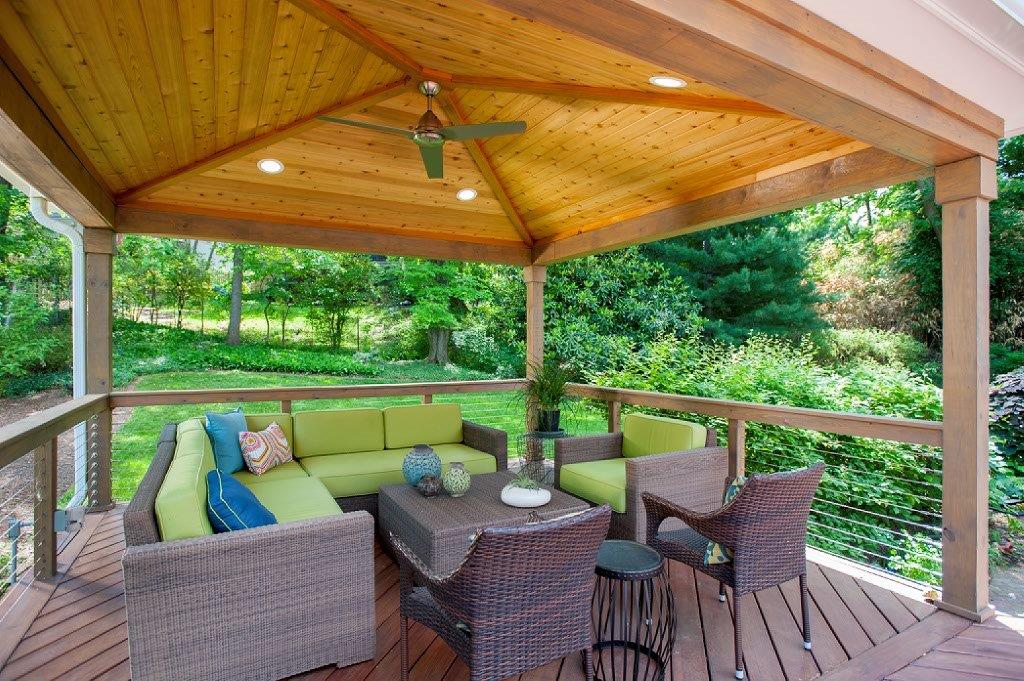 Electrical Upgrades
Ceiling fans, low-voltage lighting packages (like those from Trex), electric heaters (like Heatstrip USA and Infratech heaters), and outdoor televisions are just a few of the many electrical upgrades DMV area homeowners can add to their screened porches. The cost of these upgrades vary greatly - an outdoor ceiling fan can run a couple hundred dollars, while Infratech heaters a couple thousand - but are a common, simple way to impress guests and enhance the livability factor of your room.
Average Total Cost
Most standard pressure-treated screened-in porches will run around $40,000 on the low-end, but can easily exceed $60,000 on the higher end with added porch features and deck accessories. This is to say that building a porch with pressure-treated wood is one of the most cost-effective ways to add an additional "room" to your home.
To emphasize this, consider that the average cost of converting an attic into a bedrooms is over $60,000 in the Washington, D.C. metro area.
---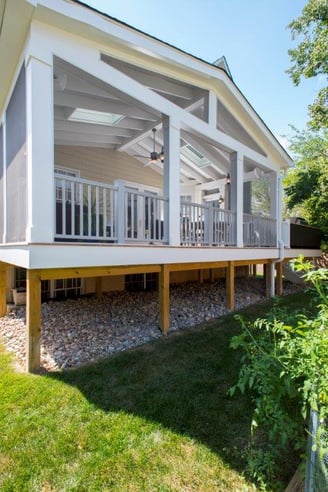 What Other Factors Drive the Cost of a Pressure-Treated Screened-In Porch?
The number of high-end screen porch accessories and customizations is virtually limitless. Here are a few more common price drivers to keep in mind when you're getting an estimate or considering your screened porch options:
Railings - Many homeowners who are building a pressure-treated screened porch in Maryland or Virginia opt to use pressure-treated railings as well, which may or may not be required by your local laws. Vinyl railings are also a popular upgrade and alternative.

Roofing - This often depends on the roofing your home already has. After all, you want this new porch to fit in seamlessly, not stick out like a sore thumb. Luckily, the most common roofing on homes is also among the least expensive: asphalt shingle roofing. However, you may also opt for gable roofing, metal roofing, and a plain shed roof.

Other Electrical Features – Want to add sconce lights to your columns, or low-voltage lighting features? Heaters are also popular additions as they expand a room's usability to year-round. Outdoor televisions by SunBriteTV are another frequently seen luxury add-on.

Ceiling – Do you want a standard plywood ceiling? Or would you like to upgrade to something fancier like a cedar ceiling? Or even metal? There are many options that can help you reach the aesthetic you want, but they may add to your final bottom-line. Consider beadboard ceilings for a classy, finished look at a reasonable price.
---
The best way to get the pressure-treated screen room you want at a price you can afford is to be upfront with your contractor about your budget, and to find a professional who will take the time to discuss how you will use the space. An experienced, worthwhile contracting professional will be able to help you find a balance between your budget and the features you desire to ensure your dream porch comes to fruition.