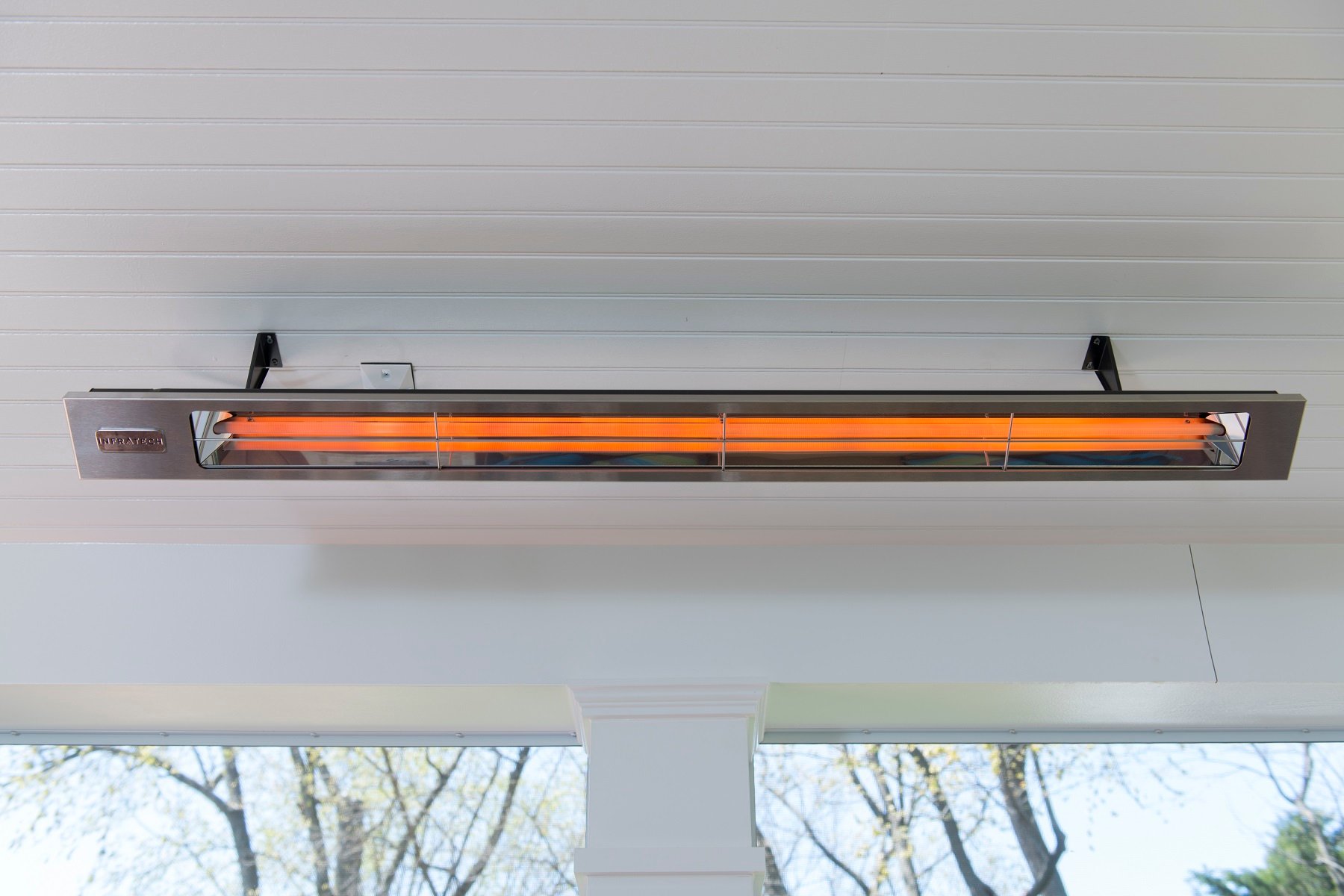 Technically, yes; practically, not likely. Adding Infratech heaters to your outdoor living space after the fact quickly becomes cost prohibitive for most homeowners.
What Are Infratech Heaters & Why Do We Love Them?
Infratech heaters are heaters that can be safely installed in exterior and interior spaces. They operate using infrared heat, and they're manufactured in the United States.
Key benefits of Infratech heaters:
Converts any exterior space to a three- or four-season room, depending on your location.
Requires less clearance than a gas heater because there's no open flame.
Can be flush mounted to reduce visual impact.
Provides heat, even in open-air environments.
Provides adjustable controls, so heat doesn't have to be just "on" or "off."
At Design Builders, we love Infratech heaters, and we routinely install them in our projects based around the Washington, DC; Virginia; and Maryland areas. The problem comes when somebody wants to add them to an existing exterior structure.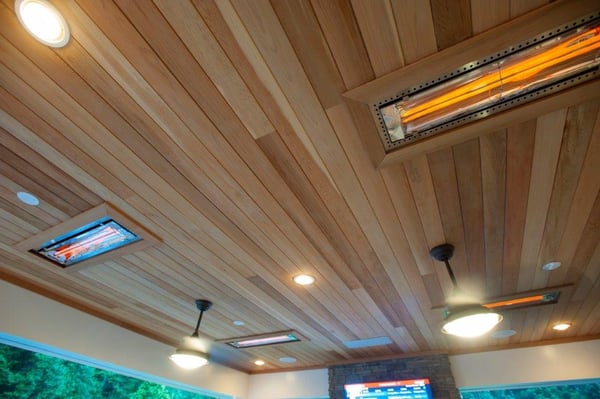 While it's technically possible to incorporate them after the fact, most homeowners are going to find the cost to be a deterrent.
How We Install Infratech Heaters
To give you a better sense of why it's so difficult to install these heaters after the fact, here's the process we go through to install them.
First things first, each installed heater requires a circuit. This has to start in the circuit box. We then wire from the circuit to the switch in the wall to the heater in the ceiling, using a 240-volt line. Again, this has to happen for each heater.
When you're in the middle of a project and everything is already wide open, this isn't an issue whatsoever. When we're running the electric, we simply run the necessary line for the heaters.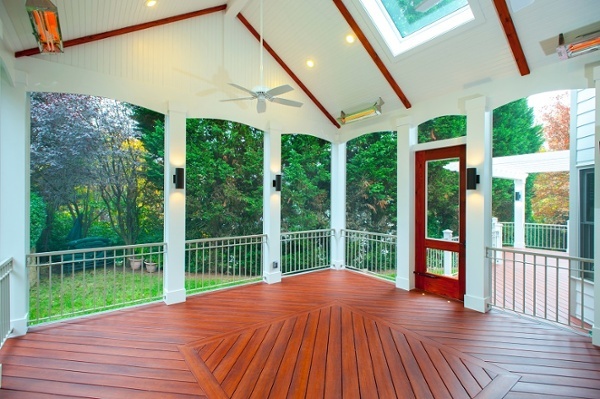 As a retrofit, though, you have to open up drywall and dismantle existing ceiling space to run those lines. You're talking about cutting drywall in the basement and kitchen and taking apart the ceiling in your screen porch.
To avoid the expense of taking your ceiling apart and putting it back together, you could have wire with a conduit on it running along your ceiling. Visible wires, though, are unsightly and can seriously detract from the look and feel of your screened-in porch.
I'm Still Interested. How Much Would It Cost?
A typical heater installation runs about $2000 to $2500 per heater. That includes the heater itself (often around $700), as well as the 240-amp circuit, the high-end wire (up to one hundred feet), and a specific switch.
By adding these heaters after the fact, you're potentially looking at an additional $3000 worth of wall repair—on top of the standard installation price.
For many homeowners, this just doesn't make financial sense, but if money is absolutely no object and you're comfortable with your house being opened up to accomplish the installation, it is possible to get Infratech heaters in your screen porch after it's been built.
As far as Design Builders and its process are concerned, this project falls outside the scope of our free online consultation. This is because it's not something that can be determined online. To confirm the scope of the work, an electrician or foreman needs to come out to your home and perform an inspection to assess the options. Photographs or a FaceTime call will not work. There is a $250 fee for this visit.
Alternate Heating Option for Your Enclosed Screen Porch
If you've decided against adding Infratech to your screen porch but you still want a safe, efficient way to add heat, consider a bioethanol burner. There are many products on the market. (Sorry, we don't use these products in our business, so we can't offer any suggestions about particular brands.) These are entirely clean burning and safe to operate, even in enclosed spaces. They don't produce any soot that will dirty ceilings or walls; there's no carbon monoxide output; and they're a portable, flexible heating option, making them a great option for retrofits.
If you're thinking about building a screened-in porch and want to learn more about infrared heating, don't hesitate to contact us. We'd love to talk about your project!