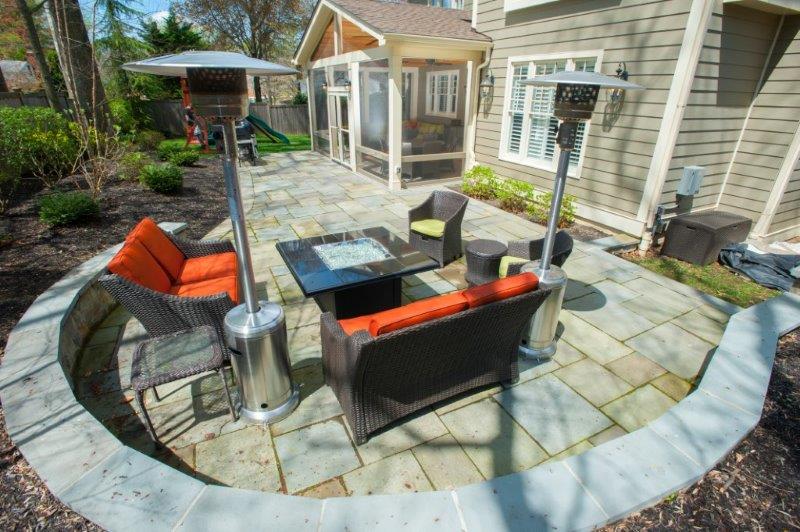 One common feature in landscaped exterior living spaces is the retaining wall. As a feature that adds functionality and aesthetic value, these are common implements in newly designed or renovated outdoor areas. However, with somewhat minor changes to the design plan, you can quite significantly alter the price and ease of building that structure.
Do I Need an Engineer?
While it's important to note that every jurisdiction is different, a good rule of thumb is that a retaining wall generally needs to be engineered once it is three feet or higher. At that point, the plans need to be reviewed by an engineer, and the project will also need additional permitting.
If you choose something shorter and simpler, the plan becomes more of a stone sitting wall—as seen in this current project—and the regulations become less strict. An engineer is typically not necessary for a wall under three feet, and permitting is less involved or not necessary.
Price Considerations
In addition to making the planning and construction process easier, having a shorter retaining wall can also affect the price of the project. Once the wall goes over three feet, the price of the engineer, permitting, and extra materials all come into play.
In general, a sitting wall because two and three feet is a much more cost effective approach to implementing this kind of feature in your external living area.
The Construction Process
Typically traditional stone sitting walls or retaining walls have cinder block interiors. Each cinder block is approximately 8" by 12", and those are stacked on top of a concrete footer. The footer in the picture below is about 20" below grade.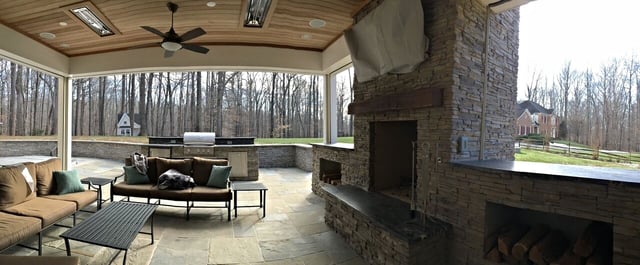 Stone retaining wall seen in the background of this outdoor patio with fireplace and cabinets in Clifton, Virginia.
If the structure of the wall requires it, it can also use rebar to hold it all together and strengthen the end product.
The cinder blocks are mortared together on top of the footer, and from there, you can choose whatever kind of stone veneer you want to put on front. If you want to use natural stone, don't forget that the footer must be large enough to fit that stone. Because of its added heft and weight, natural stone needs its own footer.
However, as seen in this project, a homeowner can also opt for a manmade, synthetic product such as Eldorado Stone. Because it's so much more lightweight, it's possible to just attach the stone to the CMU (cinder block) with adhesive. This offers the look of natural stone with added convenience during the construction process.
The entire wall can be finished with a two-inch bluestone thermal cap. These caps can also be seen as border pieces for flagstone patios or steps.
Finishing Touches
After the structure itself is complete, one common finishing touch is installing lighting throughout the wall. This low-voltage lighting typically highlights the stone and gives the entire project a finished, refined feel. These lights are most often installed under the stone overhang created by the cap at the top.
Structural Problems to Avoid
One of the easiest places for design teams to go wrong with a retaining wall is by neglecting to add enough weep holes. Weep holes allow water to make its way through the wall so it doesn't push against the structure, which can cause hydrostatic pressure to build up on the back side. Over time, that can compromise the structure of the wall.
Ensuring there are adequate weep holes, proper footers, and rebar (if necessary) are the main ways to create a sound, long-lasting wall.
To avoid any structural mishaps, consider working with an experienced team that understands common pitfalls and mistakes made during these types of projects. For more information about how a retaining wall could work with your outdoor space or to talk to an experienced member of a design build team, please contact a representative of Design Builders, Inc.