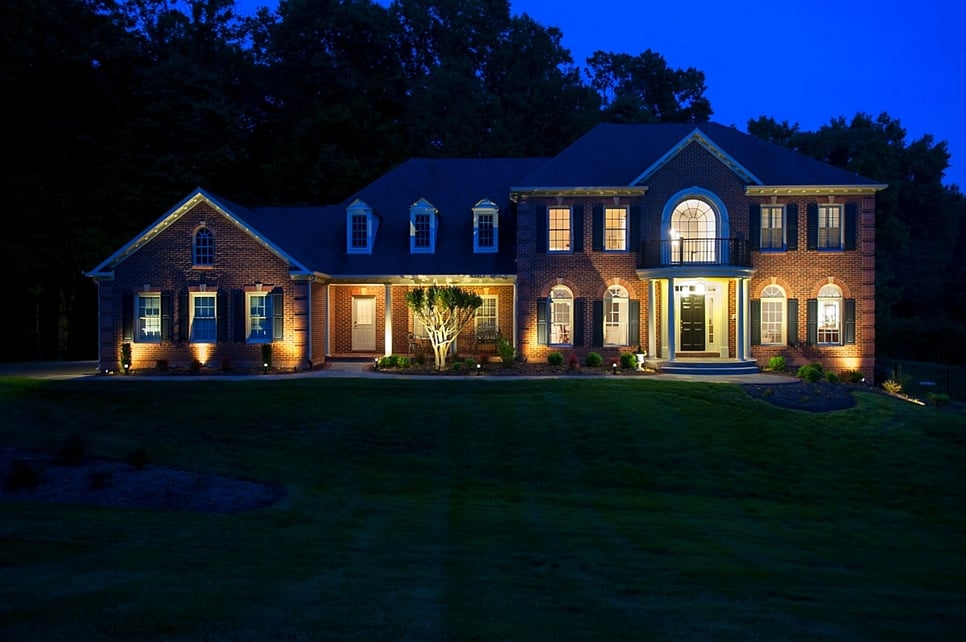 Low-Voltage Lighting Packages: What's Best for Your Outdoor Space?
Lighting is an excellent way to increase the visual appeal and functionality of any outdoor living space. This design project illustrates that principle well, as the various lighting installations were often done with both goals in mind. The lighting additions span the entire outdoor area, incorporating everything from recessed, low-voltage light to uplighting.
I. Retaining Wall
Lights were installed in the stone retaining wall to highlight that particular design feature. If you have a similar structure you want to accent with light, remember that you'll want to keep the lights small enough to be unobtrusively embedded. You want the elegance of light at night, but the structure needs to look equally tidy in the daylight.
II. Landscaping
One slightly nonconventional way lights can be implemented into an outdoor space is through uplighting. These are lights that are placed low and oriented to shine upward in order to highlight something specific. In the case of this project, uplighting was used to highlight several particular landscaping features as well as structures such as water fountains.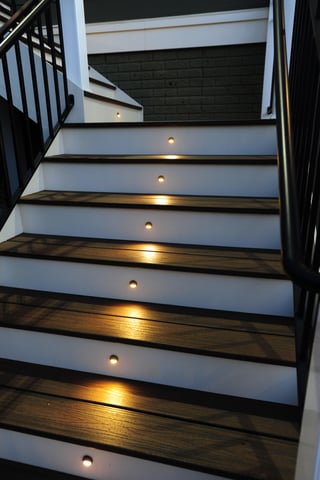 III. Gates
Lights can also be utilized to ease the use of items that might be tricky or difficult to see at night. In this project, the homeowner decided to integrate lights into the gate piers to make the gate easier to open in the dark.
IV. Deck Railings
For ambiance and highlighting, lights were incorporated into deck rails as well. This helps demarcate the edge of the deck as well as add visual appeal. To avoid the lighting being overbearing or obtrusive, low-voltage lights were used.
V. Stairs
One way lights can easily aid safety is by installing them in stair risers. This helps highlight and illuminate staircases, so you, your family, and your guests don't have to worry about missing a step in the dark.
VI. Mantle
Lighting can also be strategically placed to be entirely recessed and hidden, so long as the design feature allows for it. One excellent place to hide lighting is under a mantle, as was done in this project. In this way, the physical light structure isn't seen—only the low-voltage light itself.
VII. Kitchen Cabinets
To aid with cooking, serving, and eating in an outdoor space at night, lights can also be installed under all (or some) kitchen cabinets.
VIII. What's Best for Your Outdoor Space?
If you're thinking about incorporating lighting installations into your outdoor living area, there are several factors to consider.
One factor is, of course, price. When deciding what kinds of lights to install and how many, your budget is going to play a large deciding factor. If you're looking at the numbers and know you'll have to make some decisions about what to install and what to forgo, the best approach is to prioritize your needs. Decide what kinds of lights are most necessary to safely, easily, and practically use your outdoor living area. If there's still room in the budget after that, you can start to decide on more aesthetically based lighting options.
The location of your home and outdoor area can actually play a large role in what kind of lights you need. For example, if you're in a somewhat (or very) secluded area, you might have minimal light pollution from surrounding neighbors, businesses, or structures. If that's the case, you could easily and safely navigate your backyard with just low-voltage lighting. This would provide all the light you needed while still maintaining a pleasant ambiance.
Lifestyle and Personal Preference
How you want to use the outdoor space also largely influences what lighting you choose. If, for example, you plan to entertain at night, you won't want to forget cabinet lighting that will ease cooking and serving. If you know you'll only use the space for reading, though, lights should be customized to match that activity.
Lighting in an outdoor space is a somewhat unique feature because it truly blends safety, necessity, and aesthetics. If you're having trouble deciding what lights would best match your outdoor space, or if you simply want more information about what lighting options are available, please contact a representative of Design Builders, Inc.