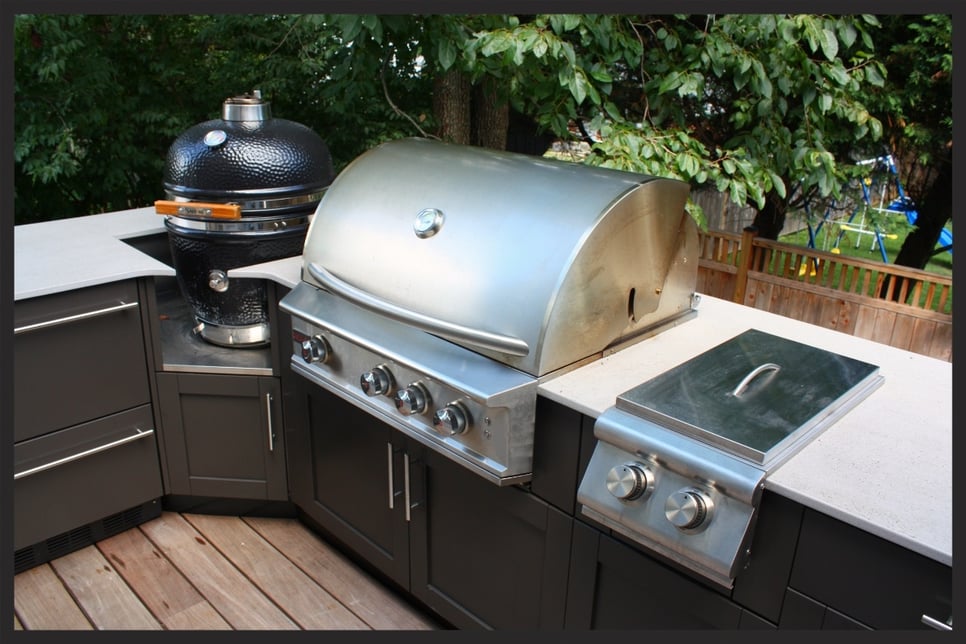 Outdoor living spaces can be overwhelming to design and implement in a home. Not only are there a lot of personalization options for decks and porches, but there always seems to be more choices for the optional add-ons. Outdoor kitchen cabinets are one such design element. Just when you've settled on a Danver Stainless Outdoor Kitchen, you have to choose its color, door style, and other crucial design elements. However, with a little bit of research and organization, you can quickly and painlessly determine which stainless steel kitchen cabinets fit with your vision.
Danver Cabinets Door Style Options
The best stainless steel outdoor kitchen cabinets by Danver depends largely on personal taste and the design aesthetic already established in an outdoor and/or internal living space. If you have chosen stainless steel cabinetry from Danver cabinets or the Brown Jordan Outdoor Kitchen line, there are seven distinct cabinet door styles to choose from:
This standard slab door uses vertical brushed stainless steel. It's the least adorned and simplest design of the seven, so if minimalism works well within your outdoor kitchen, this is ideal.
This design is very similar to the Hampton, but it is prepped for glass installation. (Please note that glass pane is not included.) This is still a sleek, streamlined look, but it adds a bit of visual interest with the addition of glass.
The Key West model includes two stiles and rails with a center panel. That panel can be textured, sea glass, painted stainless steel, or unfinished stainless steel. The center panel provides the opportunity to individualize your outdoor kitchen cabinets and add visual flair with a thin, understated border. Textured stainless inserts are exclusive to Brown Jordan Outdoor Kitchens.
This design is very similar to the Key West model, but the stiles and rails are wider. Consequently, the interior panel is smaller, but the design options for that center panel are the same as the Key West. Palm Beach doors and the textured stainless inserts are exclusive to Brown Jordan Outdoor Kitchens.
Bead Board (one of the more popular choices) has rails and stiles identical to the Key West. However, the center panel is comprised of individual 1 ½-inch vertical panels. This style is one of the more elaborate looks, but it's still classic enough to match many different internal design concepts and desired outdoor kitchen looks. Bead Board doors are exclusive to Brown Jordan Outdoor Kitchens.
Again, the Key West stiles and rails form the basis for this design. However, the center is made of individual horizontal stainless steel louvers. In addition to the Bead Board door, the Louver is one of the most popular options. Louver doors are exclusive to Brown Jordan Outdoor Kitchens.
This door style contains an etched glass insert and a rear painted surface. The sea glass is available in three colors—sky blue, cloud white, and seafoam green. If sea glass already plays a part in your design scheme or your living space is near a body of water and you want to incorporate subtle nautical elements, sea glass would be a sophisticated addition to your cabinet doors.
Color and Texture Options
While fully custom coloring isn't offered, Danver provides a range of eleven set colors to choose from, and Brown Jordan provides twelve. There are also an additional twelve wood grains or insert textures if your doors contain center panels.