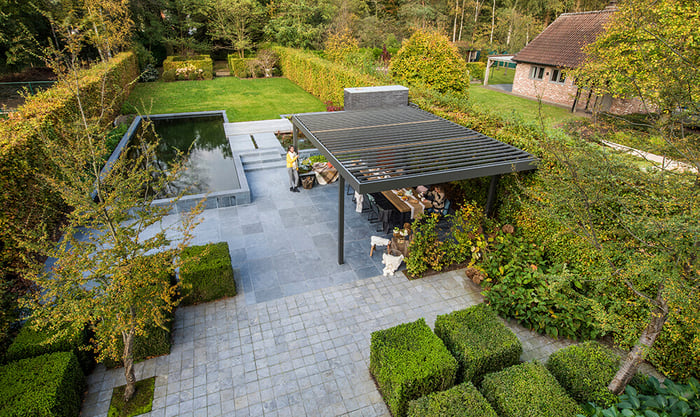 If you're considering adding a pergola to your Northern Virginia or Maryland home, you might have come across Renson aluminum pergolas. Their minimalist design, customization options, limited maintenance requirements, and modern aesthetics make them a popular choice today. For anyone considering Renson, here is a breakdown of all their available pergola options.
1. Camargue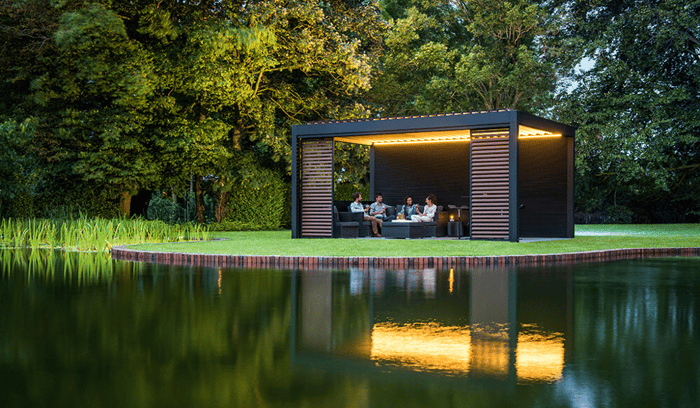 This line is ideal for those seeking a sleek finish and an attractive, modern aesthetic. Seamless integration of side elements and any optional add-ons is a hallmark of this product.
The roof contains multifunctional aluminum louvers that can be fully closed or tilted. This gives you control over how much rain, wind, and sun can enter the space.
Learn more about Camargue here.
2. Camargue Skye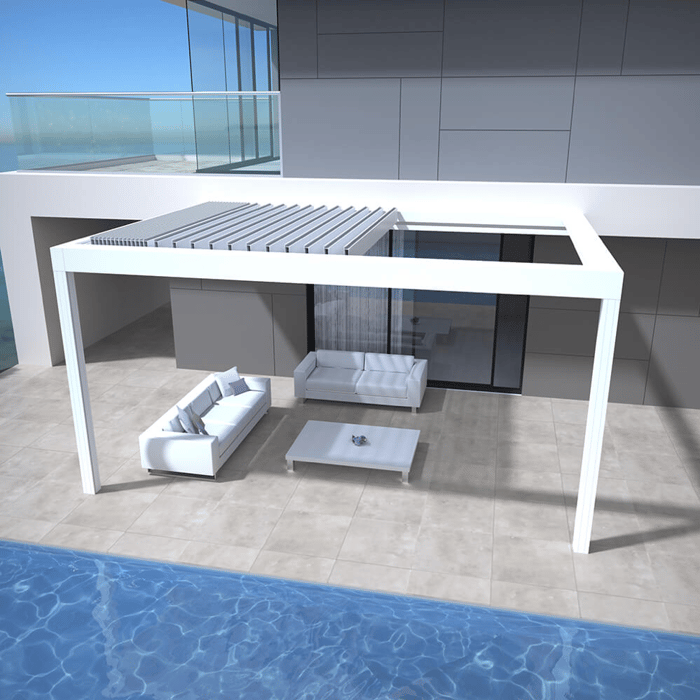 Enjoy a fully retractable roof with the Camargue Skye. This gives you ultimate control over your environment, allowing you to prioritize an open-air feel or total privacy. Louvers can also be tilted (as in the Camargue line) to allow for the desired amount of sun or rain diversion. Any drains, anchors, or wires are hidden for a maximally sleek and minimal appearance.
Learn more about Camargue Skye here.
3. Algarve
If you're looking for versatility, Algarve is the pergola for you. Attach this structure to a façade or have it freestanding. Even connect multiple pergolas. It's all possible. With extensive color and style options, you can blend this structure seamlessly into your main home, no matter your existing design direction. Rotatable louvers are adjustable up to 150 degrees.
Learn more about Algarve here.
4. Algarve Canvas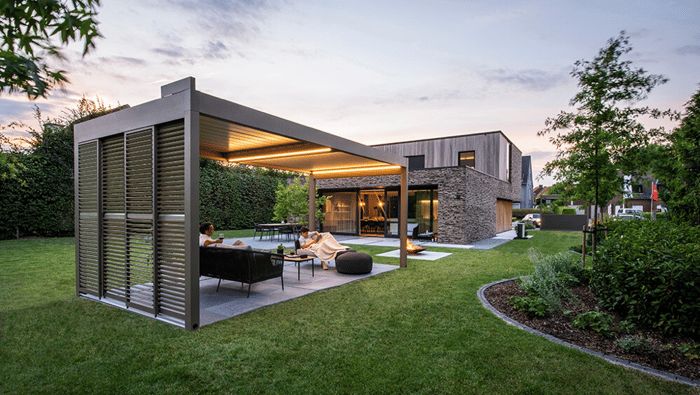 This fixed-roof design consists of two layers. The top layer is an enameled steel plate. This also features an anti-condensation layer. The second layer consists of an aesthetic canvas screen. (Eight color options ensure you're able to complement your existing home.) This is a multipurpose design that's equally viable as a patio cover or carport.
Learn more about Algarve Canvas here.
5. Aero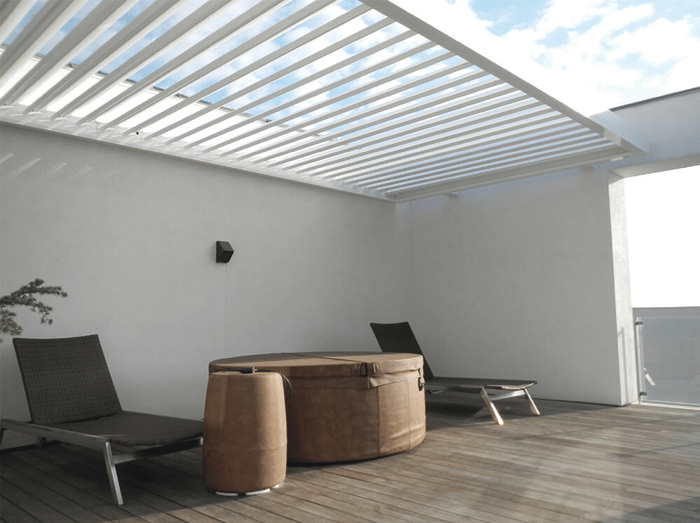 This tilting louvered roof design works with either new constructions or renovations and allows a customizable amount of sun into the space. The design is minimalistic, modern, and subtle. Couple this product for dimensions up to 19.69 feet wide and deep.
Learn more about Aero here.
6. Aero Canvas
This fixed-roof design also takes a minimalistic design approach. The seamless, subtle appearance helps ensure it works with any architectural style of the main home. The upper roof is metal, and underneath that is a Fixscreen. This give a polished, finished look to the structure. The design ensures it is always 100 percent watertight, even in the most inclement weather. Customization options include lights, sensors, and remote operation.
Learn more about Aero Canvas here.
7. Algarve Line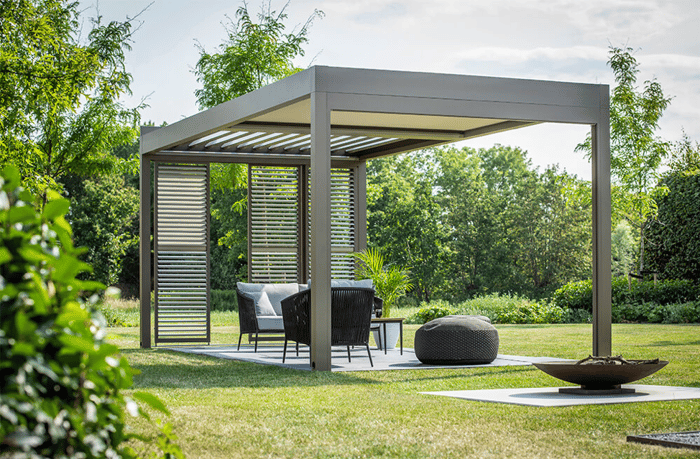 For those seeking a carport and pergola space in one, the Algarve Line provides a sleek, modern solution. The canvas screen provides vehicles full protection from the elements, and a matching aluminum pergola with louvered roof system creates a relaxing, versatile outdoor living space. By combining a louvered roof system and a fixed-roof system, you get a span of 19.7 feet x 19.7 feet—without any visually distracting support columns.
Learn more about Algarve Line here.
8. Lapure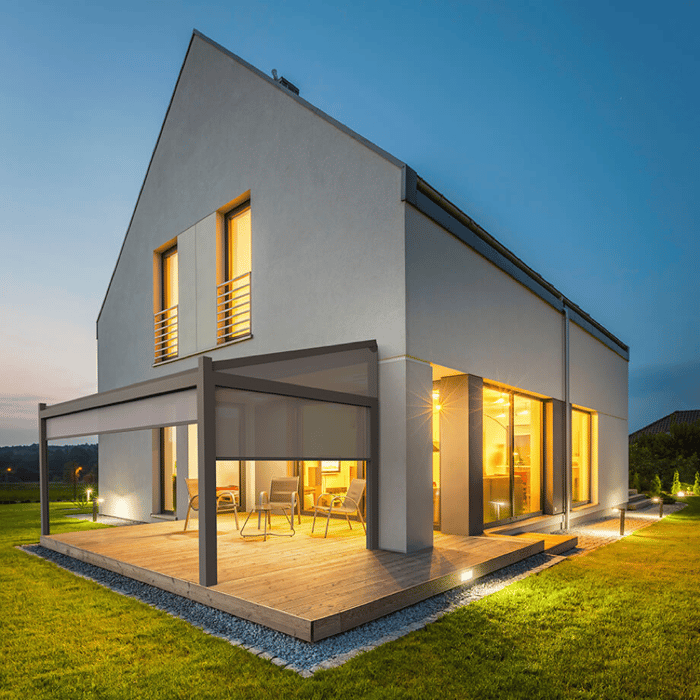 This design attaches to the existing home and features a retractable awning. Extend the awning for full protection from sun, rain, and wind, or leave it open for a panoramic view. For even more utility of your outdoor living space, opt for integrated, stylish LED lighting. This makes the space usable well into the night.
Learn more about Lapure here.
You Have Questions. We Have Answers.
At Design Builders, we specialize in custom outdoor living spaces in Northern Virginia and Maryland. If you have any questions about Renson pergolas or any other features you'd like to see in your backyard remodel, reach out today. We're always happy to discuss!