Best Methods to Remove Snow and Ice from Your Deck
Winter is coming to the DMV. Some eagerly await the winter, dreaming of warm nights spent curled up by the fire and crisp weekend days frittered away sledding down snowy slopes with the kids. Others dread the year's coldest season, dwelling instead on the frigid mornings spent scraping ice from car windshields and shoveling snow from walkways.
As a deck owner, it is in your best interest to care for your wood or composite decking material just as you would your cherished luxury import or front sidewalk. Unlike those objects, however, a low-maintenance deck installation is actually likely to incur damage if you try to fend off Mother Nature without taking the necessary precautions.
Yes, when it comes to ice and snow, your deck is actually rated to withstand more weight than your roof. And, sure, it is a great safety measure to remove snow from any deck if accumulation exceeds three feet or if the installation is old or frequently traveled. If you do find yourself shoveling this winter, just be sure to follow these tips to avoid harming your synthetic or organic decking material:
1. Use a broom
If snowfall is light enough, a broom is your best bet. The soft bristles will not scrape or damage the surface of your deck.
2. Use a plastic, rubber-blade shovel
Always use a plastic shovel when removing snow or ice from your deck. Metal shovels and other sharp tools can cause a lot of damage. Soft woods like redwood or cedar are particularly vulnerable, but even the most resilient composite decking products are not completely resistant to scratching. As you shovel, go with the grain of the wood. By shoveling parallel to deck boards rather than across, you can reduce scratches and other damage.
3. Leave a layer
If you are removing snow to reduce weight, it's a good idea to leave a few inches behind. This allows you to completely avoid scraping the wood. Any shovel, regardless of material, is capable of scratching your wood.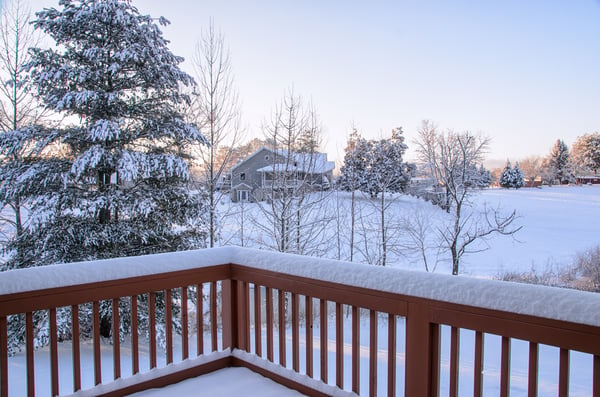 4. Avoid rocks, gravel, and sand
Such materials can grind into the wood or composite material and cause damage to the surface.
5. Avoid ice melt with colorant
The dye from this type of product can stain the wood or composite decking material.
6. Never use salt
Not only will salt cause the wood to dry out, but it can cause metal nails, screws, and joist hangers to corrode. This can result in your deck becoming unstable.
7. Prepare you deck before it snows
One of the smartest moves homeowners can make for their deck this winter is to take protective measures before it even begins to snow.
Clear away potted plants.
Cover furniture with water-resistant tarps.
Use warm, soapy water and a soft brush to remove leaves, mold, and other debris, which can cause the surface of your deck to deteriorate.
Apply a quality, water-resistant seal that will provide your deck with additional protection from moisture.
By taking these simple precautions, you can rest assured your deck will emerge from those snowstorms looking as good as ever.