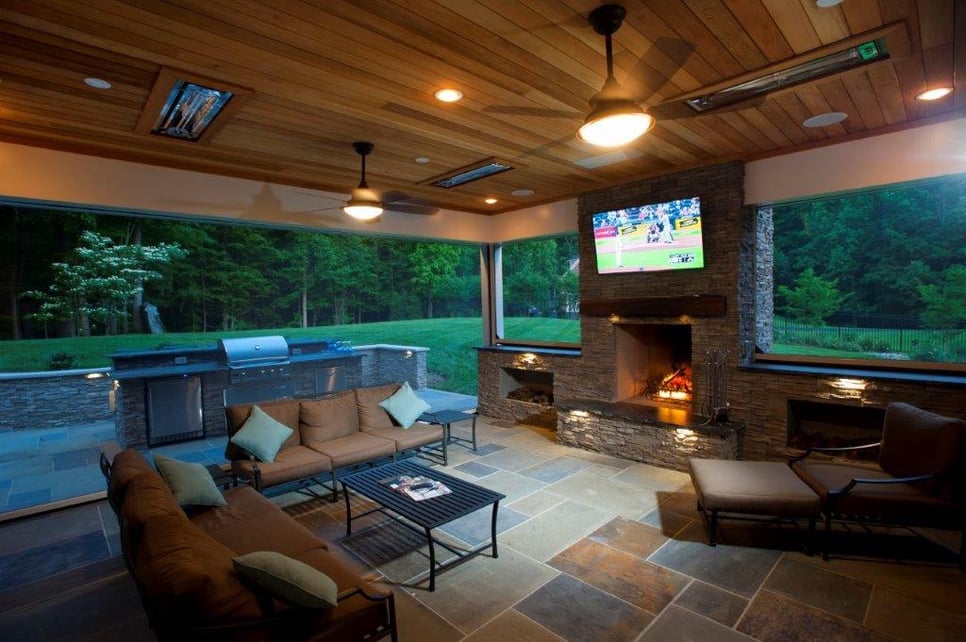 4 Brands to Consider for Your Next Home Update
Are you looking to create a new outdoor living area in your home, or do you want to renovate an outdated existing space? If so, here are four brands that have been seriously trending into 2018 and why you'll want to keep your eye on them for your upcoming project.
EcoSmart Bioethanol Fireplaces
---
Screen porches are no longer seen as simple, rarely used additions to the home. As they continue to become more structurally elaborate and more carefully designed, they are increasingly being viewed as legitimate extensions of their main houses. With that change in perspective has come a big increase in the addition of fire features. These fire features can come in all shapes and sizes—from stucco to stone—and any number of fuel sources—from natural wood to bioethanol.
EcoSmart is one of 2017's big players in the bioethanol fire industry. Their designs are sleek, modern, and beautiful, and they are both easy and versatile to install. Especially if you're looking to infuse your outdoor living space with a contemporary, sophisticated vibe, look into the various fire options from EcoSmart.
As an added bonus, the fuel is 100 percent clean burning and renewable. This means the product is a sustainable, forward-thinking fire feature option.
Infratech Heaters
---
Electric heaters in outdoor living spaces are increasingly becoming the go-to choice, and one brand that is leading the way here is Infratech. Compared to their gas counterparts, electric heaters are more efficient, easier to operate, and less maintenance intensive.
Infratech has also made a big splash in 2017 by adding a powder coating option to their heaters. Historically, their products have always been shiny stainless steel, which was often conspicuous and not always the most attractive option. Now, with the ability to powder coat to any custom color, the heaters can blend seamlessly into just about any existing area. This gives you the best of both worlds—a sleek, beautiful product that still has all the quality and logistical benefits of Infratech.
As outdoor living spaces become more year-round staples of the home, people want them to be as well designed, comfortable, and beautiful as the interior of the house itself. Infratech's new push for powder coating helps make that possible. So, if you've passed on Infratech in the past, consider giving them another look in 2017.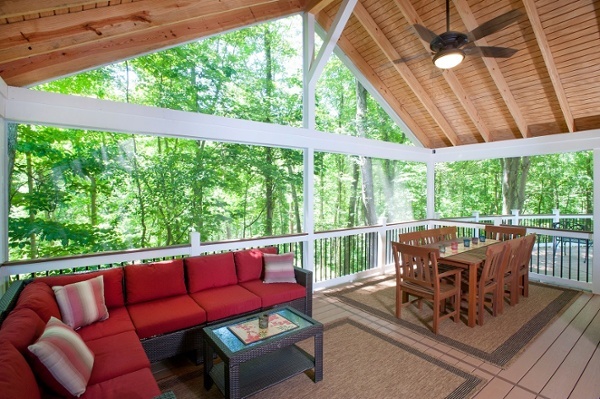 ScreenEZE Retractable Screens
---
In the wintry, blustery months that are soon to descend, it's a perfect time to consider retractable screens. In outdoor living areas, these screens—at the push of a button—are able to convert your space from open air to enclosed. When raised, they also help keep out wind and debris, which is a big bonus in the fall and winter. Especially if you're looking to make an existing outdoor space more usable year round, ScreenEZE can go a long way to making that a reality.
Eze-Breeze Windows
---
Love the cool breezes of open-air spaces but don't so much love the bad weather, bugs, and pollen? You're not alone, which is exactly why Eze-Breeze has burst onto the scene. With their specialty vinyl windows, you get the fresh air feel of an outdoor space without having to worry about letting rain, pollen, insects, or other nuisances into the area.
Whether you're looking to build a new outdoor space or update an existing one, consider putting Eze-Breeze on your radar this year. Just like any home construction product, they're not the perfect fit for every job. However, they've made big strides in 2017 and are steadily getting more and more consumers' attention, and they might just be worth a look.
Whether you're looking to make small updates or sweeping changes to your exterior living space, these four brands—EcoSmart, Infratech, ScreenEZE, and Eze-Breeze—can help. Check them out today to discover why they've all had their customers abuzz in 2017!