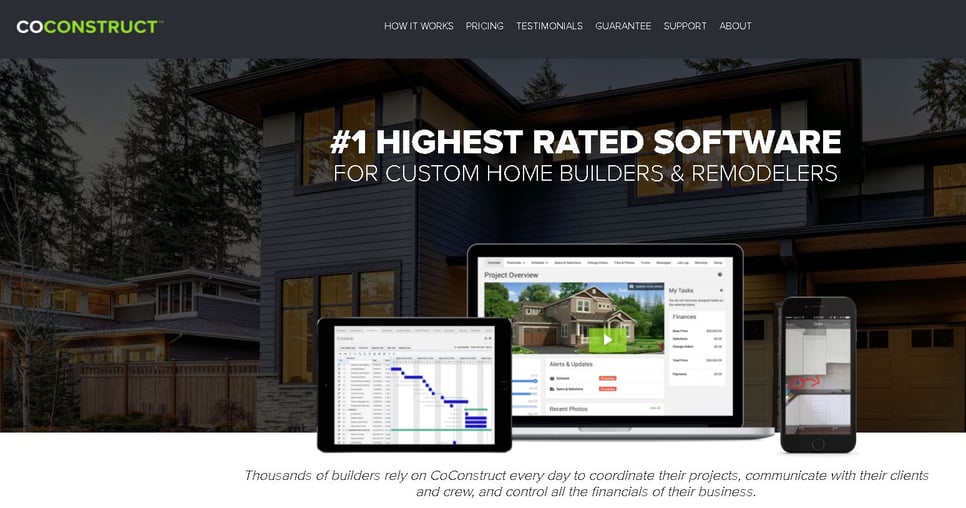 Before Donny Wyatt became the CoConstruct founder and CEO, he and his wife undertook a home build, and they immediately had one thought: there has to be a better way for this process to work. After Wyatt's less-than-positive experience with a contractor, he set to work creating CoConstruct, which became a web-based software system that directly responded to all those problems he came up against during his own build. In this way, CoConstruct set out to change the very way clients engaged in major home projects.
3 Problems with the Standard Contracting Process and How CoConstruct Eliminates Them
Problem #1: Missing, Lacking, or Unclear Communication with the Contractor or Team
One of the biggest (and most common) pain points for any client working with a contractor is the inadequacy of communication.
These problems can manifest in a number of ways. Maybe the contractor's preferred method of communication (texts, voicemails, or e-mails) does not align with your preferred method of communication. Or maybe that contractor doesn't communicate as often or as thoroughly as you'd like. Whatever the case, when there's any disconnect in communication, it means you're not getting the most up-to-date information about a job that's going to have a big impact on your home—and life.
If your contractor uses CoConstruct, however, you can simply log in and find the relevant information you need about the job. Updates can even be sent to you via an alert, so your phone will tell you when new information has been uploaded. This way, you're much more likely to always be in the loop.
Problem #2: Unpleasant Surprises with the Final Invoice
While few contractors are actively trying to deceive or swindle their customers, it is common for there to be some discrepancy between what the client expects in terms of the final bill and what the project ends up actually costing. More often than not, this disconnect results from that lack of consistent communication. If there's been a change to a certain line item, that doesn't always accurately, quickly, or fully get communicated. This becomes especially true in a large job with many different moving pieces.
With CoConstruct, though, there's financial accountability for both homeowners and contractors. Homeowners can review line items and updated budgets at will, and contractors can have written records of any agreements made regarding price changes.
With these detailed budgets, clients know all associated fees upfront, and the organized, thorough nature of the layout means it's also easier for contractors to ensure they haven't forgotten any particular tax, fee, or charge.
With its built-in checks and balances, CoConstruct helps avoid any confusion or misunderstanding in terms of price.
Problem #3: Contractors Get Behind Schedule
Getting slightly off schedule is sometimes simply unavoidable in any given construction project, but there are other times where it can be avoided, and CoConstruct can help in those cases.
These avoidable delays usually come in one of two ways.
One, the client has a laundry list of choices to make before the contractor can move forward. This can range from selecting fixtures to finalizing color choices. Because the contractor can't act until the client has decided, things can get off track if the client isn't timely in those decisions. With to-do lists integrated into CoConstruct, clients always know what choices they need to make (by when) in order to allow the contractor adequate time to keep everything on schedule.
Two, the contractor, with so many aspects of the project to oversee and to act on, lets something fall between the cracks. Again, those integrated to-do lists help ensure nothing is lost in the process, and because it's quick and easy to check what needs to be done within that one platform, things are simply less likely to fall by the wayside and cause unnecessary delays.
For more information about ways CoConstruct could make your next experience with a contractor more efficient and seamless, feel free to reach out to a representative of Design Builders, Inc., today!