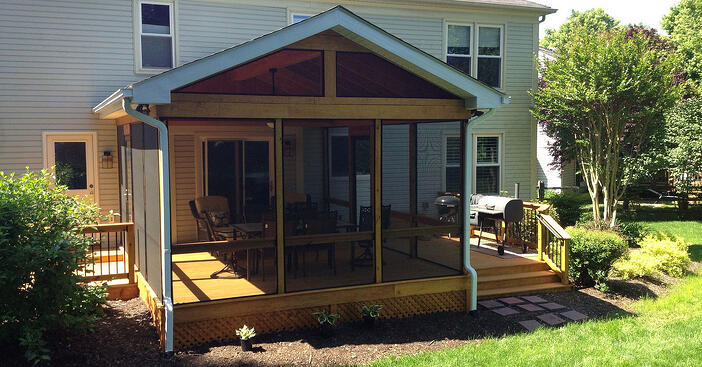 So you've decided to build a screened-in porch. You want the fun and enjoyment of being connected to the outside, but also the comfort of being protected from the elements – both weather and pesky little critters. Now you are mulling the next big question: should you go with traditional wooden decking or a synthetic decking material?
There are advantages and disadvantages to both materials, but when you're talking about having a porch that's screened-in, the playing field gets leveled a bit. The extra protection against Mother Nature that synthetic decking materials provide is something that you're already getting from the roof of the screened-in porch. The deck simply isn't exposed to the weather elements and the sun's harmful UV rays that it would be if it was on an uncovered porch.
But does this mean that everyone should just eschew synthetic decking for screened-in porches and go with wooden decks? Not necessarily.
The material you choose for your porch should reflect your layout
What does that mean? Answer this question: do you just plan to have a screened-in porch, or will you have a screened-in area that leads out to an open deck? Many people have the latter arrangement, because they like to have the option of relaxing in an area that's a bit more protected as well as actually having a true outdoor area to enjoy nicer weather or when the bugs are not a factor.
If this is the case for your screened-in porch, then synthetic decking is a better option. Why? Because no matter how much you try to protect it, uncovered wooden decking will fade in the sun over time. In just a few years' time, the wood on your exposed deck will look different from the wood on your screened-in porch.
But with synthetic decking material, you won't have this issue. Technology has advanced to the point that most synthetic deck products are now completely fade resistant, which means that the part of the deck exposed to the elements will look just as good as the deck covered by that screened-in porch. No matter how much time has passed, you won't be able to tell the difference between the inside deck and the outside deck.
This may not seem like a big deal, but after a decade or so of wear and tear and the exposure to the weather for the exterior deck, you're going to have what looks like two very different decks. That's true even if you engage in annual maintenance and staining of that outdoor area.
Not only is this visual difference just unpleasant aesthetically, it can hurt your resale value if and when you ever decide to sell your home.
Synthetic vs. wood decking: a recap
There is no doubt that the synthetic decking of today offers you a longer-lasting solution than wooden decking – there is a reason why it costs more! But the "added-value" and protections that it provides you with are cancelled out when your deck is actually part of a screened-in porch since you already have built-in protection from the elements and the sun's harmful UV rays. If that's all you want, go for wooden decking because it will save you money, and you won't notice the difference – even over time.
Where synthetic decking materials matter is when you have a deck that is exposed to the elements in addition to that screened-in porch, because you will get extra protection and ensure the aesthetic cohesiveness of your deck – inside and outside.
Still unsure? Talk to your builder about your plans and ask what they recommend.