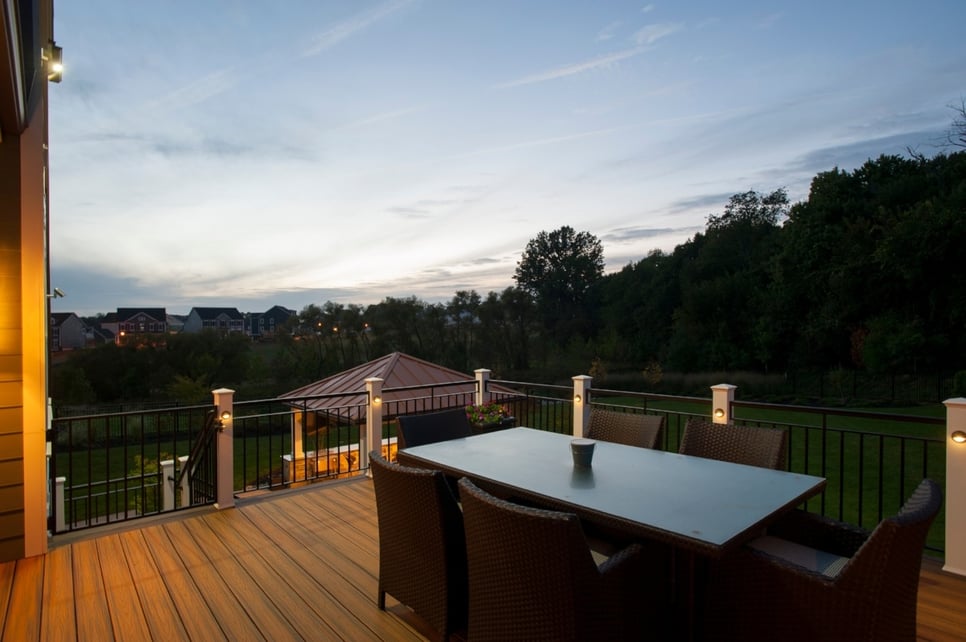 Recommendations for Building a Green Deck
If your goal is to minimize your carbon footprint but maximize your outdoor living space, there are environmentally friendly decking materials that will allow you to enjoy your deck while also protecting the earth.
For clients who want a true green construction, we recommend Trex Transcend, a high-performance decking made with a unique combination of materials that are 95 percent recycled or reclaimed from wood and plastic and contain no toxic chemicals or preservatives. In fact, Trex Company created the composite decking category, revolutionizing the decking industry.
As for Transcend, it could be said that this composite blends with nature because it isn't negatively affected by sunlight, harsh weather, or insect damage – some of a deck-owner's biggest concerns. The two components of the composite itself – plastic and wood – work in conjunction to shield each other from the elements, UV rays, and pests, therefore preventing rotting, warping, cracking, fading, staining, and scratching.
If your outdoor space includes a pool, spa, or hot tub, Trex decking resists moisture and mold, making it an ideal counterpart to your H2O pursuits. And you can feel safe relaxing in your bare feet as the smooth, slip-resistant composition of this decking eliminates worries about splinters or falls.
Often, using green products limits your ability to be creative with your design. But Trex offers natural-looking, rich earth tones in a wide range of colors and finishes – from tan to dark brown, you can create a realistic hardwood appearance or go for subtle elegance with shades of gray. The distinctive wood grain patterns can be mixed and matched to create a truly unique design and matching rail and trim options are available. Another advantage: The decking, though very strong, can be bent to create patterns and curves that are not possible with wood.
Ultimately, everyone wants a quality deck that is going to have longevity – though wood products have a lower upfront cost, Trex wood-alternative products pay for themselves in less than six years because there is minimal maintenance required. Using this weather-resistant decking, you will be free from having to sand, stain, or paint your deck. Only periodic cleanings are recommended to keep this material looking fresh.
So your biggest job? Get outside, soak up the sun, and enjoy your beautiful, environmentally responsible deck.