Decking Trends Making Waves in Northern Virginia and Maryland
If you live in Northern Virginia or Maryland and you're looking to invest in a new outdoor living space this year, here are four decking trends that look to dominate 2023 (and many years beyond). We're Design Builders, a custom design and build firm specializing in high-end decking, screen porches, outdoor kitchens, and other outdoor living spaces, and this is what we've seen from our customers and in the market at large.
4 Decking Trends Any NoVA and Maryland Homeowner Should Watch
1. Contemporary Decking Designs
While arts and craft–style homes and home improvement projects once dominated the construction industry, the contemporary aesthetic is now in.
Newer homes and luxury townhomes in Northern Virginia and Maryland have this look:
Modern

Streamlined

Minimalist

Clean
With the home having this style, it makes sense that any new deck or pavilion addition or renovation would match that prevailing look.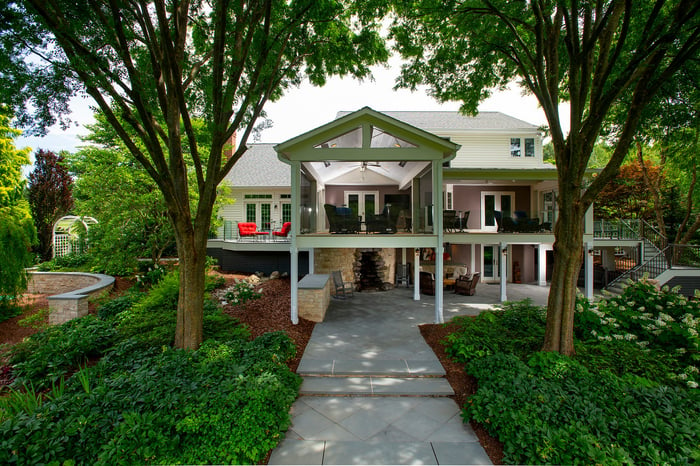 2. Cable Railing with Decking
In keeping with the contemporary look, cable railing is extremely popular right now. It's highly minimalist and offers a clean appearance. If you're looking to preserve views from your deck, cable railing can't be beat for quality or functionality.
Many pair cable railing with simple black aluminum handrails.
3. Year-Round Spaces
Nothing stays the same forever, and the construction industry is no exception. Over the years, there has been a big shift in what people want to get out of their outdoor living spaces.
While a deck used to be a small area with a few extra chairs and a charcoal grill, today people want something entirely different.
They want a space that's:
As finished, comfortable, and stunning as the interior of the house.

Designed for a seamless transition from indoor to outdoor.

Outdoors and safe for large gatherings.

Fully functional for as many months of the year as possible.
Perhaps the most striking change is that last point: the increasing move toward year-round outdoor spaces.
While people used to have decks that were used exclusively in the summer (or maybe in some mild shoulder seasons), people are deliberately designing areas that are comfortable—even in a Mid-Atlantic winter.
This is achieved with things like infrared heaters or, for more indoor/outdoor areas, vinyl windows.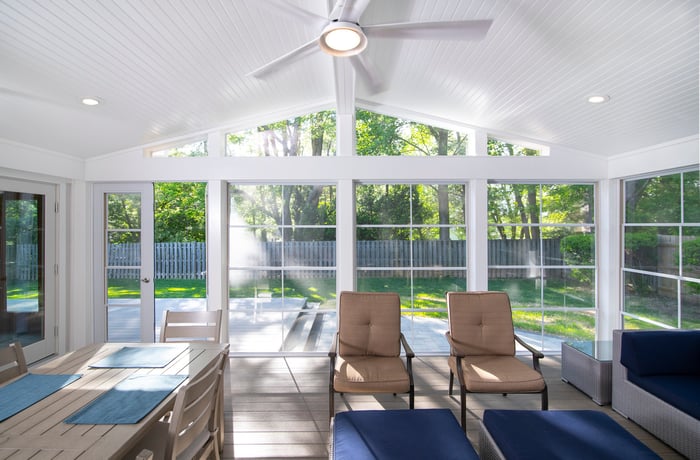 4. Home Extensions…Not Additions
Two major trends are happening here that make home extensions so desirable right now.
One, with housing market uncertainty, people are not looking to move homes as readily as they have in the past. People want to stay in their existing homes but improve and customize them to create the ideal space. Rather than picking up and moving, people are investing in these home improvements, and outdoor living spaces are a prime target for home renovators.
Two, with so much economic uncertainty on the horizon as well, homeowners are very aware of wanting to be in control of the home improvement budget.
While people used to opt for full home additions to gain extra usable square footage, more people are leaning toward these outdoor extensions. Designed and built the right way, you get just as much extra space and added functionality, but the cost is generally much less than a full home addition.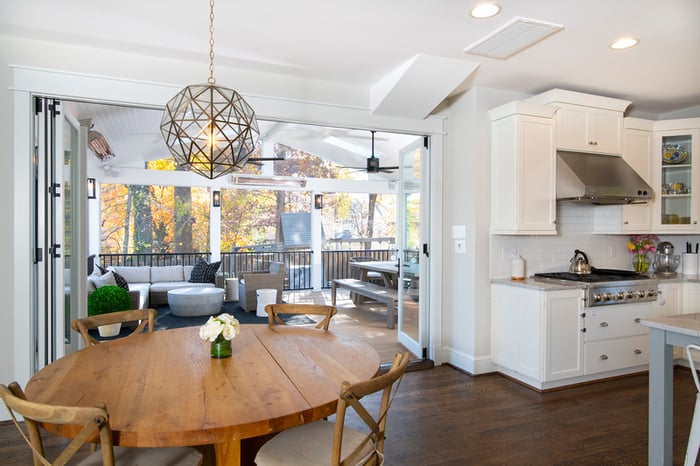 Are You Adding a Deck to Your Northern Virginia or Maryland Home in 2023?
Thinking about creating a new outdoor living space in your NoVA or MD home? Renovating an existing area?
Get started today with a free decking quote.
Got a decking question? Don't hesitate to reach out! We're always happy to help!