How to approach outdoor fireplaces: outdoor kitchen in Clifton, VA example
As outdoor living spaces become more complex and more adaptable to multiple situations, fireplaces are becoming increasingly common features of decks, screened-in porches, verandas, and other outdoor areas. This particular gas and wood-burning outdoor fireplace project illustrates how these tasteful patio features can be implemented and then customized to fit both lifestyle and desired aesthetic. It can be approached in terms of its general process, required inspections and codes, and additional features.
I. The General Process of Building an Outdoor Fireplace
The easiest place to start a natural wood-burning fireplace is from the ground level. Starting from that base, you're generally going to start with a footer, but this must be large enough to carry both the cinder blocks and fire-retardant bricks.
As with a retaining wall or similar project, the core of the fireplace is going to be built with CMU cinder blocks. These go around the fire-retardant bricks. flue is then built up the middle, cinder blocks are brought up around that, and the entire project is trimmed with the desired veneer, which could include natural or synthetic stone.
A hearth is required for fire protection, but this can be at ground level or raised to double as a sitting area in front of the fireplace. It's a given that fire safety and local codes will influence how and where you can build an outdoor wood-burning fireplace, let alone an ethanol fireplace or gas fireplace.
The last major feature is the mantle, and this can be made from wood, stone, or other materials. In the pictured retractable screened porch in Virginia, the mantle is made from one 8 x 8 piece of reclaimed wood.
Some general things to note: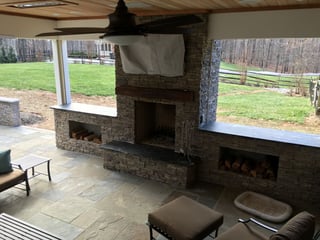 If the fireplace is done in stone or brick, it's going to be quite heavy and require a footer.
The closer the fireplace is to the ground, the less stonework (or similar veneer) is required for trim work.
II. Required Inspections and Codes
Because of the possible risk posed by natural wood-burning fireplaces, there are a series of required inspections both before the work begins and throughout the construction process of any backyard fireplace.
This includes:
Mechanical inspection — to ensure everything is handled correctly and complies with all relevant fireplace-related codes
Footer inspection
Flue inspection — done before the fireplace is trimmed in order to ensure the flue is functioning properly and the fire-retardant bricks are correct
Final inspection
In the pictured outdoor kitchen in Virginia, there was also a gas log lighter installed. This is essentially an ignition switch that allows gas to light the firewood. Since gas was already being run out to the outdoor grill, this was a relatively easy addition. However, it also meant the construction process necessitated a gas inspection as well.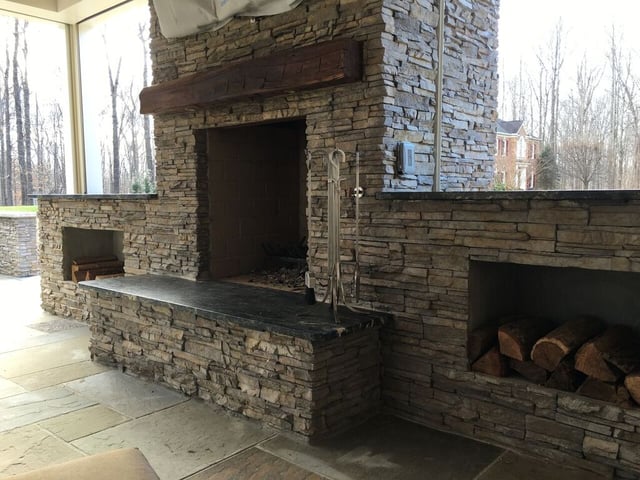 All fireplace projects must also comply with certain codes, including but not limited to:
Staying at least ten feet away from any windows on the next level.
Extending the chimney at least two feet above the roofline.
III. Possible Additions and Customizations
Fireplaces can have many personal touches added, including the following features seen in the pictured example:
Fireplaces can incorporate multiple exterior lighting elements depending on the needs and concept of an outdoor living space. This high-end screen porch in Virginia model uses recessed low-voltage deck lighting mounted under the mantle to shine down, but spotlighting can also be used to highlight a particular item or feature of a designer fireplace.
In this project, the homeowners decided to mount a Sunbrite outdoor television onto the face of the fireplace above the mantle, allowing electronics to be seamlessly incorporated into the area along with the fireplace.
Homeowners have quite a bit of leeway when it comes to the shape and design of fireplaces. Typically they are about six feet wide, though, with lots of options relating to both the hearth and mantle aspects.
Winter doesn't have to be all about the deck winterization process, winterizing your wood deck, or removing snow or ice from your deck. Outdoor heating sytems, whether they're powered by electricity or wood fuel, will add versatility and comfort to your colder months. For more information about the specific fireplace implemented in this project or how to incorporate a similar fireplace system into your existing or developing backyard space, please contact a representative of Design Builders, Inc.