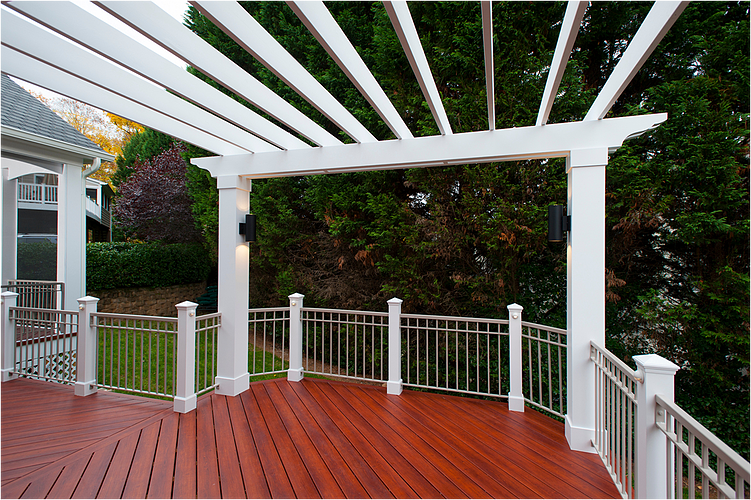 Your deck should be a place where you, your family, and your friends can comfortably gather—not a place where you have to fear tripping on the stairs or falling when the railing gives out. But unfortunately, older decks can become dangerous when not properly maintained and, in some cases, may need to be replaced altogether.
The best way to prevent safety concerns from arising with your deck is to regularly check for problems and to resolve little issues—such as popped nails or wobbly railings—as they come up. If you think your deck may have already developed a bigger issue, contact a home inspector or home building contractor to investigate.
Keep an eye out for these ten common safety concerns with an older deck, and work with a contractor to remedy these problems when necessary.
1. The risers on the stairs are not closed. Risers are the vertical sections of the stairs between the treads, and some older decks use an open riser design where the risers are either not filled in at all or do not connect with the tread. This can be a tripping hazard and is not up to current code, which says that deck stair risers cannot have openings that would allow anything larger than a 4 inch diameter sphere to pass through.
2. The width and height of the risers are uneven or otherwise not up to code. The width and height of your risers shouldn't be too deep, too shallow, or too tall, as this is another tripping hazard. If you're unsure whether your stairs are up to code, talk to a local home inspector or contractor.
3. The handrail is not easily graspable (or is nonexistent). Current building codes require decks to have at least a 2 ¼ inch graspable handrail going all the way from the top to the bottom of the stairs.
4. The stairs are not properly lit at night. This is another new code that affects some older decks. Your stairs need to be properly illuminated so that they don't present a tripping hazard to anyone who tries to walk up or down them at night.
5. The railings are not well-maintained (or are non-existent). If your deck is more than 30 inches above the ground, you're required to have railings. You also need to keep your railings in good condition, as poorly maintained railings could result in a serious accident. Check to make sure your railings' hardware is intact, that it's not wobbly, and—if it's made of wood—that it's not rotting.
6. The deck is freestanding. Some people choose to build a freestanding deck (which may be adjacent to the house but is not attached) in order to avoid paying for a building permit, or because the design of their house does not allow them to easily attach a deck. While a well-built freestanding deck can be sturdy, one that lacks proper vertical, lateral, and horizontal support will be unstable.
7. Flashing has not been properly installed. If your deck is connected to your house, there should be a ledger board where the house and deck meet, and that ledger board should have proper flashing—either membrane or metal—installed. Flashing is crucial because it prevents water from seeping into the house at the seam. If water can get in, it will lead to mold, decay, and costly damage.
8. The deck's wood is rotting. While most high-quality wood used for newer decks comes with a lengthy warranty, the wood of some older decks may begin to rot over time, causing serious structural damage. Look out for discoloration, wood, and spots that are soft when you touch them with a hard object like a screwdriver.
9. The wood in direct contact with the ground is old. Most older decks have footers coming out of the ground and put into a bracket because older wood, while pressure-treated, wasn't rated for ground contact. If your deck has wood that was put directly into the ground before 2006, it may be rotting because it doesn't have the additives allowing it to be rated for ground contact.
10. The deck has mold or mildew. This is often a problem for older decks that are built close to the ground because there isn't a lot of breathability. You may be able to resolve this issue by adding ventilation.
If you've noticed or suspect that your deck is suffering from any of the problems above, get professional help from a home inspector or contractor. In some cases, you may be able to take some pieces of an older deck back to the seller to have replaced, but for bigger problems, it may be in your best interest to completely replace your deck.