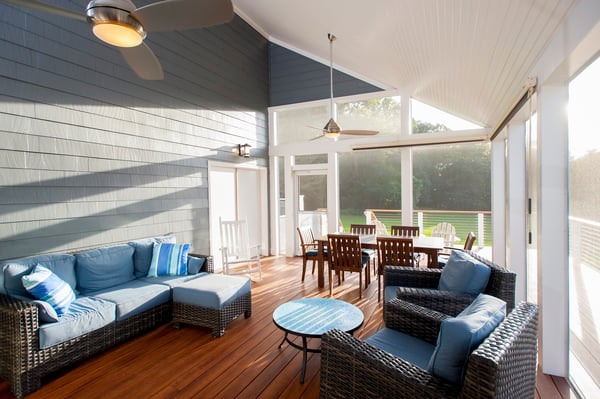 Do NOT Put These Materials or Chemicals on Your Zuri Deck
Zuri decking is a highly durable, highly scratch resistant, and highly fade-resistant decking. However, there are some items you need to keep off your Zuri deck in Maryland to keep it looking its best. This primarily concerns anything with plasticizers, which can release gases that leach into the premium decking and cause cloudy blemishes. With a minimal amount of care and attention to what gets used on and around the decking, though, this issue is easy to avoid.
What's a Plasticizer?
---
This is an additive that increases the plasticity of a given item. It's common, for example, in products that contain malleable rubber.


What's the Problem with Plasticizers?
---
When the ambient temperature heats and cools, items containing plasticizers release a gas. This is the cause for phenomena like new car smell. That gas can actually leach into low-maintenance deck boards and create a fogginess or blemish within those boards.


What Contains These Plasticizers?
---
Some common items that could potentially cause this issue include:
Blow-up kid pools or pool toys
Blue tarps
Rubber 'welcome' mats
Garden hoses
Polypropolene mats
Keep in mind that this potential problem only occurs with malleable plastic or rubber. Hard plastic chairs, for example, are perfectly fine to have on Zuri Decking. Even after prolonged exposure, these will not create this issue.


Other Items to Avoid
---
You also want to be wary of using sunscreen or insect repellent on or around the Zuri Decking. If you do get a significant amount of sunscreen or bug repellent residue on the decking, wipe it off in a timely manner.


How Fast Can This Issue Occur?
---
The time varies according to external factors. If moisture and heat are involved, plasticizers can cause damage in as little as two days of uninterrupted exposure.
Issues aren't likely to come up any faster than that. For instance, the blemishes won't appear after a few hours or even a day, but the best practice is knowing that these items can cause damage. It's best, therefore, to just avoid placing them on your premium decking as much as possible.


Fixing the Blemish
---
There is a way to potentially undo this damage if it occurs. A heat gun (almost like a hair dryer) is aimed at the affected board. The heat will remove the moisture that the plasticizer trapped, and the foggy blemish should dissipate.
This is best for small area fixes, though. The board does have a natural sheen to it, and the heat gun can affect that minimal shine. It's not particularly noticeable, but if the sun hits the board at the right angle, you could see a matte section among the sheen. The heat should be applied judiciously to minimize this, so it's best to leave the work to a professional.
If the entire deck was affected - for example, if you decide to cover your deck with a tarp - it's best to contact the company and discuss your options.


Is This Specific to Zuri Decking?
---
No. Other brands of premium decking that are made in a similar fashion are also subject to this issue. Certain chemicals simply affect all composite decking. You certainly have to keep the exact same items off Zuri that you would other composite decks.


Transparency of the Company
---
When you're dealing in very high-end products, part of what you're getting in that product is the customer service and personalized attention. If you've purchased Zuri decking in DC or elsewhere from a trusted Zuri decking contractor, one big benefit is gaining acccess to the breadth of knowledge brought to the table by the manufacturer's employees.
With a focus on transparency and educating their clients about how best to take care of their Zuri products, you have the best chance of enjoying your decking for as long as possible and avoiding issues such as this potential fogging, clouding, or blemishing of the boards. Talk to a local Zuri decking installer today to learn more.