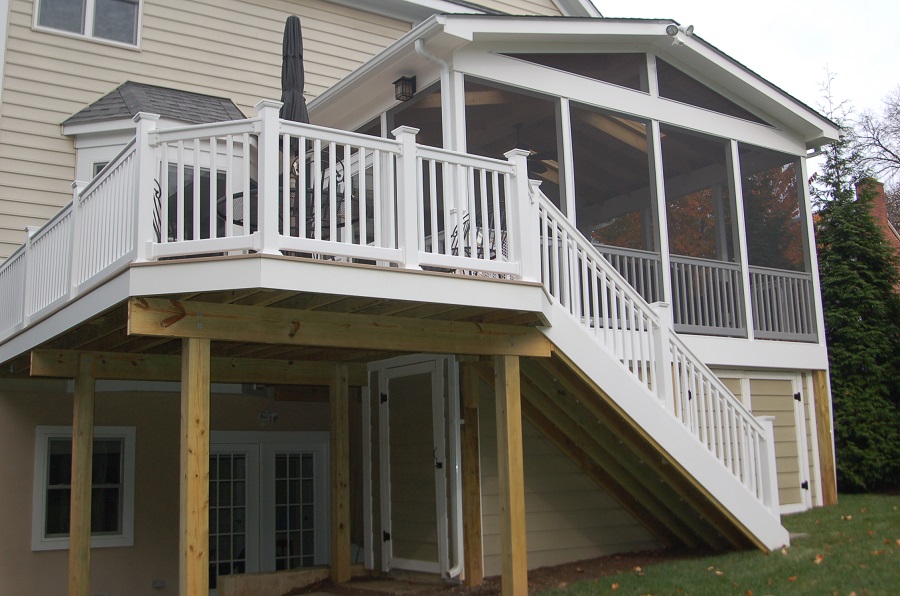 The Best Deck Storage Solutions that Last Year-Round
Storage is always a difficult situation to navigate in any home. It either looks unsightly or cluttered or consumes a lot of otherwise usable space. Luckily for those with outdoor living spaces, though, there is essentially a built-in year-round solution to this storage problem.
Utilize Unused Space
Many people with outdoor living spaces choose to build a storage area directly beneath the deck. The deck serves as the roof to that storage area, and walls can be put up around the perimeter to finish the structure. This creates a usable, dry storage option throughout the year. This is also an appealing option because it uses space that it otherwise rendered unusable by the addition of the deck. It also maximizes available space by not taking up real estate in the yard itself.
Restrictions to Beneath-Deck Storage
A design and build team typically wants at least four feet of clearance in the storage area. Ideally, there would be six to eight feet. That way, you can walk comfortably into the storage area without crouching or worrying about hitting your head on the bottom of the deck.
If you can work this six to eight feet into the original design concept of the outdoor space, you'll find your storage area becomes much easier to navigate and is subsequently more useful.
Sheds as Storage Options
When people think of outdoor storage options, one idea consistently emerges—sheds. While sheds are readily available and relatively cheap (depending on the type, brand, and size), there are some significant drawbacks that make the beneath-deck storage more appealing.
One, sheds take up space in the yard that would be otherwise usable. Whether it's taking from your lawn or some other area, a shed occupies a portion of space that could easily serve another purpose. (This is in contrast to storage beneath a deck, which uses space that isn't going to be utilized in any other capacity.)
Two, sheds are often unsightly. It's much more difficult to match it to the design concept of the home, so it always feels like a separate entity simply placed on the property.
Three, because sheds can be unattractive and obtrusive, they are often placed in more remote parts of properties. This makes them less convenient to access. Especially if you're storing outdoor furniture or anything heavy or bulky, moving those items becomes much more inconvenient than it needs to be.
Kill Two Birds with One Stone
A common problem with decks in high-end outdoor spaces is that people dislike the look of the deck's undercarriage. With exposed framing columns and joists amid the beautiful decking, railing, and other design features, the undercarriage can make the whole project appear slightly unfinished.
By creating a year-round storage area under the deck, it effectively dresses up and conceals anything unattractive about the undercarriage.
As with the patio or outdoor structure, storage design elements should also match the existing home to blend seamlessly and beautifully. This often means matching the house siding. For that, storage options often use custom-painted vinyl sheets or tongue and groove T1-11 exterior siding.
Incorporate Storage into the Design Concept
The best time to add a storage area is when the deck is actually being built. This allows the design and build team to create a storage area that will work with your particular project and lifestyle. Factors such as height are much easier to work in before there is already an existing deck in place.
Some people also choose to have rudimentary lighting installed in these area to make the spaces easily usable at all hours of the day. Again, if the storage area is part of the original design concept rather than an afterthought, this wiring and lighting are much easier to incorporate.
For more information about year-round deck storage solutions that might work in your outdoor living space, please contact a representative of Design Builders at (insert).