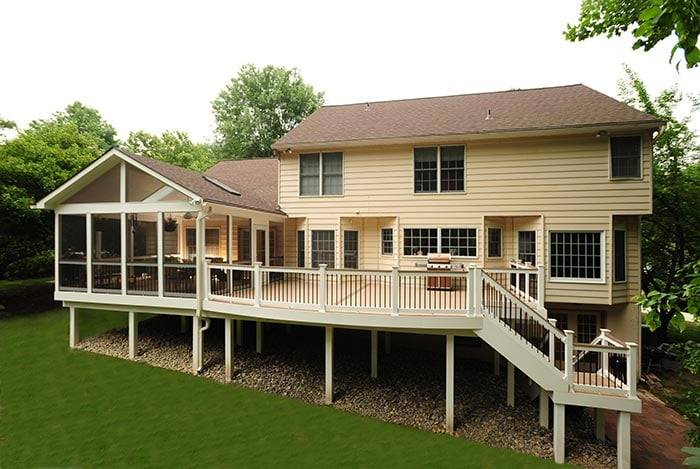 Before Hiring a Decking Contractor - Make Sure You Take These Necessary Steps
You may have a vision for the deck you want, but unless you have a lot of professional building experience under your belt, you'll most likely want to hire a deck contractor to bring your vision to life.
And before you hire that contractor, there are some steps you should take to ensure that you're working with the best contactor for your project and that you'll be able to get your project off the ground as soon as possible.
1. Research local deck contractors.
Just doing a Google search for 'local deck contractor' and picking the first result you see probably isn't the best way to go about hiring a contractor. Check sites like Angie's List, Yelp, and Houzz to find reviews for local deck contractors, and if you're part of a neighborhood listserv, send a message asking if anyone has contractor recommendations. While you're reading reviews, look for information about situations where an unexpected obstacle may have arisen. You'll want to know that your contractor can appropriately and professionally address any issues that may come up. Don't be afraid to ask questions – people are often happy to speak up to recommend someone or share their troubles.
2. Locate your property's site plan.
A site plan is a scaled outline of all the structures on your property viewed from an overhead perspective, and you'll need to have it on hand to apply for a deck building permit and to determine zoning regulations for your property. You may be able to get your home's site plan from the realtor who sold you the house, or from your local Building Inspector's office, but if you can't locate it, you'll likely have to hire a surveyor or order a new site plan online. Not sure what the best route is? The contractor may be able to help point you in the direction of the most cost-effective solution once they process starts.
3. Come up with a budget.
You should know how much you can afford to spend on your deck before you meet with your contractor, as your budget will affect your design and material choices. Keep in mind that a smaller budget doesn't mean you can't have a quality deck; you and your contractor will just have to work together to come up with the best possible design to meet your needs and your budget. Being upfront about it can help streamline the process.
4. Compile deck ideas.
If you've seen deck designs that you really like in a magazine or catalog, cut them out so you can give your contractor a better sense of what you're looking for, whether that's colors or special features. You may even choose to use a site like Pinterest or Houzz to search for and save your deck ideas online.
5. Write down your goals for your deck.
While the appearance of your deck is important, you'll also want to be sure that design meets function. Do you need a space large enough to entertain big groups of friends? Are you adding a deck to give yourself a grilling area? Are you hoping to have some shade on your deck? Writing down your specific goals or problems that you want to resolve will help you to better communicate with your contractor. Armed with that information, they can guide you to the right size and features for your needs.
Go through the five steps above and you'll be well-prepared to meet with your deck contractor, allowing you to communicate your ideas more effectively and to start building that deck as soon as possible.