Design Study—Rooftop Deck

In this Washington, DC, project, we created a rooftop deck after replacing an old, failing roof underneath. If you're currently looking to replace your roof, rooftop deck, or both, check out this modern, clean project for some design inspiration, as well as ideas about a better way to approach rooftop decks in general.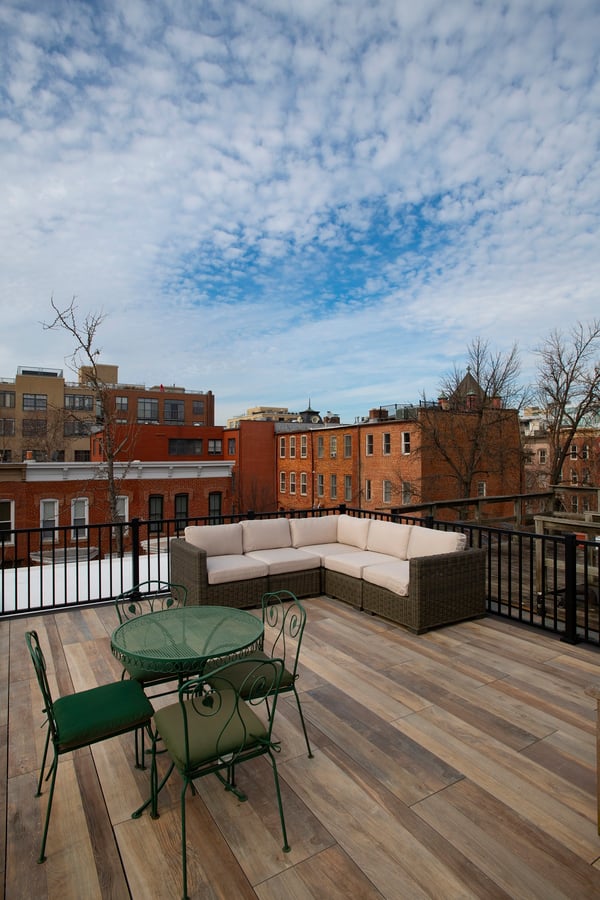 In this project, we encountered something we see a lot. The homeowner had an existing deck installed over a roof, and when that roof started to leak and needed replacing, the existing deck had to be torn up in order to access the roof below. In this case, the roof was at least thirty years old, and the deck was also in need of repair or replacement, so it all worked out well.

However, some homeowners run into a situation where the roof needs repair, but the deck is still perfectly functional. Without a specific decking installation system, this can lead to tearing up an otherwise sound deck just to access the damaged roof.

This was one major consideration for why we recommended (and the homeowner approved) a paver and pedestal system from Archatrex for the new rooftop deck install. In this system, all the pedestals interconnect, and the pavers then attach to those pedestals. The pedestals are fully adjustable, meaning you can raise and lower everything to get the deck perfectly level. One of the many advantages of this system is that everything (barring the perimeter and rails) can easily come apart and be put back together. So, if there's ever a leak, any damage, or the roof needs to be replaced, you can just pull up the deck tiles, address the issue, and put the deck back as it was. This system essentially ensures any future roof issues won't mean having to needlessly redo the deck as well, which can save the homeowner lots of time, money, and hassle.

Rooftop Decks: Material Considerations

• Decking

A rooftop deck is a very different project than a standard deck. Rooftop decks are exposed to much greater levels and intensity of weather-related elements. In the Washington, DC, area, this can include sun, extreme temperatures (hot and cold), rain, snow, and more.

There's simply not a lot of decking material that can survive this level of exposure, which was another contributing factor for why we recommended the Archatrex system. One of the hallmark offerings within their elevated deck system is the porcelain paver.

These are particularly well suited to rooftop decks because they won't fade, even when exposed to intense sun; they're incredibly durable; they don't expand or contract in weather extremes; they weigh less than stone or concrete, which puts less stress on the roof underneath; and if you choose a relatively light color, the pavers won't get overly hot to the touch.

Porcelain has proven itself a versatile and successful material to use in these projects, and if put through normal wear and tear, it can look nearly identical to the day of install ten years or more down the line.

• Handrail

For this project, the homeowner opted for a black aluminum handrail system. This gave the illusion of wrought iron—without having to worry about extensive maintenance to stave off potential rust. The black allows the handrails to blend into the background and doesn't block any of the view afforded by the rooftop deck.

Opting for aluminum meant a low-maintenance material that isn't going to look dirty over time or sustain a lot of noticeable damage. The combination of a black color and aluminum here ultimately yields a cleaner look than most other potential handrail materials.

While a failing roof used to mean homeowners had to commit to replacing both the roof and the rooftop deck above it, this project illustrates there have been big advancements in elevated deck systems. Not only is the finished product beautiful, clean, and contemporary, but having this pedestal and paver set-up could actually end up saving you lots of time and money down the line!