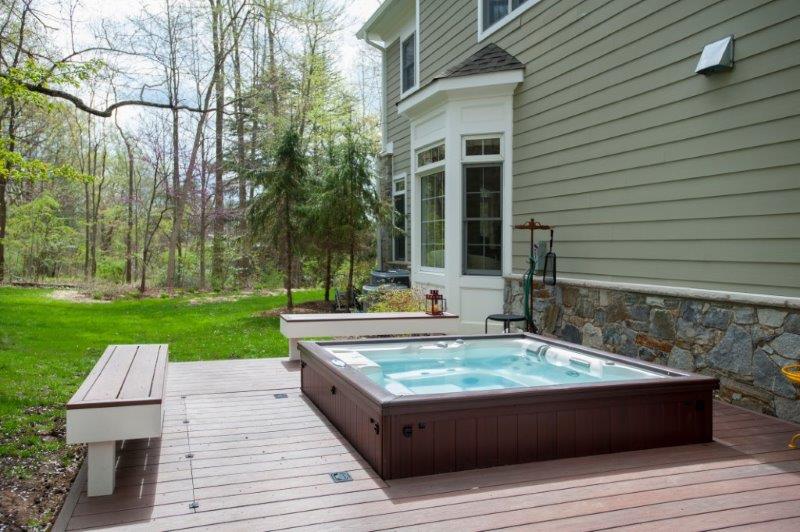 What if you could purchase furniture designed specifically for your new deck in Fairfax, Virginia or screened porch in Montgomery County, Maryland? What if you didn't have to stow your cushions every time it rains and always had enough seating for all of your guests? Intregated deck benches and built-in porch seating boast several benefits to traditional patio furniture, however your budget, personal preferences, and the layout of your outdoor living space will determince which option is right for your home.
What Are the Pros of Installing Built-In Outdoor Deck Benches?
Benches offer a number of benefits to any outdoor living area, but these benefits do mainly constitute aesthetic improvements:
Benches Used as Edging or to Define Perimeter. If you're building or already have a ground-level deck, it won't require handrails. That being the case, benches can serve as a very clear and visually appealing way to demarcate the borders of your deck and define that perimeter.

Without something there, it can often feel as if the deck simply disappears into nowhere. Benches, however, do give that finished, polished look.


Benches Used to Offer Unique Design Styles. There's a lot of variety within the styles and materials you can use for benching. That being the case, you have a lot of freedom and license to make your benches suit the design style you prefer for that outdoor space. Especially if you have a round or nonstandard shape deck, the benches can be made custom to match whatever layout that happens to be.
What Are the Cons of Installing Built-In Deck Seating?
Aesthetic benefits notwithstanding, integrated porch seats have their drawbacks. Some are global in nature, while others are specifically relevant to porches in Virginia and decks in Maryland.
Lack of Comfort. By their very nature, benches are made of decking material, and this often means they are simply less comfortable than other deck furniture options. You can incorporate cushions (either built in or removable), but Virginia does experience distinct seasons. For that reason, an outdoor-friendly material would be required for any measure of durability. Whether you go with an outdoor material such as Sunbrella or something else similar, there are cost implications. The cushions will have to be custom to fit the bench, so after the expense of the bench building and the custom cushioning, you start to reach (or exceed) the cost of a nice set of outdoor furniture.
Lack of Design Flexibility. Benches tend to offer less color and design flexibility than outdoor furniture. If these design elements—particular matching the outdoor space with the established home décor—are important to you, benches can toss a wrench in your design plans.
Expense Required. Especially if you are concerned about the comfort issue and decide to install outdoor cushions, it's very easy for bench installation and customization to end up costing more than a nice, comfortable, high-quality outdoor furniture set.

If budget is a factor in your project, this is definitely something to consider.
Lack of Mobility. Because the benches are built in as structures and part of the deck, they are not mobile. While outdoor furniture can be picked up and moved—for parties and events or to bring in for a harsh Virginia winter—benches will necessarily have to stay where they are built.
Code Considerations. The last potential con associated with benches relates to code violations and safety considerations. Within Virginia, a deck can be thirty inches high without requiring handrails. Anything higher legally requires them.

Given that, a bench tends to add about twenty inches to any given deck. That is, a deck that's thirty inches off the ground becomes a fifty-inch platform when a bench is added. Especially if small children will be using the deck, that starts to become a potentially dangerous fall height.

Also keep in mind that many builders tend to altogether avoid building benches on decks in the air. Again, this is a safety issue. With the added bench height, the clearance on the handrails shrinks, and it becomes more possible that a child could climb up and over and fall a significant height.

If you're currently deciding between installing benches or not in your Virginia home and you'd like more guidance with this decision, please feel free to contact a representative of Design Builders, Inc.