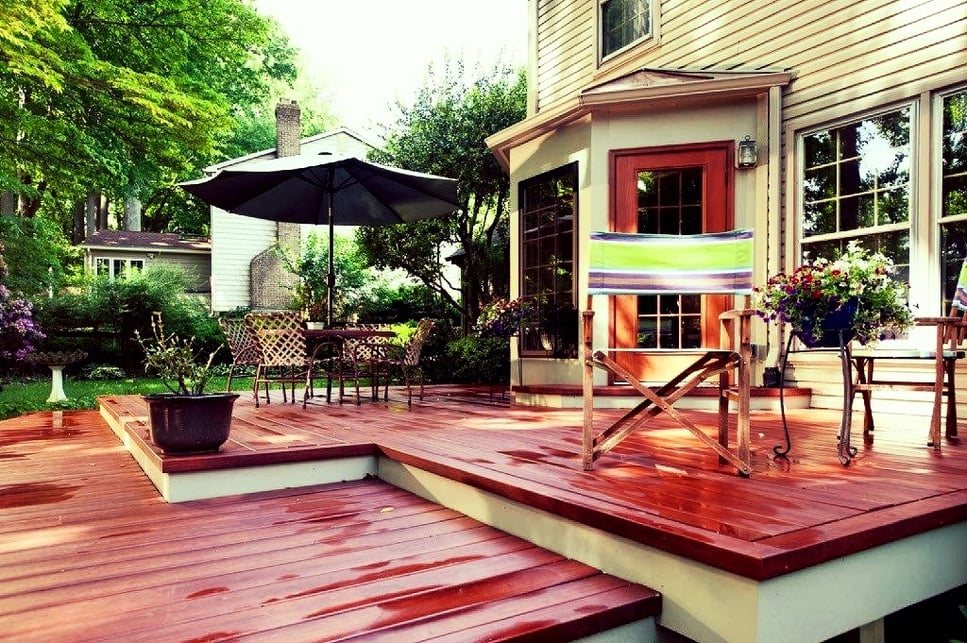 When it comes to premium decking, one of the names that always stands out in the industry is Zuri Premium Decking (by Royal). However, a consistent question surrounding this decking is how to waterproof the deck itself, thus helping ensure the longevity and usability of the structure. When tackling this issue from a construction standpoint, it's not actually about treating the boards or making the boards themselves waterproof—or even water resistant. Rather, it entails creating an entire drainage system that affects how the water is irrigated.
The Waterproofing Process
The first step in the deck waterproofing process involves the waterproof membrane. This needs to be placed at least six inches below the Zuri decking boards. This is the most important line of defense against water leakage.
Because the waterproof membrane is six inches down, these wood sleepers need to be four to six inches. If they don't conform to that size, there can be some problematic heat issues.
These sleepers are typically two-by-fours (2x4s) that go on top of the waterproof membrane. This particular design structure is in part because Zuri decking uses CAMO Fasteners. These screws go in at an angle (thus eliminating any visible screw heads on the deck itself).
In this way, your design team is building a roof, and the decking goes on top of that. The actual PVC Zuri boards are essentially on top of the waterproofing system.
Best Practices with Zuri
If you're having a Zuri deck installed, the best practice as it relates to waterproofing is to have a system that actually attaches to the bottom of the joist. This works best for two reasons.
This system accommodates the CAMO Fasteners that are used to install the Zuri boards.
This alleviates potential heat issues. Because Zuri is a PVC-based premium decking, you don't want the system to get too hot. Rather, you want breathability underneath. This becomes especially true with systems such as torch down roofs.
Installing a system such as DrySnap (which does attach to the bottom of the joists) is preferable for Zuri decks.
Why Is Waterproofing So Important?
Water can be an extremely detrimental element—especially when allowed to sit or pool for extended periods of time. This can cause many issues and problems, not the least of which is rotting.
Also, if you're looking to use the space under your elevated deck as storage or any other usable area, it's absolutely imperative that you have a system in place that directs the water away. This avoids any leaking or seepage down, which could destroy or harm whatever items are being stored within that space.
If you're in the process of building an outdoor living space and you want to incorporate a premium deck system like Zuri can offer, make absolutely sure that your design and build team has an adequate system in place to ensure waterproofing has been considered.