How to Prepare Outdoor Kitchens in Screened Porches for Winter


You've invested the time and money into creating the perfect outdoor living space, and you've given every thought and consideration to its shining centerpiece—the kitchen. Now that the temperatures are dropping and snow is looming on the horizon, though, what steps do you need to take to protect this outdoor kitchen through the cold, blustery winter?
7 Ways to Keep Your Outdoor Kitchen Pristine through the Winter
1. Convert your outdoor living area into a screened-in porch.
---
This is perhaps the most structurally comprehensive way to protect your outdoor kitchen throughout the winter. Fully closing in an outdoor area can mean installing retractable screens, which gives you the flexibility to have the area be open air or enclosed.

The general idea here is to keep snow off of and away from your cabinetry and appliances. Built up snow can come with gravel or other debris that can quickly lead to scratching, and even clean snow pushed up against any part of your outdoor kitchen could lead to water seepage and damage.
2. Properly install and address any and all plumbing.
---
When temperatures drop, plumbing is one of your biggest concerns. Burst pipes can cause serious (and costly) damage. With that in mind, ensure all plumbing is installed before the winter sets in, and properly shut down and drain all pipes before the freezing weather hits.

If you're unsure about how to winterize your pipes and plumbing, contact local professionals. Paying a little bit to ensure it's done right is a lot better than dealing with the fallout of a burst pipe!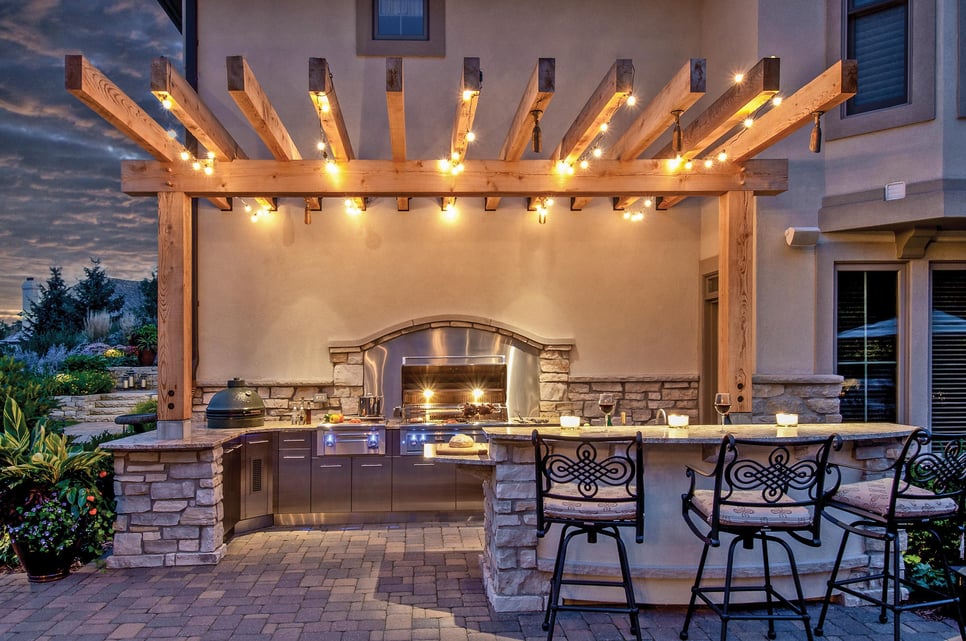 3. Purchase (and use) your outdoor appliance accessories.
---
It's imperative that all your outdoor appliances are protected through the winter. This diminishes the chance of immediate breakage or damage, and it generally extends the life of those appliances.

All grill covers should be on and secure, and a sink cover should be purchased and used as well. (This makes sure leaves and debris don't make their way down the drain and cause problems later on.)

4. Remember: salt is the enemy!
---
Never use salt to melt the snow on or around your outdoor kitchen. Don't use it on pavers, flagstone, decking, or anything else as it can seriously damage or corrode your materials. In a similar vein, sand can also lead to scratching, so avoid that as well.
5. Shovel snow carefully—and with plastic.
---
Depending on your climate, shoveling snow during the winter is a likely chore. If you do have to shovel around your outdoor kitchen, always use a plastic snow shovel—never metal. Metal can easily scratch and damage anything from decking to cabinetry. Even when using plastic, however, be gentle—especially when you get close to the ground and the actual kitchen materials.
6. Don't unnecessarily disturb your outdoor kitchen during the winter.
---
Cold weather makes everything—from plastic to rubber gaskets to vinyl—more brittle. So, if your winters are particularly cold or severe, don't move things around in your outdoor kitchen more than necessary. If you have retractable screens, for example, either leave them up or down all winter. Don't repeatedly raise and lower them throughout the season because the risk of damage increases in freezing or below-freezing temperatures.
7. When money is no object, spring for radiant heat.
---
If you have the money and you really want to preserve your outdoor kitchen, consider installing radiant heat. This will ensure the area around your outdoor kitchen and cabinetry is dry and snow free throughout the season. Remember, though, radiant heat is a trade-off. The area will be entirely usable, but you'll need to pay to install the system and to run it.

Winter can be trying for outdoor areas, but with these few simple tips, you can help ensure your exterior kitchen stays pristine and usable for years to come!