12 Tips for Hiring the Best Deck Builders in Maryland, Virginia and Washington, D.C.
Building a deck is a big investment for most homeowners, so it's important to locate a contractor who is qualified, experienced, and meets your project's needs. Since most of us haven't had experience hiring a deck contractor before, you may not know how to go about comparing offers and ensuring your contractor will deliver on his promises. Follow these steps to hire the right deck contractor for you.
1. Get referrals
One of the best ways to find a deck contractor is through a referral from a friend or family member. If the contractor designed their deck, you can see their work in person and get a firsthand account from someone you trust about what it was like to work with them.
Don't forget to take into consideration the type of deck that was put together. If it was a simple, small, first story project, and you are planning a complex two-story deck with additional features, then you want to ensure that the contractor is able to handle your more complicated project.
Also, if the individual did not work with contractor directly, but instead knows them personally, take the referral with a grain of salt. The contractor may be a nice guy or gal, but that doesn't necessarily mean they're someone you want to work with.
2. Find more contractors
Even if you get a solid, trustworthy referral, it's advisable to consider a few other bids for your project. A quick Google search will turn up deck contractors in your area, and sources like Angie's List and your neighborhood listserv may also provide reviews or recommendations.
Another way to find a quality deck contractor is to check out examples of completed projects that you like in magazines such as Home and Design, Luxe, Bethesda, or Washingtonian, as well as Houzz.com. They'll showcase completed projects and provide information on who worked on the deck.
Also, if you notice a company working on a deck or another outdoor project in your neighborhood, walk over and introduce yourself. You'll already know that they work in your area, and you can ask your neighbor directly about their experience.
3. Screen potential contractors
In just a few questions, you can weed out deck contractors that aren't suitable for your project.
Do you carry workers' compensation and general liability insurance?

Are you licensed and bonded?

Will you arrange for the permit?
If they can't answer yes to all three questions, move on to the next contractor.
4. Look out for these red flags
If you encounter these issues, they are also reasons to walk away.
Reluctance to give references.

Unfamiliar with products you've researched or are interested in.

Doesn't have a portfolio for you to view.

A salesman who also builds the deck. He'll be difficult to get ahold of during the day.

Super low price because they "got material at a big discount" or "had material leftover from another job."
5. Interview top candidates
Now that you've narrowed it down, you can take the time to interview those you are seriously considering. Here are a few questions to ask:
What do you do best? What's your specialty? A good contractor will know.

Do you have any projects that we could visit in the neighborhood?

Do you anticipate any additional costs?

What are potential scenarios that could cause additional costs?

Who will be my main point of contact throughout the project?

Are you a member of the National Association of The Remodeling Industry (NARI) or the North American Deck and Railing Association (NADRA)?

Are you a certified installer with the company that produces the deck material I am installing?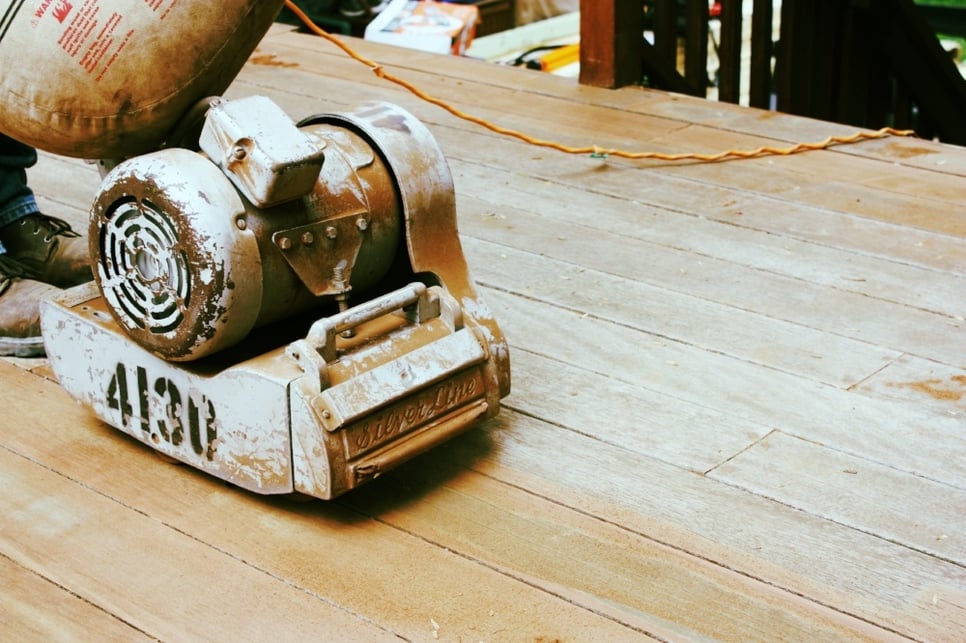 Make sure you trust the contractor you hire to build your deck in Virginia or Maryland, and be confident that your trust is justified.
---
6. Compare apples to apples
When looking at bids, you want to really understand what's included. In an effort to make their bid appear lower, some contractors may omit expenses that you'll be stuck with in the end, or may leave you with additional work that needs to be done. Watch out for a contractor who:
Doesn't include yard repairs, trash removal, and site cleanup.

Doesn't include permit cost or permit running fees.

Builds less expensive structures (such as a deck that isn't 'free-standing').

Doesn't include power wash and final cleanup.

Requires the homeowner to buy materials and provides 'labor-only' price.

Doesn't include or want to get a permit. It's required, and you'll face worse hassle and cost if you try to avoid it
Here are a few other questions to ask to ensure that you're comparing bids that are covering similar items:
Do they include painting or caulking?

Do they include a successful county inspection?

Do they include construction site surveillance cameras?

What type of material are they quoting?

What types of trim detail are they quoting?

What type of railing are they quoting?

Does the quote include any landscape work or grading?

Do they have an engineer or do they work with one closely should something arise?

What type of warranty is included? It's standard to offer a year warranty, but some deck contractors even offer up to 5 years.

What's the down payment? A 30% down payment is standard. Never pay for the full project up front.
7. Pay attention to what they ask
An experienced deck contractor will have a lot of questions for you. They'll use this information to help guide you to the right solution for your deck. If your contractor asks you the below questions, it's a good sign:
How long do you plan to live in the house?

How do you plan to use the deck?

Do you like to entertain?

Do you have big gatherings for holidays and birthdays?

What is the most important consideration for the project?

What's the ultimate goal of the project?

How do you define a successful project?
8. Understand the process
While each contractor may have a slightly different approach, there are a few basic steps that you should go through and documents that you should receive along the way.
Showroom Visit

Preliminary Plan Review

Final Plan Review

Logistical Pre-Construction Meeting
9. Check their references
Don't take their word for it; give their past customers a call. Here are a few questions to ask:
Did you have any disagreements, and how were they handled?

How was the craftsmanship?

Were they easy to communicate with and easily accessible?

Did they leave the area clean and ready to use when it was complete?

Did they deliver the project on schedule and on budget?

If the project experienced delays or additional costs, why was that the cause?
Above all, you want to look for craftsmanship. Does this look like the work of skilled and experienced professionals? The next consideration, which is also important, is design. Do you feel confident they can deliver something that you'll like? Are they taking advantage of the existing space and area around it? And lastly, you want to pay attention to color schemes and furniture placement.
11. See the work in person
You wouldn't buy a 50k car without taking it for a test drive. Take the time to view a past project that they completed to see their craftsmanship firsthand. And go to a showroom. You want to see exactly what you'll be getting and how it looks on a finished project.
12. Evaluate the contract
Look at the payment schedule to ensure it seems reasonable. Verify that the appropriate license information is included. And also, pay attention to how change orders are handled as well as how problems will be solved should one arise.
Taking the time to locate the right contractor for the job will save you time, money, and hassle in the long-run. Don't rush into such a huge commitment until you've thoroughly checked all your bases.