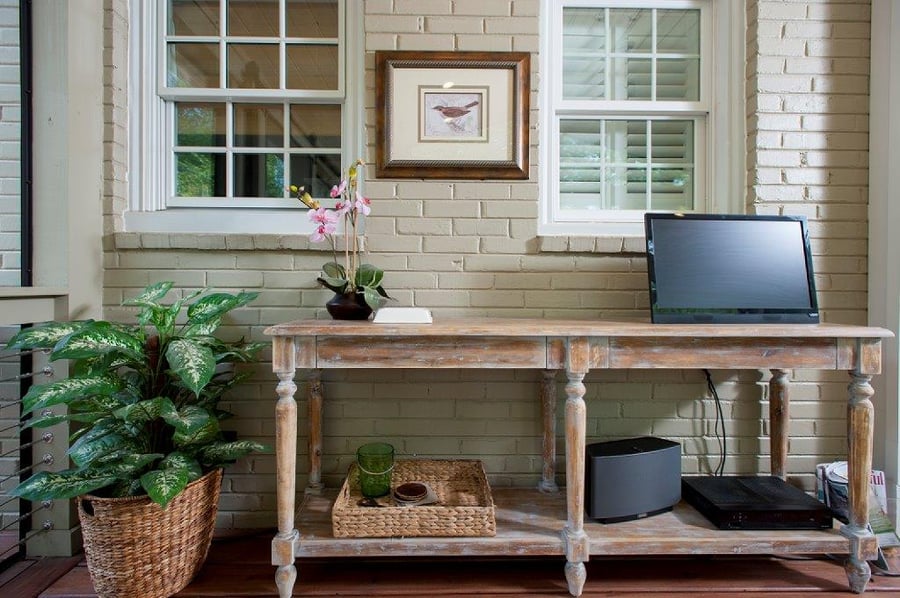 Characteristics of a high-quality porch in the Washington, D.C. metro area
Porches may come in all shapes and sizes, but they also provide homeowners limitless opportunities for customizing and accessorizing their luxurious outdoor living spaces. It can subsequently be difficult for first-time porch builders and overwhelming for casual deck enthusiasts to keep track of which add-ons are classy and which ones are gaudy fads. Fortunately, these six features will never go out of style and can be found on award-winning, luxurious screened porch designs throughout the DMV.
Flagstone patios. On the ground level, many screened porch contractors suggest flagstone because it exudes class and an upscale finish. It helps elevate an entire design by bringing a polished, complete look to an outdoor element that, by itself, can rarely replicates the finish of an interior floor.


Motorized Screens. Motorized retractable screens, like those offered by Phantom Screens, add sophistication and usabililty to outdoor living areas in the DMV. For one, they offer a high level of convenience; with just the push of a button, screens can be either raised or lowered. Two, this maximizes the versatility of a screened-in porch. It allows the space to transition from a walled-in area to an open-air deck design, which helps it feel less enclosed. In other words, it makes the area much more flexible for everyday and three seasons usage.

Other considerations can contribute this open atmosphere as well, such as avoiding defined perimeters and bulky railings that obstruct views or otherwise limit accessibility. For example, installing steel cable railings in a porch with motorized or manual retraction screens is more successful than using stylish but more substantial Deckorators balusters in decks and screened rooms going for a more streamlined, contemporary look.




Outdoor Kitchens. Many outside entertainment areas contain a way to cook, but more dedicated and especially award-winning spaces go the extra mile with one or more of the following add-ons:



Outdoor Kitchen Cabinets. Often stainless steel, many product offerings will have the polished look of interior cabinets with the durability to sustain outdoor weather and potentially punishing conditions.
Storage Space. The inclusion of self-storing drawers, doors, and cabinets maximizes a porch's usable space and indicates a thoughtful, practical designer was on hand. Properly placed shelves and hidden cabinets keeps rooms clean and gives them a more high-end appeal.
Designated Grilling Area. A built-in grill is superior to a mobile grill from aesthetic-heavy perspectives.

Drinking Accommodations. To handle the beverage needs of you and your friends, an outdoor wine fridge is a convenient addition. For designs that want to go all out, fully-plumbed wet bars are the ultimate option.
Accessories. One of the main attractions of an outdoor kitchen is finally sidestepping the constant, necessary transition between indoors and outdoors when entertaining in one's yard. To make this possible, outdoor kitchens are commonly outfitted with trash pulls, dishwashers, warming drawers, and more.



Outdoor Lighting. A backyard space must be illuminated properly in order for it to be safe to use both day and night. Common components of outdoor lighting packages include accent lighting on landscape features, sconce lighting on columns, and lighting on retaining walls and steps. Proper lighting is beneficial to a structure's functionality and aesthetics,as well as its safety. This is especially important for households with children, elderly folks, and/or clumsy pets.


Entertainment is a significant part of any high-end outdoor space, and you can incorporate whatever relevant elements suit your lifestyle. Televisions, hardy speakers, wireless internet boosters, and flat surface fixtures are available for yourself while comfort items like retractable screens, designer outdoor ceiling fans, and Infratech infrared heaters make entertaining others a breeze during any season.


Landscaping. The finishing touch on any porch design is the landscaping. A job isn't complete without this, as greenery serves to soften the hard metallic and stone elements of a build. Moreover, many upscale porches incorporate flower boxes and other gardening fixtures as major aspects of their facades.

Landscaping — as with all elements of outdoor spaces — needs to be done with a thoughtful eye. Everything must be included for a reason and serve a purpose, but the form is an important consideration as well. The entire project must be laid out well, logical, and simple, but with an elegant touch to truly be considered an upscale porch.
Questions about what you've read? We'd love to hear your opinion in the comments below, or for more information about award-winning porch designs in Washington, D.C. please contact a representative of Design Builders, Inc.