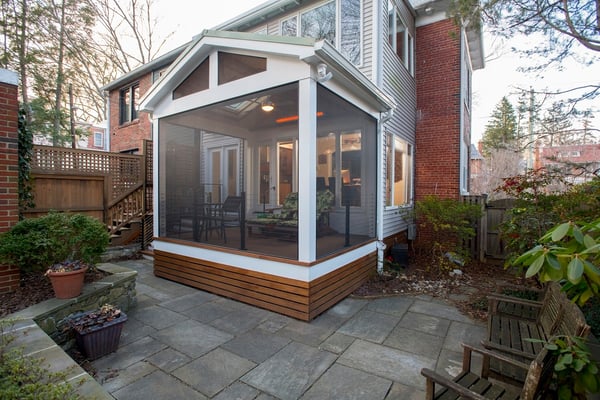 Obtaining a Screen Porch Permit in Washington, DC

Building a screen porch in Washington, DC, brings with it a host of geographically specific restrictions, and obtaining a permit for your build is no exception. However, with a bit of forethought—and a lot of patience—you can seamlessly work your way through this process.

1. Have Realistic Expectations about Timing
---
Perhaps the most important thing to know going in is that obtaining your permit for a screen porch build in Washington, DC, can take anywhere from two to four months (and sometimes even longer). Reputable design and build firms are usually more than happy to do these kinds of projects, but it's important for homeowners to realize this process isn't going to happen overnight.
2. Understand Sizing Restrictions
---
In the Washington, DC, area, you're only allowed to build ten feet past your closest neighbor. Therefore, if you're flush on both sides with the surrounding homes, the most you can build off the back of the house is ten feet. (If, however, the house on the right, for example, is four feet past yours, you can then build out fourteen feet.) If you have very specific ideas about how large you need this screen porch to be, make sure it's compatible with this building restriction. There's nothing worse than getting late into the planning stages and then realizing you're simply not going to have the room to execute those ideas.
3. Order a Property Plat from Washington, DC
---
Once your design is entirely sorted, the next step is to order a property plat from the city itself. The cost can fluctuate somewhat with the property size, but as of 2019, the price for this is around $55. (As with all prices, this is subject to change over time.)
Expect it to take about three days before the plat is available for pickup.
4. Have Your Contractor Draw the House on the Plat
---
Once you have the property plat in hand, you'll need your contractor to actually draw the house on the plat itself. The plat you receive will just be property lines, and any structures or buildings on the property must be added (to scale) by a reputable contractor.
5. Create a Full Set of Plans for the Project
---
When obtaining a permit for a simpler project, such as a deck build, everything can move much faster. Once you add a roof to your structure, though, you're subject to the same stringent build guidelines that apply to a full home addition.
This means you'll need the following:
Full set of engineer-reviewed plans (every page must be stamped and approved by an engineer)

All relevant load calculations for the structure (footings, beams, joists, etc.), provided by an engineer

Specific electrical page that details the following:

Photographs of the clearly labeled circuit box

Panel schedule, which outlines everything in the circuit box

Load amount on each breaker

Notarization affirming all lighting is LED

Identification of all ground disturbance, including a discussion of any necessary digging that will occur, a plan for what you're doing with the displaced dirt, and assurances you aren't disturbing more ground than necessary for the project.
Based on the specific project, they'll be a laundry list of other necessary inclusions. Always consult with your design and build firm to ensure you've included everything your project requires.
6. Submit Everything to the Project Document System
---
Once you've submitted, the city has thirty days to review your project. During that thirty-day window, the plans must go through zoning; historical, if necessary; energy; electrical; and structural. At any point, you can go online to see who has reviewed your plans, which will give you an idea of how far along you are in the review process.
If, however, one person in one department flags something for adjustment, the plans will get kicked back to you. You'll need to make those necessary adjustments and then wait for the system to allow you to resubmit. At that point, your thirty-day period starts over. (Note, you can't resubmit until every department has seen the plans.) If your plans are kicked back several times, it's easy to see how those thirty-day periods stack on top of each other and add up to a huge wait time.
Once every department has reviewed and OK'd the plans, the documents are all made available online. There's no need to make a dedicated trip to pick anything up.
From a permit standpoint, adding a screen porch in the Washington, DC, area is as involved as creating a full addition to the home. However, as long as you have realistic expectations about timing, you should be able to secure the proper permitting and commence your project on schedule. Be especially certain to work with an experienced local design and build firm. Local companies will know exactly what Washington, DC, requires during this process, potentially saving you from costly, time-consuming delays.