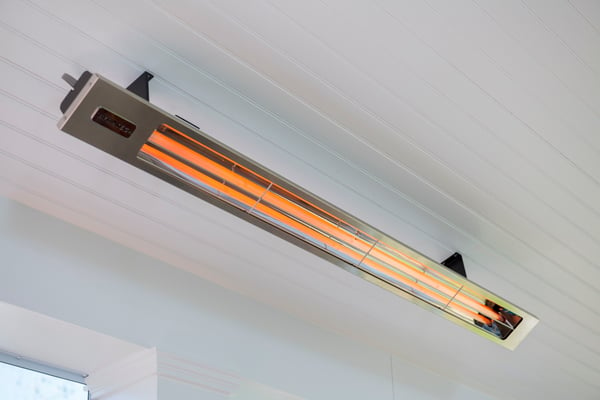 How effective are infrared heaters, and how should they be used?
The most obvious questions to ask when researching outdoor heaters revolve around their energy output. This is a natural starting point, as the amount of heat an infrared repeater produces will determine the effectiveness of individual units when heating an outdoor living space. However, Infratech heaters are complex pieces of technology that go beyond simple, straightforward numbers and thus require additional thought when choosing a unit for your screened porch in Maryland or deck in Virginia.
Infrared heat Is different than the heat in your house
Outdoor areas can be temperature controlled via infrared heat, through an infrared heating system, or with classic furnace heat. Furnace heat is the kind used to warm your home in the winter. It's moderated by adjusting a thermostat to a specific temperature, and works by heating the actual air circulating throughout your house.
Conversely, outdoor infrared heaters function by transferring heat directly to objects. Therefore, the placement of infrared heaters is determined by the areas of your outdoor space that you want to be warmed up. If you've ever asked, "How do infrared heaters work?", you can roughly think of a patio heater as more of a microwave for your Brown Jordan furniture - heat via radiation - as opposed to what you would equate to an indoor heater. Therefore, this type of energy is more difficult to quantify.
Perceived temperature differences
Company studies have shown Infratech heaters to increase ambient air temperature by a maximum of 6 degrees Farenheit. However, everybody experiences and perceives heat changes differently. The maximum power output of your desired unit is going to be influenced by your age, gender, and body type.
Expectations for outdoor heating systems from Infratech and other companies
Outdoor spaces impose unsurprising limitations on when and how you can use Infratech infrared heaters. Regardless of the heating system you install, it's not realistic to assume you'll be comfortable using your deck, veranda, or screened porch in Virginia or elsewhere in the DC metro area in the dead of winter.
That said, heaters make outdoor living spaces comfortable during transitional weather periods. Our moderately long fall days - think chilly breezes and falling leaves - are usually too bitter to enjoy, but infrared heaters allow porches and other backyard spaces to remain comfortable and usable even during sweater weather by taking the edge off. They're also effective at the tail end of winter and early spring.
How to maximize the effectiveness of infrared heaters in Maryland, Virginia, and beyond
You will get the most out of an infrared heating system when you run your heaters at their maximum output and aim them at your deck furniture or outdoor sitting areas. Infratech heaters are very directional and will warm anything in their paths. After your furniture itself is heated, adjust the temperature of your heating units to a comfortable level. This is a great example of an outdoor heater best practice, as it uses the benefit of having highly adjustable controls to your advantage.
Another best practice is to purchase multiple heaters to increase your coverage area and more effectively manage your outdoor space. Two or more units have a better chance of fully regulating the temperature of a larger dining table or sitting area. This will greatly add to your Infratech cost benefit.
For more information on different types of infrared heaters and heating systems, check out Best reviews and their 2020 list of the 10 best infred heaters for your home !