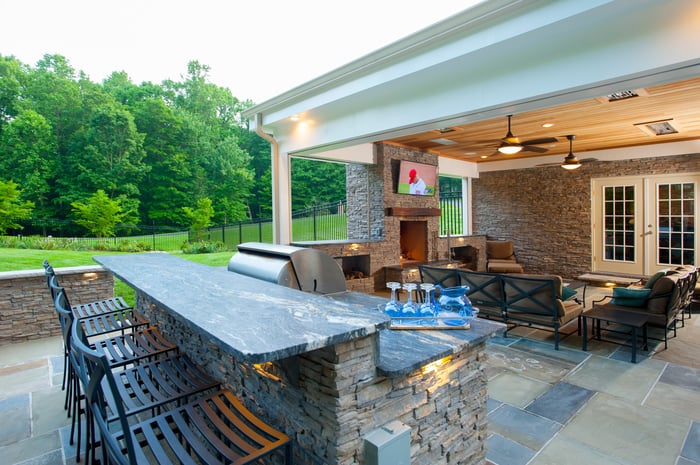 When you're looking to outfit your Washington, DC; Virginia; or Maryland home with an outdoor kitchen, cost is always going to be a factor. One area where you can make a big difference to your budget is the grill. From top of the line to just the basics, here's what you need to know about grill pricing.
How Much Does a Grill Cost? 3 Factors That Affect the Answer
The first thing to realize is there is massive variance in grill pricing. (Just check out this feature on a $30,000 model!)
Outliers aside, differences in price come down to many factors:
Type of Grill
The type of grill you're looking to purchase will have a big bearing on what you can expect to pay. The most common options are the following:
$50–250 (kettle-style freestanding)
$800–$3,000 (upscale luxury models, freestanding or built in)
$300–$7,500 (freestanding)
$1,000–$5,500 (built in)
$200–$4,000
$200–$2,000
Notice the price difference between freestanding and built-in options, with built-in grills typically coming in less than high-quality freestanding units. This is another key factor to keep in mind when pricing out your ideal grill.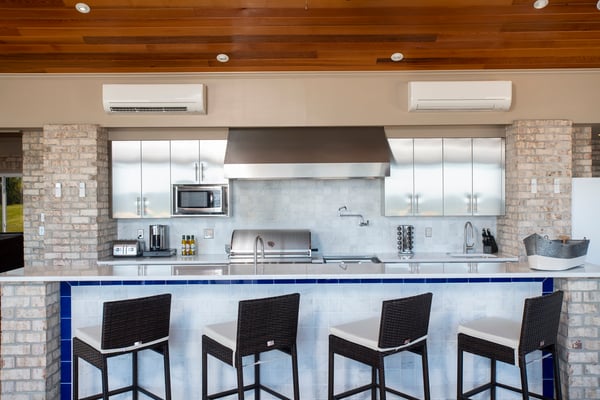 Size of Grill
Cooking area and grill size can greatly affect price. For example, the Blaze Professional LUX 34-inch grill (with three burners) currently retails on BBQGuys at $4,657.98, while the same grill in the 44-inch model (with four burners) comes in at $5,854.98. (Prices are quoted here for the freestanding units.)
The more area you have to work with, the more you can expect that price tag to inch up.
Quality of Grill
Quality is a huge differentiator between grills, and it affects everything from the materials used to make the grill to how well the grill actually works. (Ever struggled to keep grease flare-ups at bay even with the flame tamers? That largely comes down to cheaper materials and workmanship.) As you'd expect, a higher-quality grill is going to require more of a financial ask.
5 Considerations When Choosing a Grill
The Grill Is the Centerpiece of Any Outdoor Kitchen
An outdoor kitchen often revolves around the grill. Even as outdoor kitchens grow and expand in sophistication, with people adding everything from built-in beer taps to outdoor refrigeration, the grill remains the tool most used for cooking.
Budget, obviously, will play a role in your decision, but if you're looking to cut corners, consider whether the grill is the place you want to do it. A poor grill that doesn't meet your cooking needs could limit how often you use your outdoor kitchen, causing the entire investment to make less sense.
What Kind of Cook Are You?
Are you a grill novice? A casual weekend cook? A home chef who's spent the past six years perfecting your homemade aioli to complement your flame-broiled burgers?
Wherever you fall on this spectrum, you should seriously consider the kind of cook you are before committing to a grill. You might have every aspiration to learn how to smoke your own salmon, but ask yourself whether you're actually serious about doing this or not.
Don't overinvest in equipment that's just going to sit unused, but on the other side of that coin, don't skimp if you're actually going to be putting your grill through the paces every day.
Premium Outdoor Kitchen Accessories Are Selling Points
You should absolutely design your outdoor kitchen to your specifications and needs, but should you sell your home down the line, a premium grill could be a big selling point and a key differentiator. Especially in this housing market right now, these kinds of exterior details matter more than ever.
(Read our article about the recent housing boom to get more insight about the home improvement landscape.)
Upfront Cost Isn't the Whole Story
If you're trying to decide between several grill models, keep in mind that part of what you're paying for is durability. Yes, the higher upfront cost can be hard to swallow when another grill is significantly cheaper, but think about maintenance. Think about replacement costs. Think about diminished functionality over time.
A cheaper grill will often need to be replaced or serviced quicker than a more spendy grill, and that could offset some of those initial price savings.
If you're just looking to buy a $50 charcoal grill for a one-off barbecue here and there, then no. It's probably never going to make sense for you to invest in a $5,000 grill. But if you're struggling between a $3,000 and a $4,000 model, it's worth thinking about how much more longevity you're going to get out of that more expensive unit.
At the end of the day, the less expensive model might end up representing better value for you, but it's worth factoring into your decision.
5. Think about Fuel Cost
With so many different types of fuel, you'll also need to consider the cost of operation. Will pellets, charcoal, natural gas, or propane make more financial sense? As with anything related to cost, it depends. How much do you plan to use your grill? Do you have ready access to hook up to natural gas, or will you need to pay to put that line in? What are your local rates for propane? Do the math for your situation. You could be surprised at how expensive or economical certain fuel types can be.
We're a premier design and build firm that services the Washington, DC; Virginia; and Maryland markets, and we specialize in custom outdoor living spaces. If you're thinking about adding an outdoor kitchen or you have any questions about how to get started, feel free to reach out!