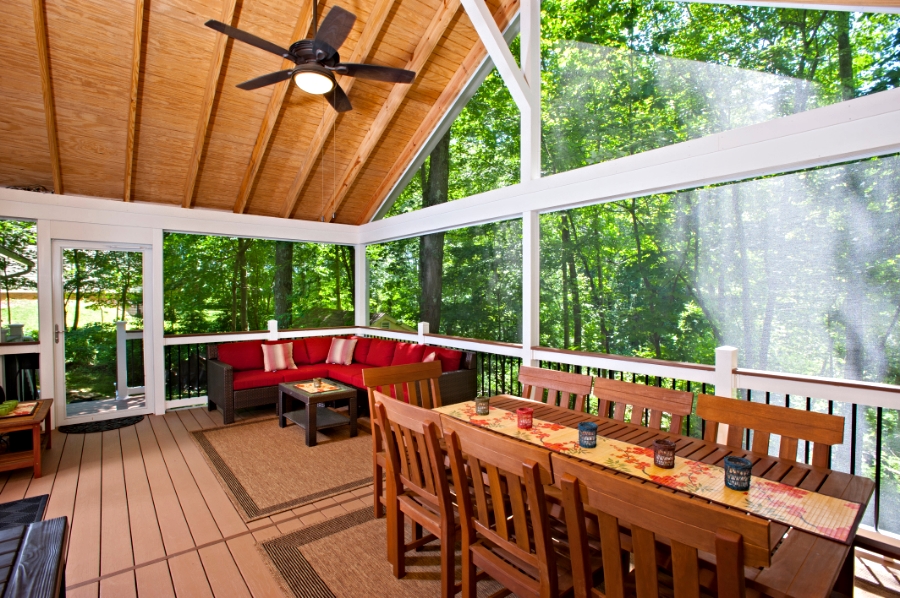 Why Designer Porches Are Great Investments
When people hear the word "investment," many immediately think about money. However, if you're thinking about adding a porch to your home, this can be a great investment in many senses of the word. In this way, a porch can pay dividends for years — both in terms of finances and quality of life.
Your New Favorite Spot
For the many homeowners who decide to add a luxurious porch to their homes, it's more than just a remodel or a facelift to an existing room. This is a space where you're going to live. If you work from home, it'll be a beautiful, peaceful place to conduct business. If you're an avid reader, it's a comfortable place to delve into your latest novel. Perhaps you just enjoy hanging out with friends or hosting barbecues on the weekends. Luxury porches are ideal for entertaining.
Whatever your lifestyle, a high-end porch can accommodate and heighten it. It's guaranteed to be one of the most unique rooms in your home because of the open-air concept, and you're sure to spend as much of your free time as possible there, as it will certainly become the center of your social life.
Extend Your Activities Year-Round
If you live in an area that experiences extreme (or even distinct) seasons, it's a good bet there are certain months you just skip the outdoors. Whether it's to avoid the humidity, the wind, the seasonal bugs, or any other number of season-specific nuisances, a luxury porch can actually give you whole months of the year back.
Rather than hiding inside, retreat to your luxury porch, which can be outfitted with heaters, fireplaces, fans, motorized, retractable screens, and more to keep you comfortable no matter what Mother Nature wants to throw your way.
Remember, though, that not all luxury porches are built equal. If you cut corners, it can prohibit how much you can use your porch during certain months. To get the most out of this investment, install whatever you need to make the space work for you and how you envision using that area.
Added Value to the Home
In addition to all the intangible benefits of a screen porch project, these luxury porches are also great investments in concrete, dollars-and-cents terms. A beautiful, artfully crafted screen porch can truly add to the home's overall appeal and resale value. Various studies show a porch generally returns approximately 75 percent on the investment.
When people are looking to purchase a house, they often have several options in mind. Having this luxurious outdoor living space can be a big selling point and a great way to make your home stand out in a positive, memorable way. It might just be the difference maker for someone trying to decide between your home and another.
As such, keep a few things in mind when building:
Do the construction and design job right the first time. If your porch is elegant, functional, and flawlessly integrated with your home, it's one less thing for the next buyer to have to deal with down the line. Saving buyers that money and hassle can play a big role in the decision to purchase or not.


Decks are a dime a dozen now. Many homes have them — even high-end, quality decks are quite common. However, screen porches and all their associated benefits are still relatively novel, and this will help your home make a big impression.