Flashing: The Most Important Detail
Why decks fail
Proper flashing install
Types of material to use for flashing
The Importance of flashing: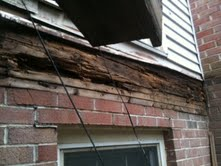 I cannot stress the importance of properly installed flashing for any deck or screen porch project. The severe weather of the Washington Metropolitan area will destroy any unprotected wood. If your deck is not flashed properly you are putting yourself and your family in harm's way. Last year I did over 200 deck estimates. The majority of these estimates included either the demolition and removal of an existing deck or an addition to an existing deck. More than 50% of the decks I visited were not flashed and open to rain and snow damage. It's a crime that a contractor would not take thirty minutes and install flashing properly. The material does not cost very much and the installation is quite simple. However, left undone you leave the deck vulnerable to many problems such as mold invasion and deck collapse. There are two materials we recommend using to properly flash a deck, copper and vinyl. We tend to use vinyl because of the cost factors. The flashing material is going to come in contact with pressure treated wood, so the flashing needs to be resistant to the corrosion that ACQ materials may cause. If you stick to vinyl and copper, you will be OK. There are three steps to installing flashing correctly. First, the siding must be cut away in the area where the ledger board is to be installed.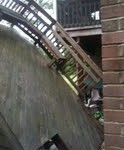 Second, the flashing must go behind the siding. You want the flashing to be approx. 6" above(behind the siding & ledger) your ledger board. Once the first piece of flashing is installed you can attached the pressure treated ledger board sandwiching the flashing to the house. The final step is to install a piece of 'L' flashing that sits on the ledger board and goes behind the siding. This piece keeps water from entering the house and flowing in front of the ledger. The first piece is for added protection.
Design Builders Recommendation: Look at your deck. If your ledger board is 'sandwiched' to the siding and the siding has not been cut away, you are set up for disaster. Water IS going inside your house. You may have mold growing that you do not know about and the structural members of your outside wall are facing water damage. Call Design Builders Inc. for a free consultation.