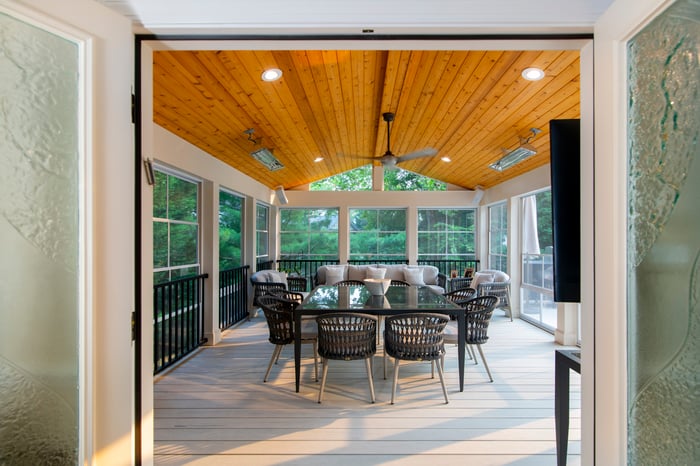 NoVA & MD Homeowners: Get the Biggest Bang for Your Buck with These Outdoor Living Space Upgrades
For those of us with decks and patios, a few simple outdoor living space upgrades can maximize the existing area. If you don't have a deck or patio, don't worry. Any porch, entryway, or balcony can be made attractive and useful. Whatever the available space, these areas can become your oasis. Here are a few easy suggestions for upgrading your favorite outdoor hangout.
Not sure what to do with the outdoor portion of your property? Here are ten simple, effective, functional upgrades to enhance your enjoyment of the space!
Under-Deck Ceiling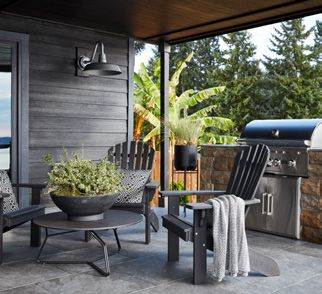 (Photo courtesy of Trex)
Why install an under-deck ceiling? The main reason is ensuring the space under your deck stays dry.
With this area protected from rain and moisture, the space transforms into:
A play area for kids
An entertainment hub for adults
A small kitchenette
A quiet place to meditate or to read a good book
Screened-In Porch under Your Deck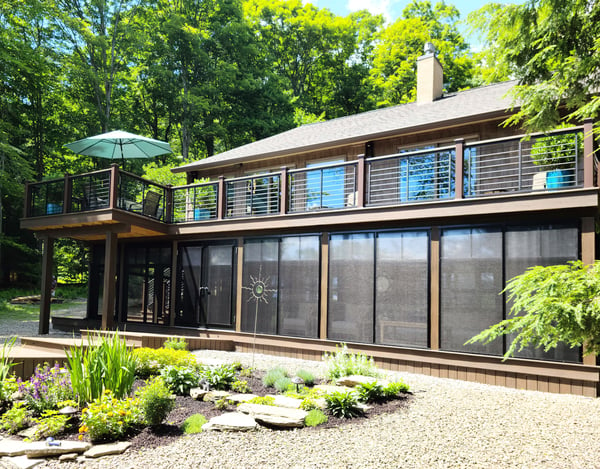 (Photo courtesy of Trex)
Do you have a second-story deck and want to make good use of the area underneath? Consider screening in the space under your deck.
Although it doesn't insulate you from extreme temperatures (cold or hot), it does give you invaluable extra space for seating or storage.
The screening also prevents birds and other wildlife from coming in and nesting. In temperate climates, this area works very well to relax and enjoy the outdoor views.
Plants around Your Balcony, Deck, or Patio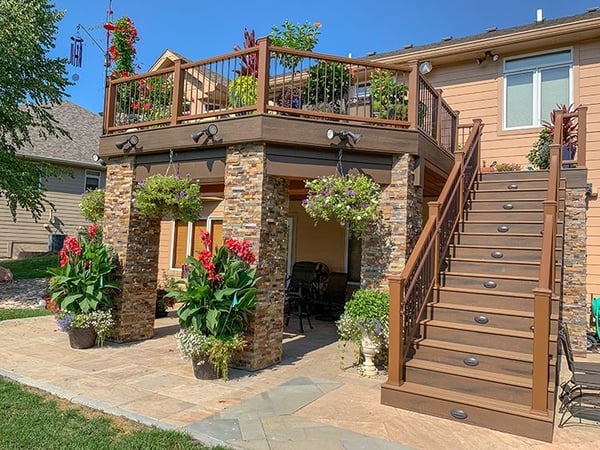 (Photo courtesy of Trex)
A few strategically placed plants can add beauty and style to any outdoor living space. It also brings the advantages of nature to you.
Plant flowering bushes or young saplings, or adorn the area with hardy, temperature-resistant outdoor plants. Vines are great for this. (Just make sure to prune on a regular basis.)
Plants add healthy greenery and instill a sense of nature that everyone in the home can appreciate.
Hot Tub Hideaway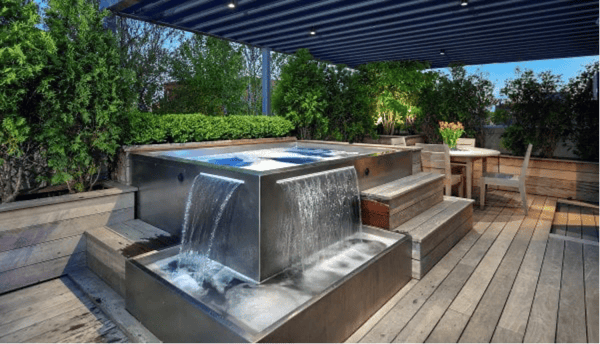 (Photo courtesy of Trex)
Setting up a hot tub can be done relatively easily under a deck or on a patio. You don't need much space to enjoy the outdoors while soaking in a Jacuzzi-style tub and reading a book or listening to the radio.
If you're interested in building a hot tub or Jacuzzi, don't forget to consider these factors:
Upkeep requirements
Maintenance costs
Electricity sources
If you're installing a hot tub on a patio, consider adding a pergola over it.
Why?
Protects you from the elements, including rain, snow, or intense sun
Slows the fading of your hot tub from UV rays
Diverts potentially damaging snow, sleet, and rain from your hot tub unit
Fire Pit Addition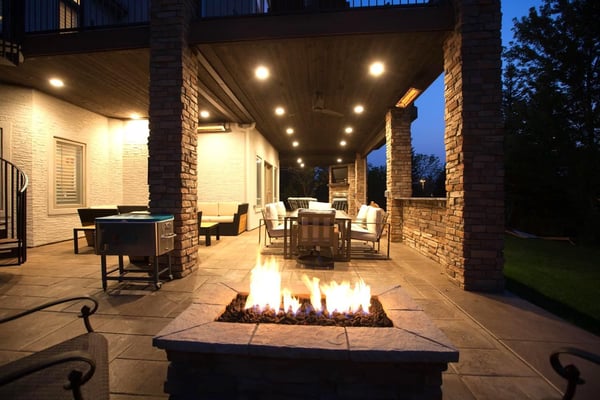 (Photo courtesy of Trex)
Speaking of warming up, another hot idea is creating a fire pit!
When investing in a fire pit, one important word of advice: placement. Obviously, you don't want the fire feature too close to your house or any structures that could burn.
A variety of materials are available to construct an attractive fire pit, including brick and stone. Make your fire pit the perfect size and structure to complement your yard or patio.
Entertainment Center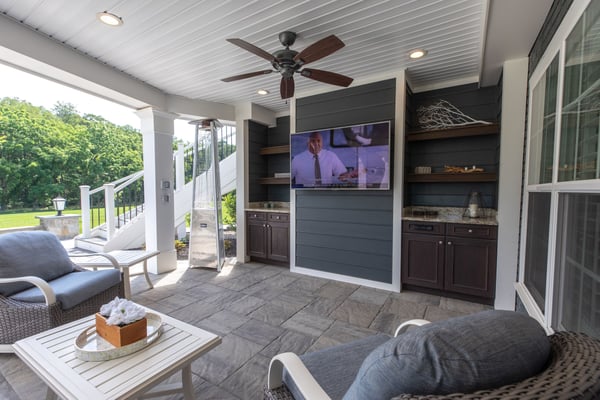 (Photo courtesy of Trex)
With a few simple additions, you can bring all the comfort, design features, and luxury of the indoors to your outdoor living space.
Set up chairs, tables, and other furniture to accommodate how you want to use the space.
Whether it's with a simple cooler or an installed refrigerator, don't forget the refreshments!
Invest in electronics, including a big-screen TV.
Especially if you're interested in entertaining or hosting, use your patio area, deck, or porch to feature entertainment-conducive electronics.
Just make sure to work with your design and build firm to ensure they are protected from the elements, such as rain, cold, or extreme heat.
With a full suite of electronics, you can double your enjoyment by simultaneously watching the game or an intriguing movie and enjoying the outdoors.
Outdoor Kitchen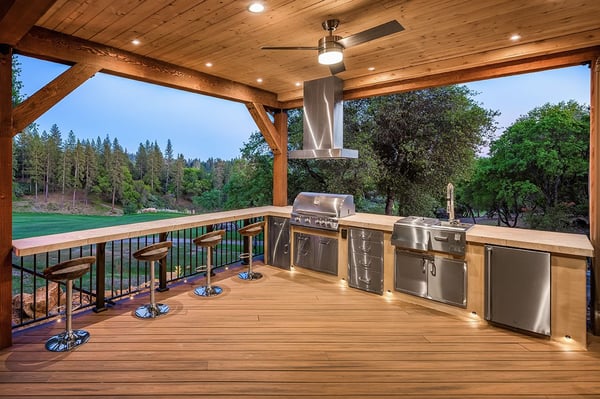 (Photo courtesy of Trex)
Consider bringing some culinary adventures to your outdoor living space.
Creating an outdoor kitchen can range from a standalone grill to a small kitchenette to a fully functional set-up complete with outdoor-compatible stoves, refrigerators, dishwashers, sinks, and countertops.
If you entertain frequently and love to cook, this is a great option for you.
Kid (and Adult) Play Area
Whether you have a patio or deck, consider adding a few things to increase your activity level and your enjoyment of your backyard or outdoor space. (Hello, basketball hoops and swings!)
Staying active keeps us all healthy, and these fun little investments can help adults stay just as active as kids.
If you don't want to put up a more permanent fixture, cornhole, horseshoes, or volleyball can be just as fun.
Storage Space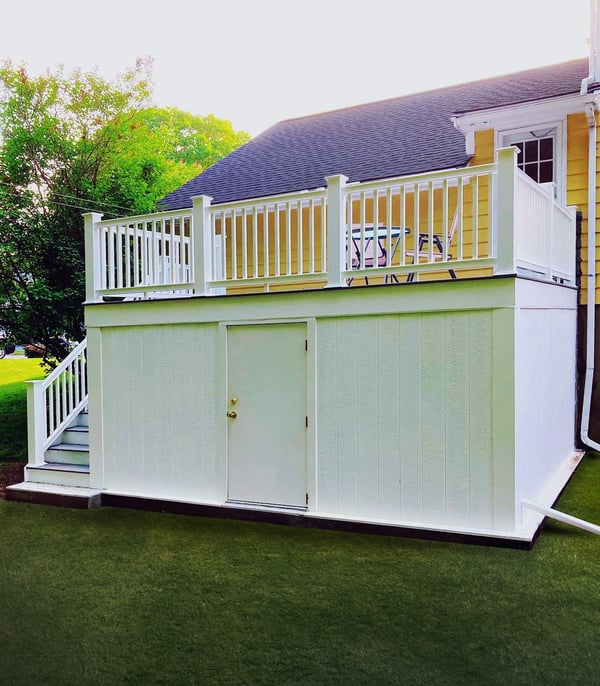 (Photo courtesy of Trex)
Under your deck or screened-in porch is an ideal place for outdoor storage.
Stay extra organized by building shelves or cubbyholes for your tools or equipment.
What can go in this outdoor storage area?
Lawnmowers or gardening tools
Sports equipment
Canoes
Bikes
Camping gear
If you plan carefully, you can easily section off a part for storage and use the remaining space for more usable square footage.
Zen and the Art of Outdoor Relaxation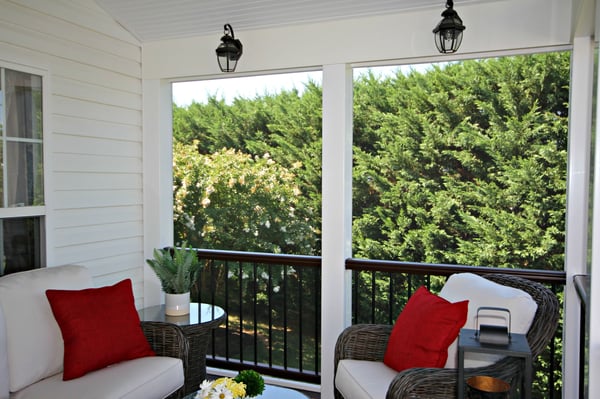 (Photo courtesy of Trex)
Balconies. Patios. Porches. Decks. They all have one thing in common.
Without having to stray far, they give us a break from the inside of our homes and let us appreciate the outdoors.
Use your outdoor space to create something calming. Add some comfortable furniture. Install a fountain or water structure. Find small ways to help you relax.
Once it's all set up, bring your favorite book or music app, and relish your outdoor time!
Upgraded Outdoor Living Spaces Are a Win-Win
The possibilities of your outdoor living space are endless. Depending on your family, needs, and budget, almost any space can be transformed into something functional, luxurious, and beautiful.
Remember, anything you do to enhance your deck or patio will also increase the value of your home and boost your curb appeal.
Need help deciding how to upgrade the outdoor living space in your Northern Virginia or Maryland home? Reach out to us today.
We're Design Builders, and for decades we've specialized in custom, high-end outdoor living spaces. We're always happy to answer your questions!