Because Trex is widely known for their decking boards, it stands to reason that the company is best known for their decks. However, Trex decking boards are increasingly being used in a slightly different capacity: docks and marinas. Because Trex offers such a seamless, aesthetically pleasing, and highly functional solution to the problem of dock and marina degradation, these two applications actually represent some of the biggest areas of growth for the brand.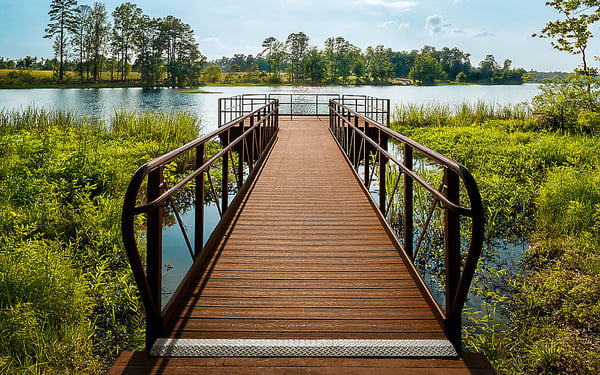 Why Is Trex Ideal for Docks and Marinas?
The environment around docks and marinas is extremely challenging for any decking board material. In the summer, the deck must withstand extreme sun, and year round, docks and marinas alike are constantly exposed to and covered in water.
Natural wood simply can't withstand these conditions for many years without noticeable aesthetic wear—and eventually compromised functionality. A wood dock or marina requires costly and timely upkeep every year, including sanding and staining, in order to slow the effects of sun, water, and freezing temperatures.
A material like PVC can do better against the water issue, but exposed to too much intense sun, and the material can start to warp and fade.
A composite decking material like Trex can take all these exterior conditions for years on end without warping, splintering, fading, or staining, and because of that continued visual and functional appeal, it's really little surprise that Trex is becoming an increasingly dominant name in the dock and marina industries.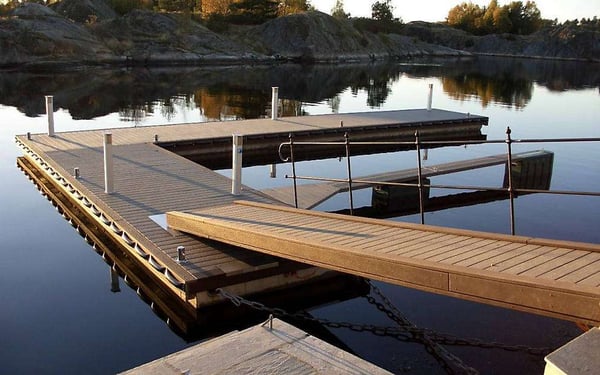 What Pairs with a Trex Dock?
If you're considering installing Trex for your dock, it most likely means you've given some serious thought to everything that dock is going to be exposed to and everything it must withstand. From extreme sun to consistently wet conditions, the environment-related challenges that present themselves day in and day out can wreak havoc on the decking boards of any dock.
The boards themselves, however, are not the only element of the dock that must constantly be exposed to these conditions. If you're thinking long term, you need to consider every part of the dock. That's why the Trex Elevations substructure is just as important as the actual boards you step on. The Elevations system uses triple-coated steel beams, joists, and tracks. This means, even years down the line, you're benefiting from a stronger, straighter, and safer substructure.
If you're going through the time and expense of installing a dock, you want something that's going to last as long as possible, but that shouldn't be limited to the parts you can see. Your dock, after all, is only as strong as its weakest component, and if you're investing in the boards, make sure the structure that supports them is going to be just as durable.
Whether you're considering installing a dock at your personal property or you're putting in a marina as part of a commercial venture, consider the wide-ranging benefits of Trex material in these kinds of projects. If you have any questions about Trex or how they complement either a dock or marina build, don't hesitate to reach out. We'd love to chat about this material and how we can help!