Deck Furniture for the Present and Future
Deck Planning Series Part 3
The Deck Planning Series is a five-part blog series that offers helpful hints about mapping out your deck project.
So far in this series, we've discussed whether you will be building a traditional deck or screen porch and whether this structure will be used for entertainment purposes or as an investment. Up next: Choosing your furniture.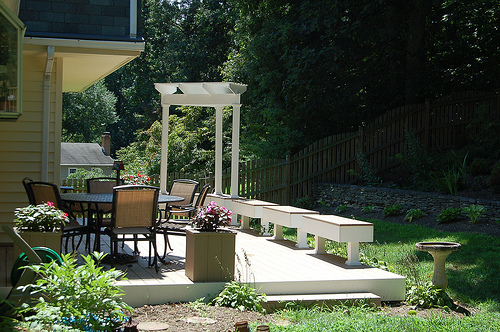 Most people choose to build a deck or screen porch so they can entertain guests, eat meals outside, and gather together as a family. Maybe you're fine with looking for furniture to fit the deck once the structure has been built. However, we believe it's a good idea to give some thought to the type of furniture you would like to have on your deck and what activities will be hosted on the deck before you build. You don't want to be constrained by dimensions that, once built, will be unchangeable.
For instance, if you're planning to have a 4'x6' table with six chairs, you'll need a 12x12 space to accommodate these furnishings and have enough room to navigate around these items.
You'll be cooking out, won't you? Don't forget to make allowances for the space your grill will need – the typical grill is about 4'x2' so a 6'x6' area can accommodate this deck item. Unless you're planning to balance all of your food prep items and grilling tools in your two hands, you'll want to have room for a table next to the grill and, of course, some room for the chef to stand!
If you plan to have a second seating area with end tables beyond the designated eating area, you'll need an 8'x8' area to accommodate a two-person rocking chair, chaise lounge, and coffee table. Adjust your measurements accordingly for more or less furniture.
And, of course, you may just want some empty space in which your children can play, your animals can lounge, and you can display greenery and flowers. Some relatively blank areas are recommended – you don't want your new deck so cluttered by furniture that it isn't even relaxing to spend time on it!
Up next in Part 4 of the Deck Planning Series: Mapping out thoroughfares.
Deck Series Part 1: Plan for Sun and Bugs
Deck Series Part 2: Is Your Deck for Entertainment or Investment?