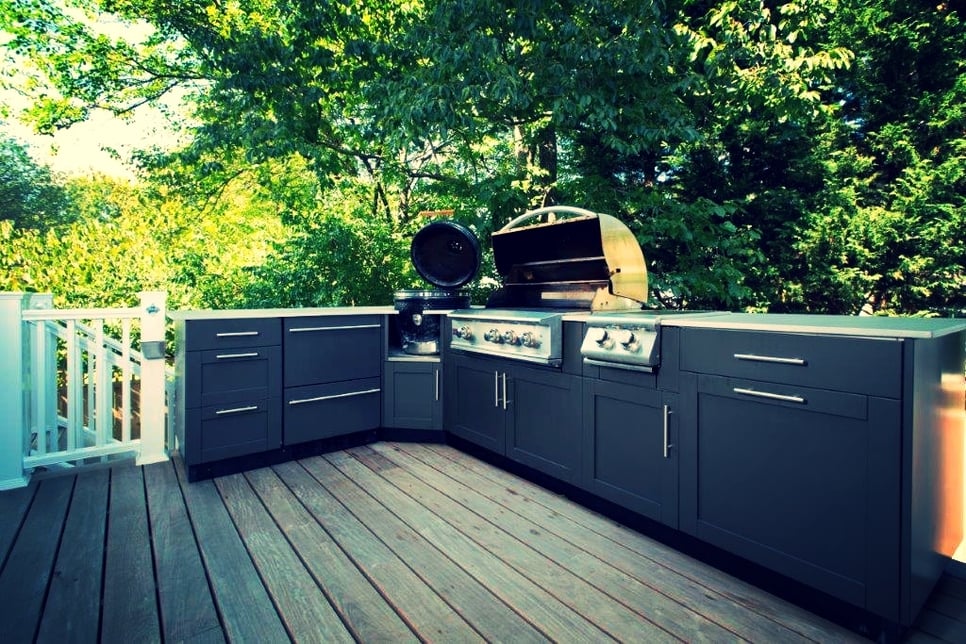 While "green" products and issues of sustainability used to be predominantly limited to a niche market, these ideas and goods have certainly funneled into the mainstream over the past few years and decades. As it becomes increasingly common to see items created with this design concept in mind, Mitchell Slater, president and founder of Danver Outdoor Kitchens, discusses the relationship between Danver cabinetry and ideas of sustainability.
Danver and Its Material Base
Since Danver Outdoor Kitchens designs 100% stainless steel outdoor kitchen cabinets, there is an element of sustainability built directly into all their products.
"The beauty of stainless steel," said Slater, "is that it's ninety-five percent recycled material as it comes out of the box. The product itself could be arguably 'green' because of that recyclability."
This means, by virtue of using the material they find hardiest and most beneficial anyway, the company already complies in many ways with green ideals. This applies to all their outdoor kitchen cabinetry. Even if a product is powder coated to replicate the look of natural wood, it is still a solid base of that recyclable stainless steel.
Lack of Demand within the Market
Slater, however, recognizes that the green building trend so popular with general architects and urban planners is not largely present yet in the outdoor cabinetry market.
"As far as demand from customers or other people looking for their outdoor kitchen cabinetry to be certified green, we have zero requests. Zero interest. No one seems to care yet."
Although the consumer base hasn't made an appeal for sustainable high-end exterior cabinetry yet, Slater is both aware of the inevitable push for this product and anxious to be at the forefront when it occurs.
Danver and the Future of Sustainability
As a company, Danver has never been one to follow in its competitors' footsteps. They differentiated themselves within the cabinetry market by using stainless steel when others didn't, and they found success because they ventured into that arena with purpose and without hesitation.
Moving forward, the company is looking to bring that mentality to issues of sustainability and eco-friendly outdoor cabinets.
"I'm concerned about green products and keeping Danver environmentally sustainable. This is something I'm always thinking about — the future of Danver. And sustainable products are the future," said Slater.
While there are no imminent overhauls or scheduled changes within the family of Danver products, the company continues to keep looking toward the ultimate goal — creating beautiful, high-end outdoor kitchen cabinets in a conscientious and socially and environmentally responsible way.
This mentality contributes to why Danver currently sources its manufacturing materials from American companies. They are concerned about where the materials come from, who manufactures them, and the techniques and policies that go into that manufacturing process. All of this is a natural and inevitable segue into even more stringently eco-conscious cabinets.
For more information about eco-friendly kitchen cabinets or how Danver is currently looking to implement green products and production techniques, please feel free to contact a representative of Design Builders, Inc.