Factors to Account for When Matching a New Outdoor Living Space to an Existing Home
One of the hardest parts of any renovation or remodel is ensuring the new project works seamlessly with the existing home. If you're currently looking to add a new outdoor living space to your house, here are some important consideration for not only how to integrate that area into the home's established aesthetic but how to choose professionals who can help you with that goal.
It's about the Details
When trying to match a new outdoor living space to an existing home, remember that the details matter. The professional you choose to work with should carefully assess the home for the following elements:
Architectural flourishes
Key architectural elements that appear in the house should appear in the outdoor structure as well. This helps tie the new project into the existing home and creates the illusion that this new structure has always been a part of the property. The best screened-in porches and outdoor living spaces are those that incorporate details directly from the home, creating seamless, identical architectural facades.
Materials used
In addition to architectural touches, the materials used on the original home should also be replicated within the screen porch or outdoor living area. This holds true whether the home is made of stucco, exposed wood done in a minimalist manner, or anything else. Again, this creates a polished, streamlined look between the old and new structures. When done with enough care and attention to detail, the new structure never feels like a design afterthought. Rather, it's difficult to impossible to tell both elements weren't constructed simultaneously.
Design style
When it comes to the Washington, DC, area, there isn't a great deal of tract housing, meaning a large number of coexisting architectural design styles. This spans from late 1800s constructions to modern Craftsman-style homes to everything between (midcentury modern, 70s homes, 80s homes, rural contemporary, Western style, highly contemporary homes, and more). As with architectural elements and materials, the established overall design aesthetic should also be reflected and matched in the new structure.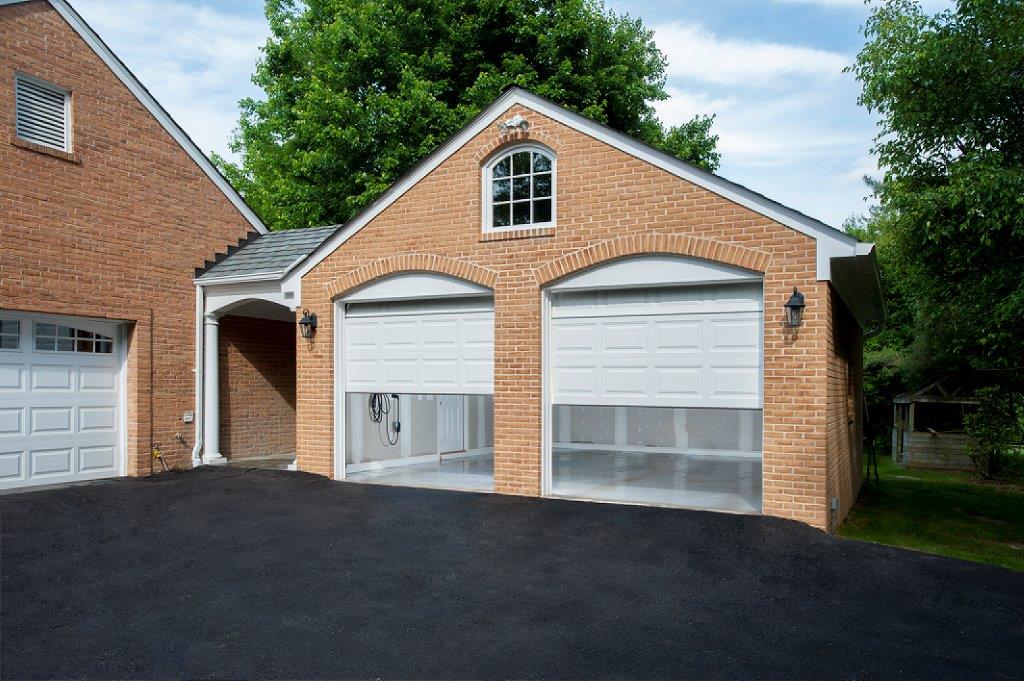 Garage addition by Design Builders that needed all of its materials matched
How to Choose the Right Professional
With a laundry list of architects, contractors, and design and build firms to choose from, it can be overwhelming trying to narrow your list down to the top candidates. However, talking to potential hires beforehand can be invaluable. While having a pre-job discussion, ensure your potential hire has the following qualities.
A focus on outdoor living spaces

With so many nuanced elements incorporated into a properly constructed and designed outdoor living space, it's important to pick a professional who specializes in this kind of project. So many seemingly small details can derail or undermine a project of this scope, and you want somebody who has the professional experience and expertise necessary to avoid those pitfalls.

A large vendor list

Given how imperative it is that the new space matches design elements from the home, including everything from the trim and the gutters down to the shingles and the fascia, you want a professional who knows a wide variety of industry vendors. This extensive network will give you the best chance of securing the right materials and styles, whether that's a vintage wood, a specific metal, a particularly type of siding, or an architectural column.

A sense of proportion

When assessing the general architecture of the home, you want a professional who understands how important it is to match the new exterior roof design with the existing one, be it a gable, curved, single-plane, or any other type of roof. However, you also want a professional with a keen eye for proportion. The last thing you want is for the new outdoor structure to entirely overshadow the existing house or to feel overly understated and underwhelming.

An ability to navigate homeowners associations (HOAs)

Especially in the Washington, DC, area, dealing with HOAs is a fact of the construction world. Depending on how strict the area is where you live, HOAs might insist you follow certain color, trim, style, and/or material restrictions. If you live in a historic zone, it can go beyond that, requiring you to adhere to the specific time period being preserved. You want, therefore, a professional company that is familiar with the HOAs of these different districts, is experienced working with them, and has a proven track record of matching their restrictions while still complying with client requests.
Planning a new outdoor living space is exciting, and when the project is done correctly, it can offer a beautiful structure that matches your existing home and extends the livable space of the house. Just remember to work with experienced, savvy professionals who can ensure the project is as visually appealing and functional as possible.