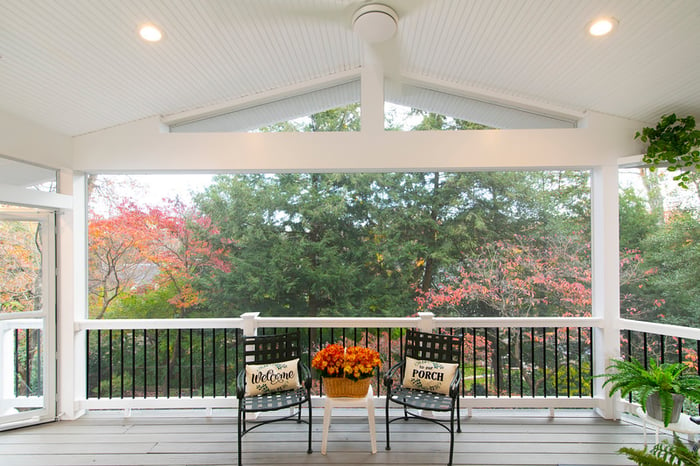 Considerations for What Screened Porch Screen Materials to Use in 2022
Whether you're looking to spruce up an existing porch or you want to start a new screened porch design from scratch in 2022, one of the most important things to consider is what screening material to use. From what the industry experts suggest to geography-specific considerations, here's everything you need to know before you jump into any screen-related decision.
Fiberglass Is King
Design and build firms often recommend fiberglass as the best screening material for several reasons.
It has an element of stretch to it.

It can cover wide spaces.

It can take a certain amount of impact without denting.
Unless a special circumstance dictates otherwise, industry experts almost always suggest fiberglass.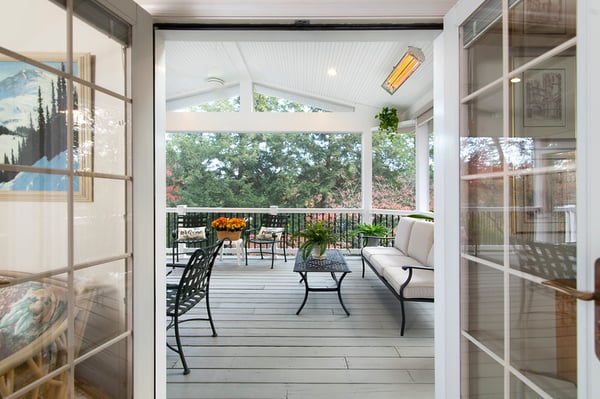 Aluminum and Historical Designations
Design-build firms will almost always recommend fiberglass unless you live in an area with a historical designation. In that case, you might not be allowed to use fiberglass and will have to opt for a material like aluminum instead in order to comply with aesthetic regulations.
In certain designated areas, there are specific and specialized requirements, such as Georgetown, Washington, DC, which requires copper screen. Everything depends on the architectural review boards in your specific location, though, so make sure to discuss this with your design and build firm before going too far down the path of a specific screen material.
What Screen Brands Do Design and Build Firms Trust?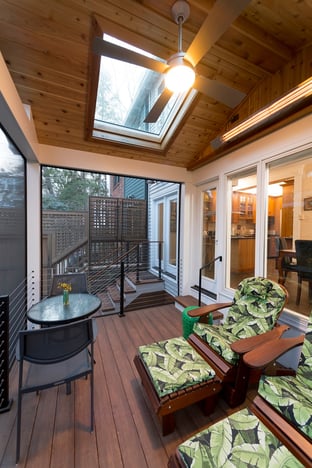 For new constructions and existing spaces alike, many design and build firms opt for SCREENEZE. This screening system is highly flexible, meaning it can work within spaces of many different shapes and sizes. This even includes round or uniquely shaped screen bays. With SCREENEZE, you can install up to 150 square feet of screen in one application, so even if your openings are quite large, the product can easily accommodate.
Screened porch builders in Maryland and Virginia also gravitate toward this brand because both installation and any necessary repairs are quite easy, and many industry professionals agree that nothing has hit the market in the last decade to rival it. Homeowners also tend to be enthusiastic about it because the cost point is reasonable for the quality of product received.
If you have your heart set on the ease and convenience of retractable screens, Phantom Screens is another industry-trusted brand. They're best known for their motorized retractable screens, but they also offer certain manual retractable options as well.
Whatever brand you choose, make sure to do your research and to find what options are available to you. Most people, for example, opt for transparent screens that essentially appear invisible when looking from the inside out. However, options exist for people who prefer a specific color of screen. (SCREENEZE, for example, has a small selection of color options.) If you have your heart set on a particular material or look, always talk to your design and build firm. Chances are there's something on the market that can accommodate your vision.
Considerations for Existing Screen Porches
As a note for homeowners looking to install these screens in an existing space, you might need to add some trim to attach the SCREENEZE, but this process is pretty straightforward. For older porches that need more love, it's wise to add the trim, to paint, and then to install the new screens. After doing this, the end result can look almost brand new.
Don't forget you should also add under-deck screening, as well as screening for any roof fascia or soffit. If you have vented or perforated soffits, bugs and undesirable material can get in, so screening is important here, though often overlooked. (Note, solid soffits don't require screening.) Screening can also be important for open bays on the outside of rails.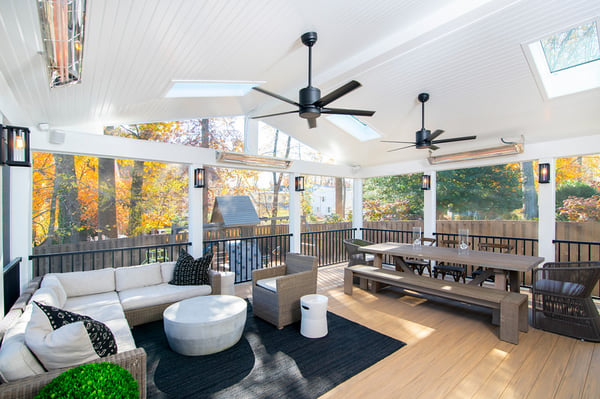 Screen Porch Renovations Might Be Easier Than You Think
Depending on the state and county where you live, a screen porch renovation might not even require permitting, meaning the job is possibly quicker and cheaper than many anticipate. If you've always wanted to renovate your screen porch but have hesitated because of bureaucratic red tape, talk to a local design and build firm about the specifics of your area and project.
Why Do Screens Matter?
When planning out every aspect of a full screen porch project, the screens can feel like a detail, but they're actually integral to how comfortably and conveniently you can use your outdoor living space.
In our region, Maryland, Virginia, and Washington DC., for example, consistently warmer temperatures have led to increased insect populations over the years, and many residents of the area find that in order to feasibly use an outdoor space during the summer months, when bugs are at their worst, screens are an absolute necessity.
Choosing the right screens for your location and structure can mean increased comfort and livability within the outdoor living space in a number of ways, including added protection from chilly wind, bugs, and dirt and grime within the space itself.
As with any home construction project, the decision is ultimately in the hands of the homeowner, but having a discussion of your options with a professional can give you great insight into the best material and applications of screens, as well as any special circumstances that apply to you. Screens are an essential part of your new project, so make sure to utilize the expertise of the people you've hired to help you create your vision!