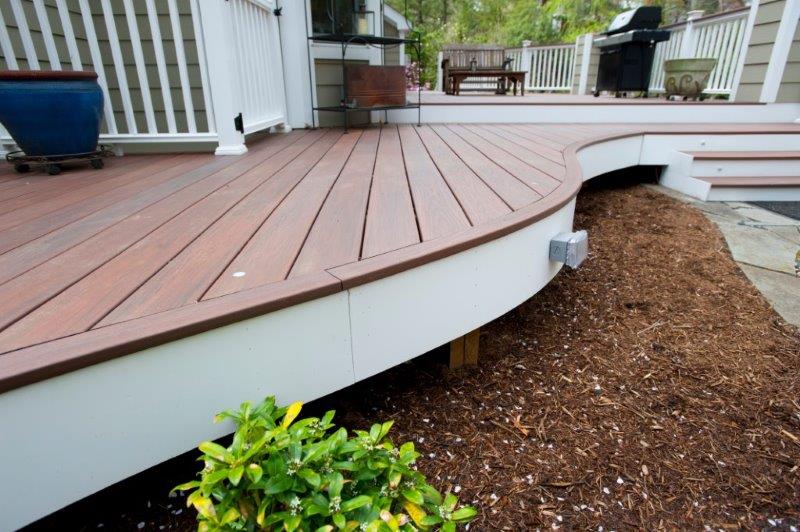 A high-quality, modern deck starts with a design concept, but to realize that design to the fullest, you need to use the best materials available. High-quality materials become especially important in modern decks where there is a particular stylistic goal. In that case materials not only provide quality, but they help craft a very specific look as well.
What Makes a Deck "Modern"?
As with any design concept, there is no definitive idea for what constitutes "modern." However, there are some overarching principles that dictate what that means. The most common goal with a modern deck is to create a very simple, clean look. Many of the lines incorporated into the design are straight, and all cut angles are kept to a minimum. These high-end modern decks are often quite elegant and minimalistic in their simplicity.

High-End Modern Decking
Many decking options can help you create a modern deck. Whichever one is right for you depends largely on the overall design concept of your outdoor space as well as what factor is most important to you (cost of material, required upkeep or maintenance, look of material, etc.).

• Hardwood. Hardwood is always an excellent choice if you put the highest premium on the look of the material. Additionally there's also a lot of versatility within hardwood. You can use Ipe, teak, mahogany, or a laundry of other hardwood options to achieve your desired look.

Hardwood doesn't require an exorbitant amount of maintenance to retain its appearance, but it will require periodic staining.

• Zuri Decking. Zuri decking is a high-end synthetic option. It is unique among synthetics in that it actually approximates the beauty, color, and grain of natural wood. Zuri even makes an effort to minimize grain pattern repetition, so every piece truly looks like a unique section of natural wood.

Despite being one of the pricier decking options, the major appeal of Zuri is its lack of required maintenance. It also doesn't deteriorate, warp, or fade—even in extreme weather conditions.
High-End Modern Handrails
Again, if a modern deck is your goal, the handrail system should reflect that streamlined simplicity. Some of the most common options are horizontal wrought iron handrail systems or glass systems.

Glass is perhaps most visually clean and crisp, but be aware there is corresponding maintenance required. Glass shows smudges, dirt, and any other imperfection quite easily, and depending on the design, it might be somewhat difficult to clean. Especially if your deck looks out onto a view, glass can't be beaten in terms of sleek visual lines and the practicality of maximizing that view so long as the upkeep and cleaning make it worth it to you.


Stainless Steel and Your Modern, High-End Deck
One of the most classically modern materials is stainless steel. It lends itself to an industrial look when used prominently in an outdoor space, but it can also be used sparingly to add touches of modernity to any deck. Because of stainless steel's strength, it can span larger spaces, which facilitates more simplistic, modern designs and structures.

Stainless steel can be used for posts, cables, beams, joists, framing, and more. The specifics of your deck and surrounding environment will determine how much stainless steel—if any—should be incorporated into your modern deck.