If you're considering a low-maintenance deck remodel or rebuild this year, there are four companies to follow. Each brings something slightly different to the table, so the right decking company for you is going to depend on aesthetic preference, budget, design requirements, and desired materials. To help clarify what these various decking companies have to offer, the following is a brief rundown of each brand.

Best Decking Companies to Follow in 2020
Decking Company #1: Trex
Trex is one of the most recognizable names in the composite decking industry. Going with Trex offers a host of benefits:
One of the more affordable options: Within the realm of composite boards, Trex is one of the most prevalent and affordable. Their wide range of options allows the customer to choose a ton of bells and whistles.
Pioneered the composite model: Trex is credited with inventing the composite decking board. They are, therefore, one of the most established brands available, and they can be accessed through retail outlets just about anywhere within the United States.
Wide selection of accessories: Trex is all about the whole-deck solution—not just decking boards. From furniture and pergolas to outdoor lighting and railings, you can outfit and coordinate an entire deck from Trex products.
Eco-friendly alternative to natural wood: Trex uses recycled products and has never felled a tree in their production of composite decking.
Trex isn't going anywhere! Trex continues to push forward and innovate. Look for more exciting options in the future.
---
Decking Manufacturer #2: Zuri Premium Decking by Royal
Zuri is another trusted name in the world of composite decking, but this brand is often considered a high-end construction option. Zuri is noted for outperforming other brands in terms of board longevity and aesthetic excellence.
The longest lasting boards: Zuri boards typically maintain their aesthetic and structural integrity for the longest time and through the most extreme tests.
PVC boards that most imitate natural wood: No other composite company offers a board that looks quite as realistic as Zuri. If you love the look of natural wood but don't want to deal with the hassle and ecological concerns, Zuri is a great alternative.
Incredibly slip resistant: Those boards may look smooth, but boy do they have some grip.
Best looking stairs: Zuri edge boards make the stairs looks substantial and gorgeous.
Zuri Has cemented itself in the market as the best looking wood alterntaive board. But remember to bring your wallet!
---

Deck Brand #3: Fiberon Decking
Fiberon is yet another composite decking option. In many ways, it's quite similar to Trex. Therefore, the ultimate decision is going to come down to which company provides the styles, colors, and accessory options that most match your construction needs.
Comparable construction, durability, and performance to Trex: Fiberon boards are created in much the same way as Trex boards, and they perform similarly over time.
Accessories and railing options: While Fiberon doesn't offer the breadth of choices available through Trex, they do have several railing, lighting, and fencing options. Again, choosing between the two companies will largely come down to what company has the accessories that match or complement your existing décor and intended design scheme.
Fiberon caps go all the way around the boards: Unlike Trex, which offers a cap around three-quarters of each decking board, Fiberon caps go all the way around. While each company claims its system is superior, both have performed well (in testing and real-world applications).
Variation within decking board product lines: Accommodating a variety of budgets, Fiberon offers different products for different price points. There's even a PVC product offering, while the Horizon line is considered the peak performer.
---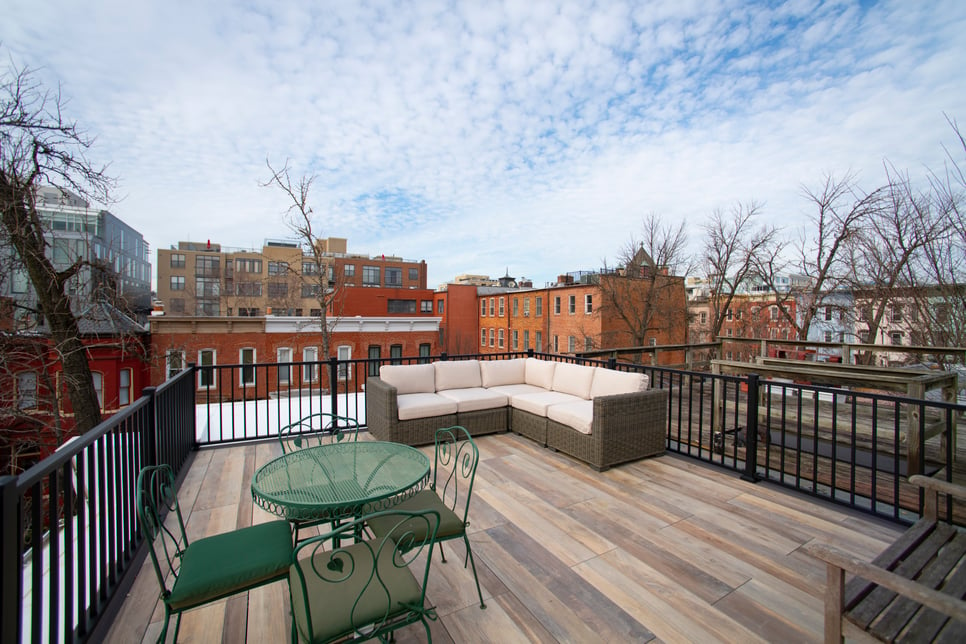 Image used with permission from Mbrico Tile Decks
Decking Company #4: Archatrak Tile Decks
If you're looking for something a little different, Archatrak Tile Decks could be the option for you. Using porcelain deck tiles (as opposed to concrete pavers, natural wood, or composite boards) offers many distinct advantages.
Visually appealing and unique decks: Porcelain is a beautiful but not overly common deck material, so your Archatrk product is sure to be elegant and distinct.
Durable construction: Porcelain can withstand a tremendous amount of force without chipping, cracking, or breaking.
Best heat retention: Porcelain tiles don't retain heat, which keeps them cool to the touch. This also contributes to the product being ecologically friendly. In fact, Archatrak tile decks are LEED certified, and building a rooftop deck with this brand can earn you LEED credits.
Get the best of both worlds, patios and decks: Archatrak offers a permeable option that mimics the look of a patio. Especially if you're trying to get the patio feel in a place where a patio isn't logistically possible, Archatrak is a great compromise.
The primary trade-off is initial cost. An Archatrak deck could potentially be double the price of an alternate material. However, like any premium product, it pays to think in terms of value. The durability and lack of maintenance associated with a porcelain deck help to significantly offset that up-front price tag.
Decking Company #5: Azek
Azek continues to make a fabulous proudct. Their color options have something for everyone. They continue to create new color pallets to help designs and homeowners across the world:
A high-end board: With PVC comes a cost. Azek is one of the pricier products on the market. But you get colors that other products don't provide and durability that can't be matched.
Pioneered the PVC Deck Board: Azek formerly Procell was the first PVC deck board on the market. Their roots come from vinyl siding.
Wide selection of accessories: Azek is partnered with Timbertech. In addition to their many offerings, other brands in their portfolio provide options for outdoor lighting, railings, trim, and other outdoor accessories.
Last for a life-time: Resistant to stain and scratch. Azek deck boards are made for the long haul.