Over the years, Danver Outdoor Kitchens has established itself as one of the leading names in high-end outdoor cabinetry. However, it's not just the manufacturing quality or selection that makes Danver stand apart from its competition. The company has a particular philosophy that allows them to approach their products from a slightly different angle.
It Starts with Background
Most companies designing and producing outdoor cabinetry came to the industry from a cabinet background. It's a logical jump but not necessarily the path Danver took.
"We're not cabinet builders per se," said Danver president and founder, Mitch Slater. "We learned from a custom cabinet builder locally here in Connecticut about how to build luxury or top-of-the-line cabinets, and we took those requirements and built them into our stainless units."
In this way, Danver's specialty is the unique material that allows the cabinets to perform so hardily in even the most extreme weather conditions. That is, they came to the business as talented sheet metal designers.
That's not to say, however, that Danver didn't put in the requisite time and energy to understand high-end cabinet design. They just had a unique stainless application capability, and they translated that skill set into premium cabinetry.
Shift the Focus to Installation
A large part of Danver's driving philosophy was examining the cabinet installation process and defining how they could improve upon what was accepted as standard operation. By listening to customers and being diligent in their research and development, Danver learned that people in the industry were spending a lot of time with masonry and other difficult aspects of cabinet installation. This was very time-consuming work, and Danver was actively interested in reducing the labor component of installing these cabinets.
By building a philosophy around efficient design, Danver positioned itself favorably for success.
Learn about Danver Stainless Outdoor Kitchens with our Danver YouTube playlist
Listen to What People Want
When Danver was just starting their 100 percent stainless steel cabinet product line, they were working with a customer in Florida who was doing a lot of kitchen installation work. That customer was able to give them significant insight into features that would improve cabinet installs.
Danver took this advice to heart an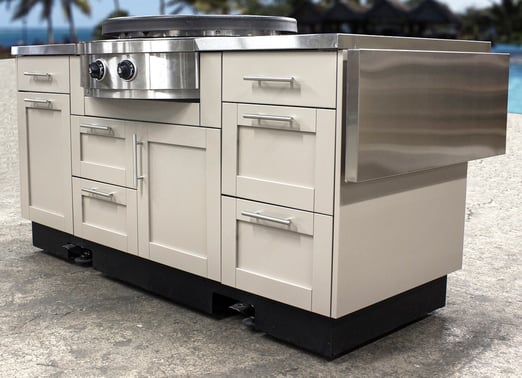 d implemented features such as strategically placed holes to see screws as the cabinets were being put up for assembly. All these small touches helped speed up the installation process and gave Danver a competitive edge over cabinets installed in a more traditional manner.
"Danver cabinets were built to go together quickly and to be something that's unique in the field," said Slater. "And I think we still have that advantage."
By being open to the idea of change and working in a manner that was contrary to what others in the kitchen cabinetry field were doing, Danver was able to differentiate itself in a positive way. That spirit of innovation and open-mindedness was a keystone to their original design and engineering philosophy, and it continues to be so as the company still pushes itself to the forefront of high-end outdoor cabinets.
For more information about Danver Outdoor Kitchens, how they approach their business mentality, or how their cabinets might work with your outdoor living space, please contact a representative of Design Builders, Inc.
Photos in this article used with permission from Danver Stainless Outdoor Kitchens