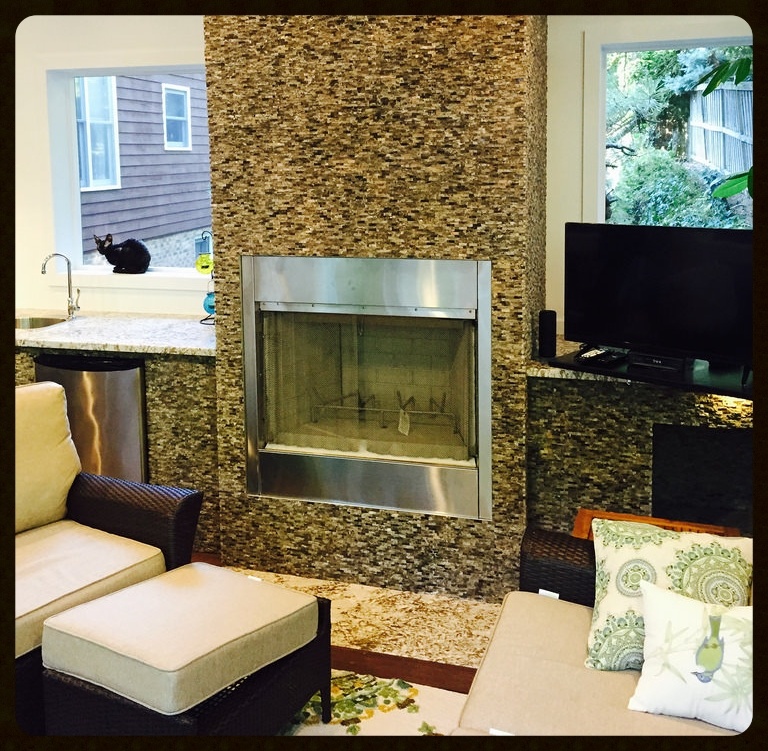 Are Wood-Burning Outdoor Fireplaces Safe for Elevated Decks & Porches?
There are few additions to an outdoor living space that can add the elegance, relaxation, and beauty of a natural wood-burning fireplace. That being said, many people looking to build an outdoor space from the ground up or those looking to modify an existing space question the feasibility of an elevated fireplace. Is it worth it, in terms of construction logistics and price, to build an elevated natural burning fireplace? And is it safe?
The Fireplace Base
If you're interesting in creating one of these elevated fireplaces, it's going to necessitate a base. Generally speaking, build teams don't recommend that base be higher than about 3'. After that, the process simply becomes cost prohibitive.
This is largely due to the fact that the base needs to be trimmed in a veneer, and that often means using natural or synthetic stone. If the weight of that much stone becomes logistically problematic, there are alternative trim options such as stucco or tile.
If you are wedded to the idea of an elevated fireplace (or your existing design necessitates a fireplace elevated above 3'), build teams can accomplish this. It's just going to be reflected in the final bill.
Keep in mind, there's also going to be some design manipulation required with a base that high for elevated decks in Maryland. It could look a bit out of place or awkward if not designed properly, so make sure you work with your build team to address this potential issue before any construction begins.
The Outdoor Fireplace Insert
Another cost to factor into this elevated fireplace is the steel insert. These steel inserts are largely used for natural wood-burning fireplaces, and the price is naturally going to increase as the size of the insert (and the amount of steel used) goes up for decks in Virginia and beyond.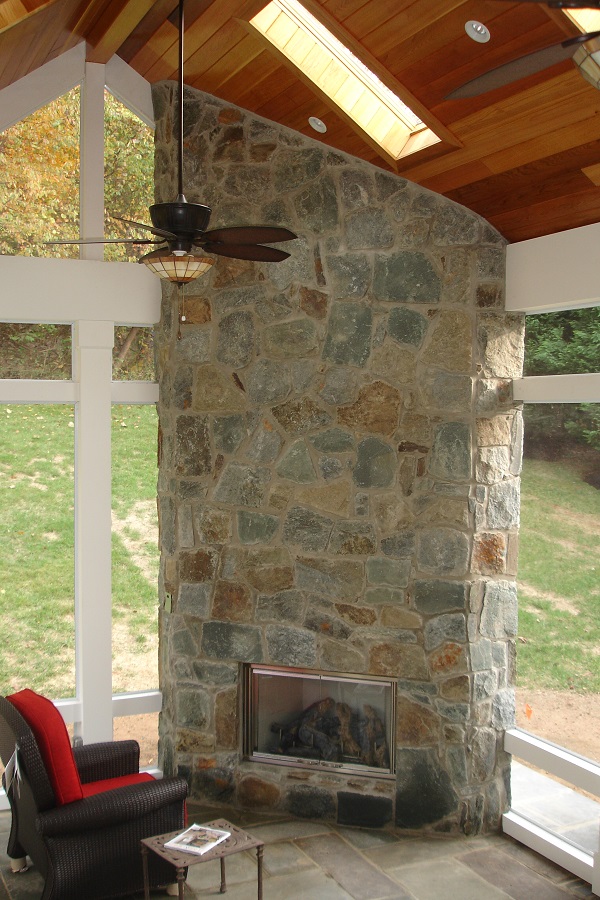 Elevated Fireplace Alternatives
Again, if you're set on an elevated fireplace or it needs to be elevated because of existing design restrictions, you do have options outside a traditional wood-burning fireplace. One such alternative is the EcoSmart fireplace.
This fireplace runs entirely on bioethanol. Because it's clean burning and doesn't put off smoke, these fireplaces don't require flues. This minimizes the need for some inspections typically required in the fireplace construction process. It also means the EcoSmart fireplace is a lot smaller and a lot more versatile than a natural burning fireplace in terms of where it can be placed. Some have even been installed in kitchen islands, so the possibilities—from a design standpoint—open up greatly.
EcoSmart fireplaces, however, look very sleek and contemporary. The modern aesthetic has two potential drawbacks, depending on your particular tastes and situation. One, the units are expensive. Granted, you'll be saving money by avoiding steel insert systems and other design elements required in wood-burning fireplaces, but the expense is still something to factor into your decision. Two, you might prefer the more traditional look of a natural fireplace. Contemporary, clean, and sleek can be beautiful, but it simply might not match the existing (or desired) look and feel of your outdoor space. Try matching with Danver powder coated cabinets or other outdoor kitchen cabinetry.
For more information about how to successfully incorporate a fireplace into your outdoor living area or additional pros and cons of an elevated fireplace structure, please contact a representative of Design Builders, Inc.