Advantages to Built-In Deck Benches
In a previous blog post, we offered up a variety of reasons why built-in benches on your deck are not the wisest choice in your deck construction. However, we don't believe that built-in benches are in poor taste across the board.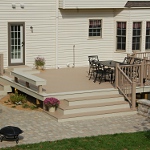 When a deck is 30 inches from the ground, you don't necessarily need a handrail – but you may not want to have a completely open deck. This is when a built-in bench can be a wise addition to your outdoor structure. A bench can provide a barrier – particularly for children and pets – and it can also define a perimeter to ward against people walking off the deck. If you have accident-prone or particularly clumsy folks in your home, you know exactly what we mean.
If you have a green thumb, deck benches are a great place to house plants and flowers – you can even request a specific area of your bench construction to allow for this unique display of flora and fauna. Big on cook-outs? Built-in benches can provide a flat, unyielding surface to be of assistance during food preparation. Playing games in the yard? Those benches could work double-duty as a set of sideline bleachers.
Convinced of the value of built-in deck benches? Good. Now, if you're unsure about whether or not you want benches, take a look at our post about the disadvantages of benches…