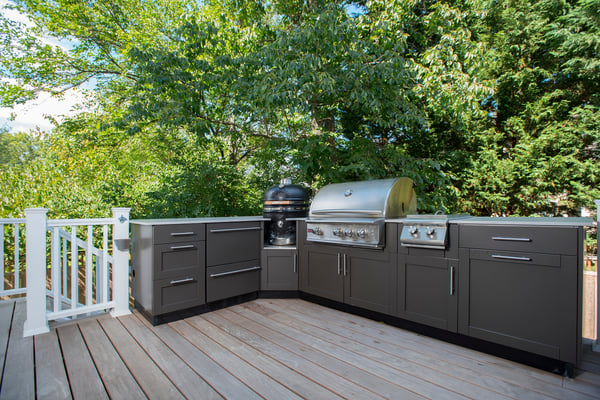 Are you installing an outdoor kitchen or thinking about adding one during your next remodel? If so, it's a good bet you've got outdoor kitchen cabinetry on the brain. With so many options, materials, and styles to choose from today, it can be hard to know which cabinets are right for you.
If you keep these six features in mind, though, you're likely to end up with the most functional, beautiful, and durable cabinets for the job!
6 Exterior Cabinet Must-Haves
Adjustable Legs
One of the big problems with outdoor kitchen cabinets is you have to add them to an exterior space. Usually when you're adding cabinets, you're working in a finished, level interior area, and ground variance isn't much of a consideration. Working around uneven ground, however, means cabinets with adjustable legs can make all the difference to ease of installation and final appearance.
Toe Kicks
Toe kicks help give your cabinets a more finished, polished appearance. Given the trend today of having your exterior kitchen be as functional, aesthetically pleasing, and design oriented as your interior kitchen, toe kicks are one small detail that can help make that possible.
Exterior Trim
As with toe kicks, exterior trim detailing is an optional feature, but it truly gives the exterior space a more customized look. As more people attempt to replicate the look and feel of the house interior in their outdoor living areas, trim is becoming a more common appearance in the world of outdoor kitchens.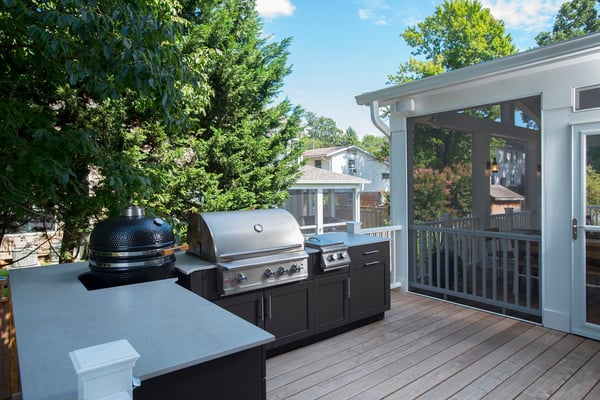 Accessibility Features
If you're looking to create an outdoor kitchen that is as user friendly as possible, consider the benefits of certain accessibility features. This includes, but isn't limited to, roll-out trash bins and trays. By making the kitchen as accessible as possible, you're helping ensure you're inclined to use it often. This makes the initial investment more worth it for you, and when it comes time to sell, it makes the kitchen an even more valuable asset.
Quality Hardware
When considering the hardware on outdoor kitchen cabinetry, don't limit your thinking to door handles. This category should extend to door hinges, drawer slides, connection pins or screws, and any other piece of cabinet-related hardware. These cabinets are going to be exposed to exterior conditions, so opt for stainless steel or any other noncorrosive material. Remember, your cabinets are only as strong as the weakest component. It won't matter that the cabinet front looks amazing if the hinge that's connecting it has rusted and worn through.
Durable Construction
The cabinets themselves should be constructed from a material that offers rigidity and dent resistance. This way, even after years of abuse by the elements, as well as the standard wear and tear of regular use, your cabinets are still looking and functioning great. Not only will this save you the time, hassle, and money of having to replace or to repair cabinets down the line, but it helps the kitchen itself hold its value over time. A durable outdoor kitchen, including high-quality cabinetry, can help up your asking price when it comes time to eventually put your home on the market.
If you're thinking about adding cabinetry to an outdoor kitchen, this is not a place to jump at the lowest price tag. The problems associated with cheap or shoddily made cabinets are going to be made even worse by putting them through the stress of exterior conditions. This is one place it can pay off in the long run to invest a little more up front. Look into high-quality brands, such as Danver, to assess what's right for your project.
Have any questions about how to select the right outdoor kitchen cabinets for your project? Don't be afraid to reach out!